The Portfolio
The Portfolio
2

min read
Latest portfolio update – July 2019
85% of my Total Balance is now invested in properties! I have to say, looking at that pie chart – it seems kind of crazy! What was I thinking? Well kids, there's a meaning to the madness 😉 Eventually, something else besides properties is going to be creeping into the portfolio (I hope!)…
I have €0 left in cash reserves for the first time in a very long time. Luckily, I've had quite a few months to prepare myself for this situation, so I'm not stressed out about it. This simply encourage me to replenish that cash pile faster than I've ever done before! Wish me luck! 😛
Income statement (July 2019)
| | | | | | | | | |
| --- | --- | --- | --- | --- | --- | --- | --- | --- |
| Platform | Invested | Deposits / Withdrawals | Value last month | Current value | Bonus / Fees | Return | Change (%) | Expected return |
| Crowdlending | | | | | | | | |
| Bulkestate | € 3.500 | € 0 | € 3.525 | € 3.525 | € 0 | € 0 | 0,00% | 14% |
| Crowdestate | € 700 | € 0 | € 717 | € 723 | € 0 | € 6 | 0,83% | 13% |
| Crowdestor | € 1.300 | € 100 | € 1.153 | € 1.265 | € 0 | € 12 | 0,95% | 16% |
| Envestio * | € 850 | € 0 | € 1.355 | € 1.388 | € 12 | € 21 | 1,51% | 16% |
| Estateguru | € 100 | € 0 | € 107 | € 108 | € 0 | € 1 | 0,93% | 11% |
| FastInvest | € 400 | € 0 | € 420 | € 424 | € 0 | € 4 | 0,94% | 14% |
| Grupeer | € 1.140 | € 0 | € 1.256 | € 1.270 | € 1 | € 13 | 1,02% | 14% |
| Kuetzal * | € 600 | € 100 | € 515 | € 623 | € 0 | € 8 | 1,28% | 19% |
| Mintos | € 900 | € 0 | € 989 | € 999 | € 0 | € 10 | 1,00% | 11% |
| ReInvest24 | € 1.000 | € 0 | € 997 | € 1.002 | € 0 | € 4 | 0,40% | 13% |
| Viventor | € 400 | € 0 | € 413 | € 417 | € 0 | € 4 | 0,96% | 13% |
| | € 10.890 | € 200 | € 11.447 | € 11.744 | € 13 | € 83 | 0,73% | 15% |
| Stocks | | | | | | | | |
| Pro Real Estate Trust (REIT #1) | € 910 | € 0 | € 955 | € 982 | € 0 | € 5 | | 9% |
| Pro Real Estate Trust (REIT #2) | € 60 | € 0 | € 63 | € 62 | € 0 | € 0 | | 4% |
| | | | | € 993 | | | | |
| Properties | | | | | | | | |
| Brickshare | € 1.333 | € 0 | € 1.333 | € 1.333 | € 0 | | | |
| Property #1 | € 68.667 | € 0 | € 68.667 | € 68.667 | € 0 | | | |
| Property #1 Leverage | -€ 8.000 | € 667 | -€ 8.667 | -€ 8.000 | | | | -3,5% |
| | | | | € 62.000 | | | | |
| Cash | | | | | | | | |
| Bank #1 cash (main savings) | € 0 | | € 0 | € 0 | | | | 0,70% |
| Bank #2 cash (emergency fund) | € 0 | | € 0 | € 0 | | € 147 | | 0,5% |
| | | | € 0 | € 147 | | | | |
|   | | | | | | | | |
| Total balance | | | € 73.768 | € 74.884 | | | | |
Still dragging a little bit of leverage debt with me, and it's probably going to take me about 8-10 months to wipe it out completely, but it's fairly "cheap" so I'm not stressing too much about it. All in all I managed to scrape together a total passive income of €247 this month, which is a new record for those keeping score (who doesn't!?). Not too shabby for a slow month 😉
My "classic" growth chart now looks like this: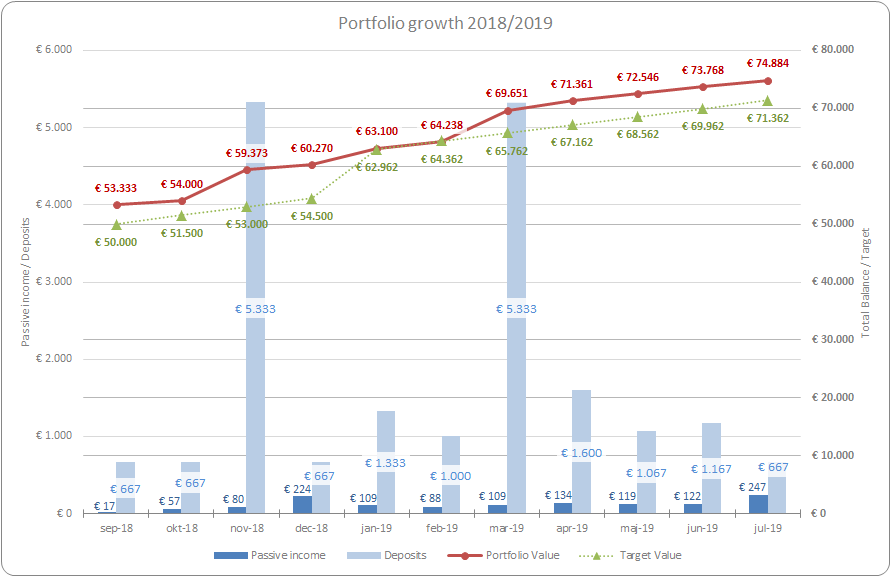 So far I'm still ahead of my yearly target, but I will get deducted in my salary during my summer holidays, so it will even out during the year (as I wont be able to add significantly to my savings during those months). I expect to hit my yearly target of just shy of €80.000 (to stay on schedule to FIRE within the next 13 years), if I can continue to grow my passive income during the rest of the year. I expect a couple of large payouts from Bulkestate at the end of the year (November).
Read the (latest) full monthly update here.
To read about my goals (for the year, and onwards) go here.