The Portfolio
The Portfolio
Latest portfolio update – January 2019
Crowdlending Portfolio – Growth
Crowdlending Portfolio – Distribution

Total Portfolio – Table overview
| | | | | | |
| --- | --- | --- | --- | --- | --- |
| Platform | Value last month | Current value | Change (+/-) | Change (%) | Expected yearly return |
| Bulkestate | € 3.525 | € 3.525 | € 0 | 0,00% | 14% |
| Crowdestate * | € 201 | € 301 | € 0 | 0,00% | 11% |
| Crowdestor * | € 201 | € 405 | € 4 | 1,99% | 15% |
| Envestio * | € 3.144 | € 3.124 | € 80 | 2,54% | 16% |
| Estateguru | € 201 | € 202 | € 1 | 0,50% | 11% |
| FastInvest | € 200 | € 202 | € 2 | 1,00% | 14% |
| Grupeer * | € 1.020 | € 1.072 | € 12 | 1,18% | 13% |
| Mintos | € 926 | € 936 | € 10 | 1,08% | 10% |
| | € 9.418 | € 9.767 | € 109 | 1,16% | 13% |
| | | | | | |
| Bank #1 cash (main savings) | € 38.666 | € 40.000 | € 1.333 | | 0,70% |
| Bank #2 cash (emergency fund) | € 13.333 | € 13.333 | | | 5% |
| | | € 53.333 | | | |
| | | | | | |
| Total balance | | € 63.100 | | | |
Income from crowdlending in January soared to new heights, primarily driven by a few bonus payouts at Envestio. Two people signed up using my affiliate link, and started investing in January. Thanks a lot for the support, guys!
Roughly 15% of my Total Balance remain allocated to crowdlending. The rest remain un-allocated, until a decent local real estate investment opportunity pops up.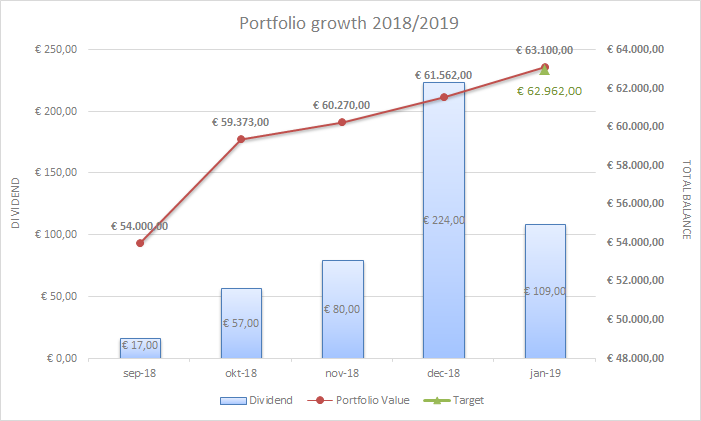 This means I'm still on target to reach my Total Balance goal before I turn 50.