The Portfolio
The Portfolio
1

min read
Latest portfolio update – March 2019
Total Portfolio – Table overview
| | | | | | | | | |
| --- | --- | --- | --- | --- | --- | --- | --- | --- |
| Platform | Invested | Deposits / Withdrawals | Value last month | Current value | Cashback & Bonus / Fees & Commissions | Return | Change (%) | Expected yearly return |
| Bulkestate | € 3.525 | € 0 | € 3.525 | € 3.525 | € 0 | € 0 | 0,00% | 14% |
| Crowdestate | € 700 | € 400 | € 305 | € 701 | -€ 7 | € 3 | 0,43% | 13% |
| Crowdestor | € 900 | € 400 | € 510 | € 915 | € 0 | € 5 | 0,55% | 16% |
| Envestio | € 2.450 | -€ 550 | € 3.125 | € 2.784 | € 18 | € 40 | 1,44% | 16% |
| Estateguru | € 100 | -€ 100 | € 203 | € 104 | € 0 | € 1 | 0,96% | 11% |
| FastInvest | € 400 | € 200 | € 204 | € 407 | € 0 | € 3 | 0,74% | 14% |
| Grupeer | € 1.140 | € 100 | € 1.088 | € 1.205 | € 5 | € 17 | 1,41% | 14% |
| Mintos | € 900 | € 0 | € 945 | € 957 | € 5 | € 12 | 1,25% | 11% |
| ReInvest24 * | € 1.000 | € 1.000 | € 0 | € 990 | -€ 10 | € 0 | 0,00% | 13% |
| Viventor * | € 400 | € 400 | € 0 | € 401 | € 0 | € 1 | 0,25% | 13% |
| | € 11.515 | € 1.850 | € 9.905 | € 11.989 | € 11 | € 82 | 0,83% | 14% |
| | | | | | | | | |
| Pro Real Estate Trust (REIT #1) | € 1.000 | € 1.000 | € 0 | € 996 | -€ 20 | € 16 | | 9% |
| | | | | | | | | |
| Bank #1 cash (opportunity money) | -€ 3.000 | € 5.333 | € 41.000 | € 43.333 | | | | 0,70% |
| Bank #2 cash (emergency fund) | | | € 13.333 | € 13.333 | | | | 5% |
| | | | € 54.333 | € 56.666 | | | | |
| | | | | | | | | |
| Total balance | | | € 64.238 | € 69.651 | | | | |
I've added two new platforms to the roster this month (ReInvest24 and Viventor). I also bought a REIT.
The combined income from my "alternative" asset investments was thus €109 in March. I hope to go a little higher next month 😉
I added an extra large chunk of cash to my savings this months, due to my "vacation money" from my previous employer being paid out (so I can go on vacation during the next year, and still have money to pay the bills).
The "classic" growth chart now looks like this: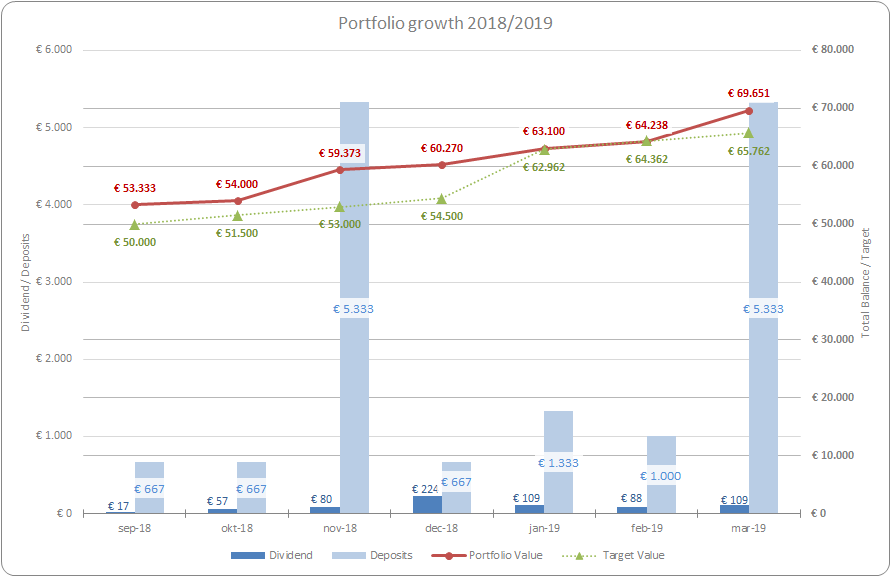 I've now reached 17% of my Total Balance goal! And I'm way above my target for the year. Unfortunately this is just a temporary situation, as I will not be able to average €1.000 of savings in the months where I have vacation (because I get deducted in my salary, and I'm supposed to use my vacation money to cover it)…