The Portfolio
The Portfolio
2

min read
Latest portfolio update – September 2019
There's not a whole lot to say about this months progress, graph-wise. I believe it says it all. I really like to look at that page-3 (Net worth) – it has a nice steady growth to it 😉
The boring income statement
| | | | | | | | | |
| --- | --- | --- | --- | --- | --- | --- | --- | --- |
| Platform | Invested | Deposits / Withdrawals | Value last month | Current value | Bonus / Fees | Return | Change (%) | Expected return |
| Crowdlending | | | | | | | | |
| Bulkestate | € 3.525 | € 0 | € 3.525 | € 3.525 | € 0 | € 0 | 0,00% | 14% |
| Crowdestate | € 700 | € 0 | € 731 | € 735 | € 0 | € 4 | 0,54% | 13% |
| Crowdestor | € 1.300 | € 0 | € 1.285 | € 1.300 | € 0 | € 15 | 1,15% | 16% |
| Envestio | € 850 | € 0 | € 1.422 | € 1.450 | € 17 | € 22 | 1,52% | 16% |
| Estateguru | € 100 | € 0 | € 109 | € 110 | € 0 | € 1 | 0,91% | 11% |
| FastInvest | € 400 | € 0 | € 429 | € 433 | € 0 | € 4 | 0,92% | 14% |
| Grupeer | € 1.140 | € 0 | € 1.283 | € 1.305 | € 0 | € 22 | 1,69% | 14% |
| Kuetzal | € 750 | € 0 | € 784 | € 795 | € 0 | € 11 | 1,38% | 19% |
| Mintos | € 900 | € 0 | € 1.009 | € 1.017 | € 0 | € 8 | 0,79% | 11% |
| ReInvest24 | € 1.000 | € 0 | € 1.005 | € 1.047 | € 0 | € 42 | 4,01% | 13% |
| Viventor | € 400 | € 0 | € 417 | € 420 | € 0 | € 3 | 0,71% | 13% |
| | € 11.065 | € 0 | € 11.999 | € 12.137 | € 17 | € 132 | 1,10% | 15% |
| Stocks | | | | | | | | |
| Pro Real Estate Trust (REIT #1) | € 910 | € 0 | € 962 | € 995 | € 0 | € 5 | | 9% |
| | | | | € 1.003 | | | | |
| Properties | | | | | | | | |
| Brickshare | € 1.333 | € 0 | € 1.333 | € 1.333 | € 0 | | | |
| Property #1 | € 68.667 | € 0 | € 68.667 | € 68.667 | € 0 | | | |
| Property #1 Leverage | -€ 7.000 | € 0 | -€ 8.000 | -€ 7.000 | | | | -3,5% |
| | | | | € 63.000 | | | | |
| Cash | | | | | | | | |
| Bank #1 cash (main savings) | € 0 | | € 0 | € 0 | | | | 0,70% |
| Bank #2 cash (emergency fund) | € 0 | | € 0 | € 0 | | | | 0,5% |
| | | | | € 0 | | | | |
|   | | | | | | | | |
| Total balance | | | € 74.997 | € 76.140 | | | | |
| | | | | | | | | |
 
My crowdlending adventure delivered passive income above average this month. I actually hit an all-time high crowdlending income of €149.
I also managed to get back on track with my savings, and added €1.000 to the leverage pool, bringing it down from -€8.000 to -€7.000. 7 more months to go, it seems 😉
This brings my Total Balance to €76.140 for the month – which just happens to be 19% of the way towards my current leanFIRE goal of €400.000 🙂 Not too shabby, if you ask me!
The Classic Growth Chart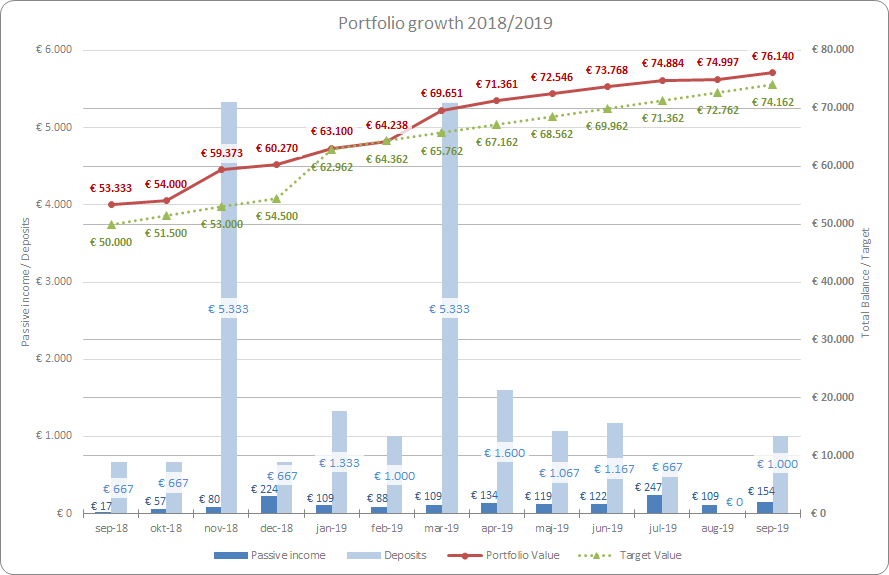 I really could do with just this chart. I believe it says everything that is necessary to be said – but what's the fun in that?! 😛
The conclusion
In conclusion a record crowdlending income month, and a standard savings month brought me a little closer to my goal this month. That's how it's supposed to be 😉
So far I'm still ahead of my yearly target, but I will get deducted in my salary during my summer holidays, so it will even out during the year (as I wont be able to add significantly to my savings during those months). I expect to hit my yearly target of just shy of €80.000 (to stay on schedule to FIRE within the next 13 years), if I can continue to grow my passive income during the rest of the year. I expect a couple of large payouts from Bulkestate at the end of the year (November).
Read the (latest) full monthly update here.
To read about my goals (for the year, and onwards) go here.