10

min read
As previously announced, I'm planning to invest a good sum of money in real estate, via a real estate development company, as that would allow me to purchase a stake (typically 10%) in a larger project.
There's a good handful of such real estate development companies in Denmark at the moment (there's probably more – I don't know all of them), which offer such projects to investors. In order to attract new investors to their projects, they often host a wine-and-dine event for potential new clients/investors a couple of times a year (that's when you know that they make good money, doing what they do – when they can afford to wine-and-dine potential new investors).
Who am I to say no to a free dinner? (and maybe also learn a little along the way). Join me, on my first wine-and-dine "date" with the company, Imbro.
Inspired by my fellow Danish FI blogger, Jørgen, over at financiallyfree.eu I decided that while I was there, I might as well share my experience with my readers. Some of you have expressed an interest, in following my real estate investment(s), so I figured this would be a good way to "keep you posted".
So, I got an invitation to join this event, as I had been in contact with the company for a while, and they seemed like they were doing some interesting projects. I gladly accepted the invitation, in hopes that I would get to know the guys behind the company a little more, and maybe also meet some like-minded investors.
The event took place in an upscale neighborhood, in the northern outskirts of Copenhagen. It suited me perfect, as the event venue was only about a 25 minutes drive from where I live. It took place at a Hotel & Conference Center called Comwell (I'd actually been there several times before – both for business and pleasure, so I knew the venue quite well).
When I entered the conference room that I was directed to, I felt a really strange vibe in the room. There was about 10-12 other people there, and instantly I felt like we were somehow rivals in a race of some kind. Nobody was talking to each other, and nobody was looking at each other. I was (by far) the youngest guy there (there were only guys there at that point – most of them 20+ years older than me. I felt a bit like an outcast to be honest). Perhaps it was just the typical Scandinavian (danish) attitude of keeping your distance and "I mind my own business – you should mind yours" that I felt. This feeling was going to disappear once we reached the dinner table (and the alcohol started flowing), but it was so odd at the time!
Two more people came in after the presentation had started (including 1 lady! – Essentially doubling the amount of females in the room at that point!).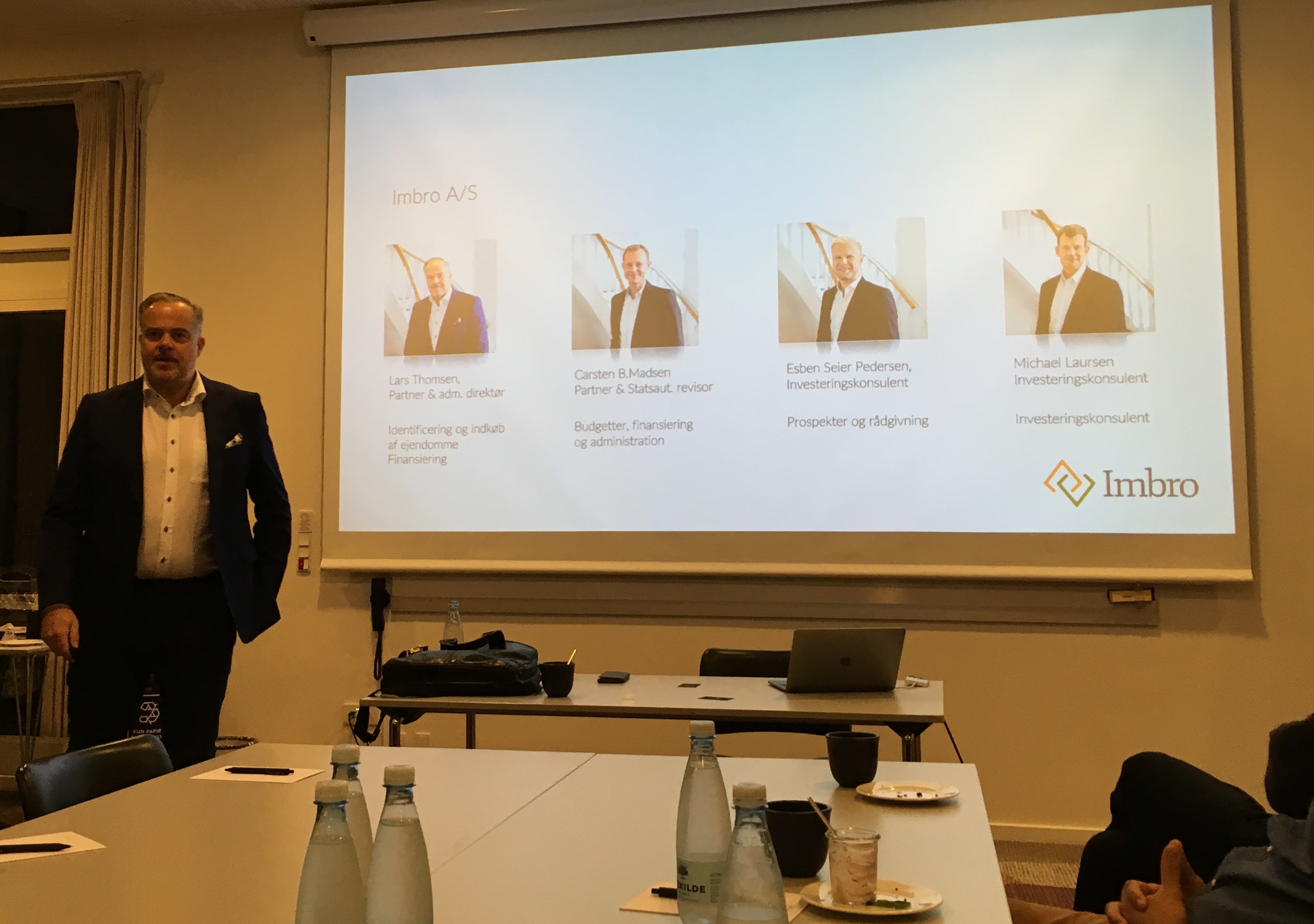 Lars, the owner of Imbro started to present the company, the people and their vision/strategy. He struck me as an extremely pleasant and easy-going guy (Imbro is from the rural parts of Denmark, Jutland – so I kind of expected them to be that way, as those guys are known for their down-to-earth like demeanor). Here's the guys (there's a girl too though – check out their website imbro.dk for more info):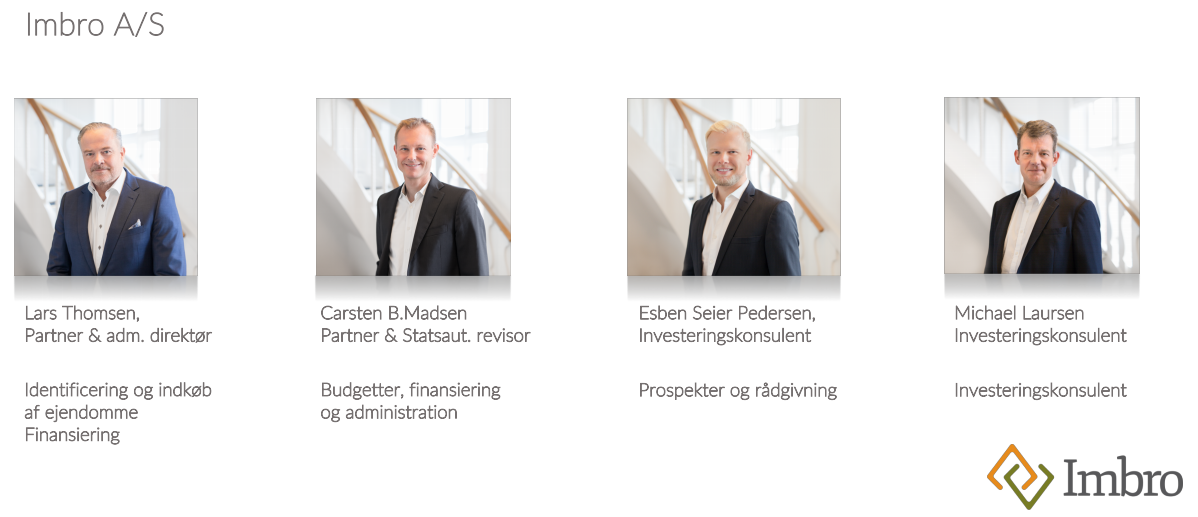 I'd had talks with Michael on the phone, and I sat next to Esben at dinner (an extremely likable and knowledgeable dude). They all really seemed like nice guys. They are honest, and upfront in the way they present their projects, and they don't mind being challenged on their statements (I tried a couple of times). I mean, obviously they make good money doing what they do – but they also present good value to their investors.
Imbro is a fairly young company (founded in 2016) so they don't have a long proven track record of successful projects, like some of their competitors do – however, the people behind Imbro have been selling Solar Power projects to investors for more than 10 years (see spi.dk for more info). A recent regulation change has made solar projects a less lucrative investment for investors (as I understand it), which is way they've branched out, and are now working in regular real estates projects instead.
Anyway, Lars started to point out exactly why he finds real estate investment especially interesting right now. – Namely the gap between the interest rate and the initial yield from a rental property. I must say, I have to agree with him!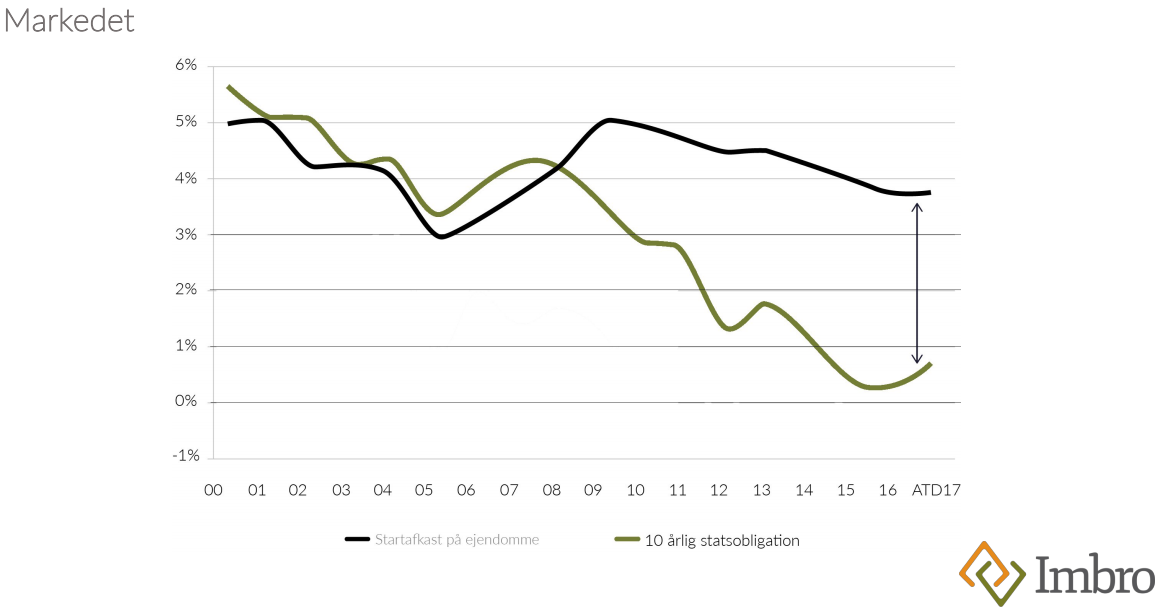 Imbro differentiate them selves from (most of) their competitors, in that they only do projects where the properties are fully renovated/newly build AND fully rented out. Unlike other companies that has to actually build the building first! This is a key factor for Imbro, and a huge selling point im my opinion.
I've had my eye on projects from several other companies, but they all seem to share the same common "fault", in that their projects have yet to be build. – And thus, the budgets are based on assumptions. Assumptions on the interest rate 1-2 years from now, and assumptions on how much they can actually charge in rent (of course, the rent will be based on similar buildings in the area – but none the less, they don't have a single tenant yet at that stage of the project).
So basically, if I bought into that kind of project, I would risk that an interest spike (or a delay) during the development phase, potentially could render the investment poor! Also, my investment wouldn't actually start to generate any income, before the building was finished and the tenants moved in (1-2 years from now). – With Imbro, the projects are fully up and running no later than 3 months after you put your money in the project. Their projects typically don't pay any dividends until after the 3rd year of running (dividend payouts will depend on approvals from the bank and the buildings financials at the time of the expected payouts). So in terms of using the magic of compound, this type of investment really isn't it. – You simply don't buy into these projects for the sake of the dividend. Which really sucks – cause I love dividends! 😛 (don't we all?)
Anyway, Lars presented 2 projects which are currently not (yet) public on their website (I liked that – "insider" knowledge! I instantly felt a little special!…). – Here is where it gets a little technical (danish tax rules etc.), so if you're not a dane, you can probably skip this next part.
One project is an A/S in Aarhus, the other is a K/S in Horsens. (I told Esben at dinner: Dude, there's no bragging rights in my circles, for buying property in Horsens! So I might pass on that one! – He rebutted that we obviously came in different circles, cause in his – Horsens was badass! Investment wise at least. It's a so-called growth city, and granted there are some beautiful architecture there, and Horsens has struck interest from major Pension providers as well – they all believe that it could be a good place to invest in real estate).
The major differences between the two type of company structures (A/S vs. K/S) is how you're taxed on the yield from the project. I won't go into details, but given that I plan to invest a maximum of DKK 500.000 (€66.666/$76.925) in one project, A/S is not really within my scope, as A/S projects typically have a minimum buy-in of DKK 750.000 (€100.000/$115.380). – Again, the reason for that minimum amount, is due to our obscure taxation rules (I'm not going to explain them – as I really can't – you do your own research on that part, if you're interested in investing in an A/S project – then ping me back once you've understood the taxation rules! Thanks :-P)
So, K/S has my interest, and this particular project (the one in Horsens) has a buy-in of DKK 480.000, so it's within my budget! The projected return is 13% on average over a period of 10 years. Dividends are expected to be payed out after the 3rd year of running, of around 3%. So all in all, not bad….But, I'm still not sure about Horsens. (The avid reader would also know that at this point in time, I don't actually have DKK 480.000. I only have just shy of DKK 450.000, and about DKK 75.000 of them is currently tied up in Crowdlending…So my current total cash balance is only DKK 380.000). Alas.
But here it is: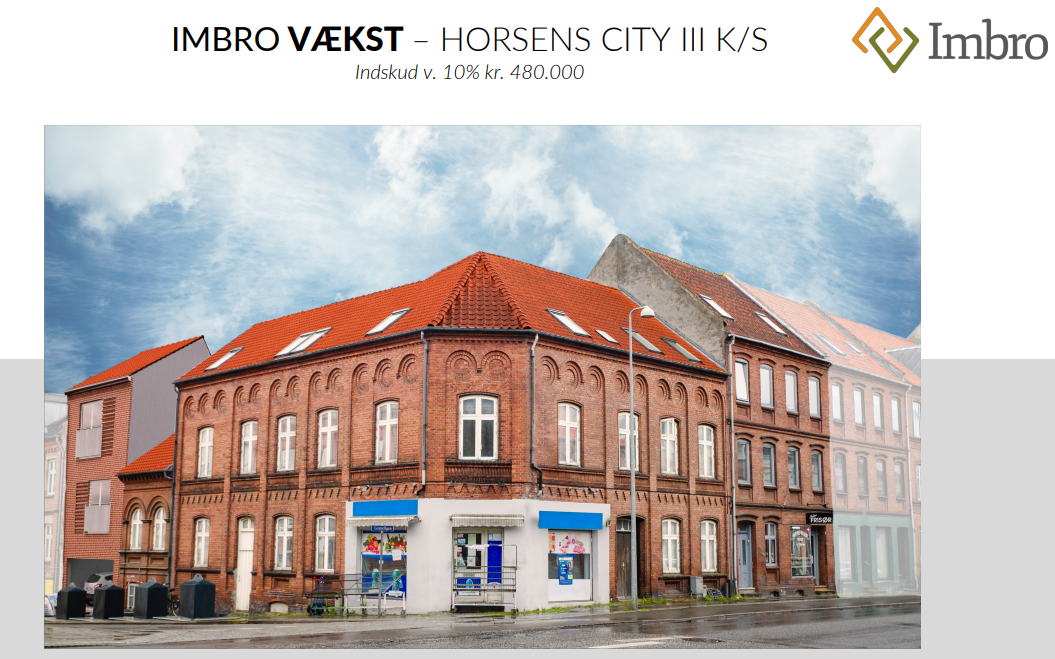 It's a bit quirky, I have to say. – But it has its charm, no doubt. Build in the early 1900's, and its currently undergoing a total renovation (inside and out).
For some reason, this project just doesn't speak to me. I don't know what it is…What do you think *?*
Anyway, we can't really have a dinner review, without a food picture, now can we?!
So here goes – the chef presenting our "vegetarian" main course…The meat came in right after I took this photo (haha, funny viking-chef-guy!):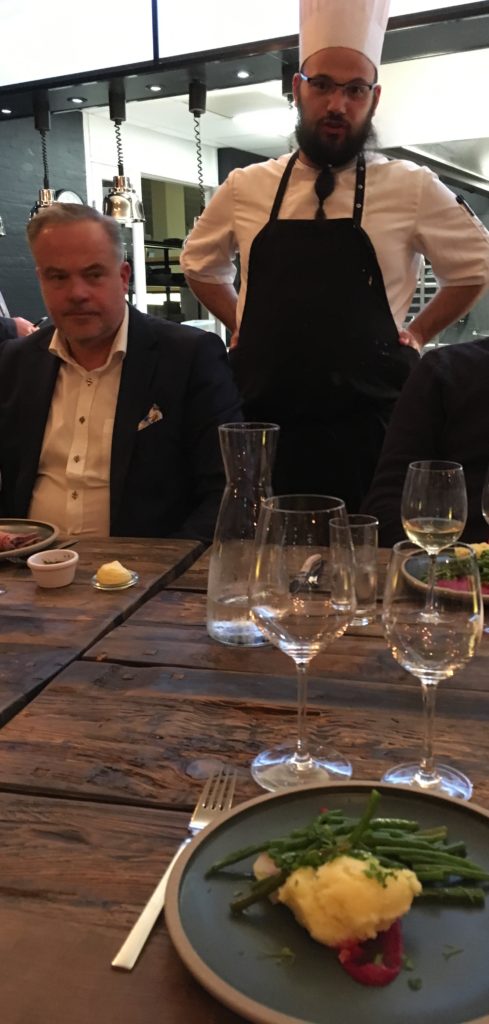 The food was great, which it normally is at the Comwell Hotels. However, Mr. Viking-Chef-guy; this is now my third meal at Comwell Holte, where you guys have the nerve to serve me red meat – without any kind of sauce to go with it!? What's up with that? Am I just being old-school or what? I'm a dane – I need sauce! Sorry! 😛
Anyway! In summary: It was 3 hours well spent with Imbro, and I absolutely recommend going to one of their investor meetings, if you're interested in investing in real estate (together with 9 other investors…). There are other real estate investments that can give you a higher yield – but it will require more work on your part, and it will require you to carry more of the risk by yourself as well.
I've come to terms with this solution – it's perfect for me and my temper. Now, I just have to wait for the perfect project to come around. – My spider senses tells me that it's right around the corner! – So stay tuned!
EDIT: It has come to my attention (thanks TEoW) that my thoughts on Imbro and their projects as a whole might not have been completely clear in my above – sometimes – incoherent ramblings. I would like to point out that I really like Imbros projects, and their prospects are some of the best I've seen in terms of style, layout and the amount of information that you get from reading them. I have yet to make my first real big real estate investment, but at this point in time, I would have no problems investing with Imbro! They have a very conservative approach in terms of how much risk they're willing to take (on behalf of their investors), and thus their projects seem a lot more "safe" than some of the ones currently being offered on the market. But remember, regardless who you choose to invest with – make sure to always read the fine print! Twice!
Teaser: In two weeks, I have another investor meeting with one of the biggest development companies in Denmark – Koncenton. I will of course post a review of that meal (and the people) too!
EDIT: You can now read about my night out with Koncenton here.
See you next time!
*If you want the full presentation from Imbro, shoot me an email.