5

min read
This week I attended a 2-hour (free) seminar on property investing, from the Rich Dad Education company.
I didn't really know what I was going into (the agenda was very sparse), so I tried to keep an open mind (I already read Rich Dad, Poor Dad, so I was pretty sure I already knew the gist of it).
What I did know however, is that nothing is free 😉 I was sure that they would try to convince me to purchase something after/during the seminar.
I was right.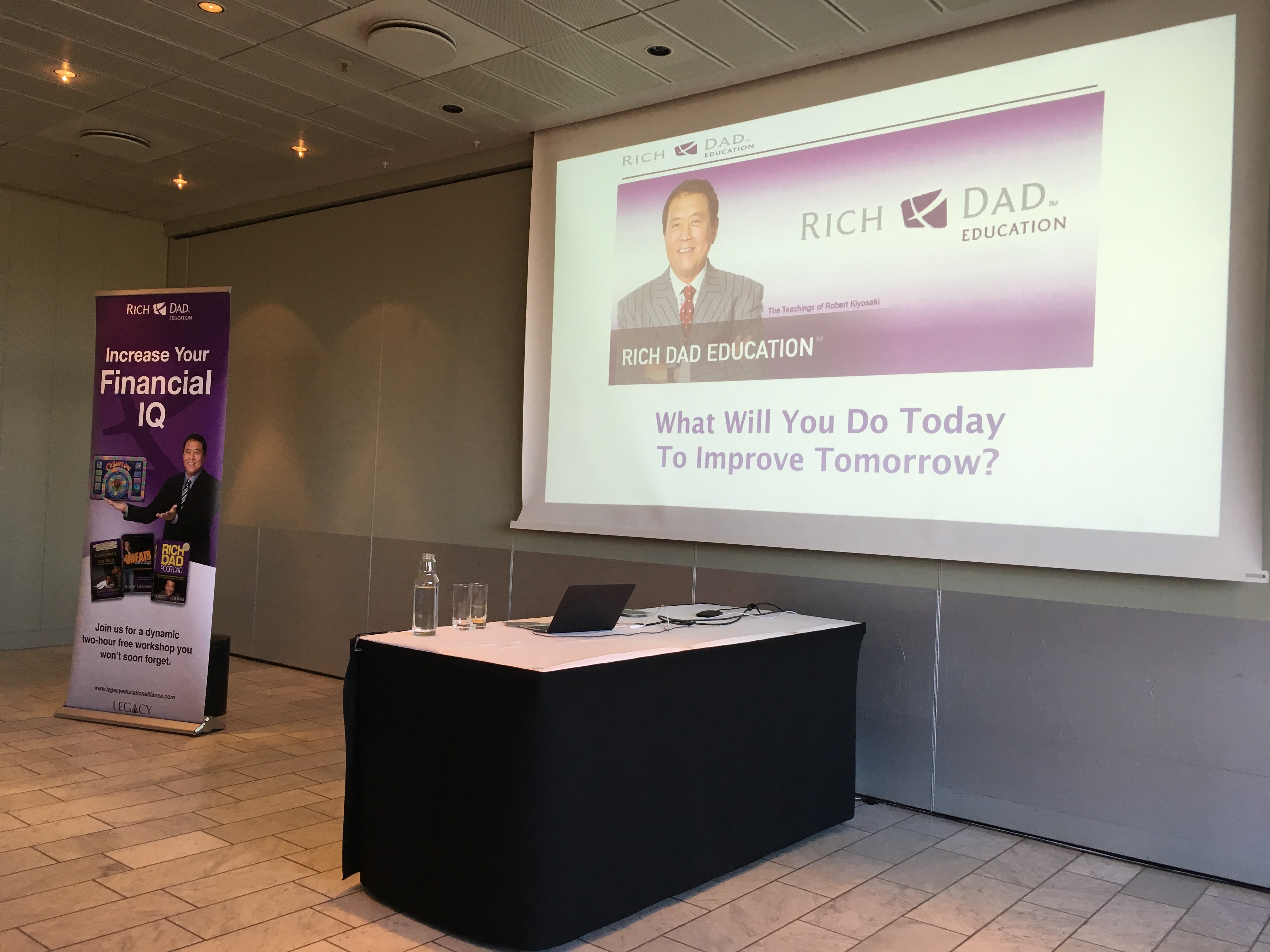 This is the only picture I have from the night, because shortly after I snapped this, we were strictly told (not asked) to refrain from taking any pictures during the seminar. Also, the presenter (a charming 20-something British fella with the whitest smile I've ever seen, called Rob) proclaimed that he would not be answering any questions during his presentation…
At this point, my alarm bells were chiming pretty hard. No pictures and no questions. We were allowed to write things down though, and Rob was pretty adamant about writing his key points down. "Write this down" he would say, whenever he poured extraordinary wisdom at the audience (there were somewhere between 100-150 people at the event – a fairly varied bunch, ranging from people in suits to bodybuilders and people in hoodies).
Rob was a very eloquent and engaging presenter, I must say. He told us "his" story, about how he grew up in a lower middle-class family, working in a Pro Golf Shop in his early twenties, dreaming about becoming a golf pro. He didn't quite have the talent though (his own words), so when he stumbled on the Rich Dad, Poor Dad book, he decided to switch career paths, and go into property investing. Flash forward to now (7 years later, allegedly) and he's now a (very) rich guy, "working" only 4 days per month, still dreaming about becoming a Golf Pro.
That was the story. In between his anecdotes about "his own life", he would present the audience with various examples of how you can go about becoming rich via property investing (fast – using other peoples money, even). He even give a lot of very tangible advice (also a lot of vague advice though), and by the end of his presentation, you're pretty convinced that you NEED to buy a 3-day Property Investing course with the Rich Dad Education company, because he spent the better half of the 2-hours talking up this course. Of course this course is HALF OFF – but ONLY tonight! It takes place in Stockholm, and he even brought a few "real people" along, who has attended this course, and are now on the fast track to becoming rich (and famous).
While there were a few good points, and I don't regret spending those two hours with "Rob", I'm not buying it. I've never been at a seminar like this before, but I've seen enough movies to know that this event has one purpose, and one purpose alone: To get you to buy into the whole Rich Dad universe. The special price for the 3-day course is about DKK 9.000 (€1.200 / $1.350), and I'm actually fairly sure that the money would be well spent – but I didn't go there, with the intention of spending money. The whole 2-hours reeked of well-rehearsed good old american sales-propaganda 😛 I'm fairly sure "Rob" is a fictitious character. That being said, he WAS pretty good at selling the story 😉 And as I said, he does manage to make some excellent points, during his 2-hour sales-pitch.
I'm not the type of person to actually write things down during these type of events (you know me: Lazy under-achiever). Luckily, I brought a friend to this event (technically, he was the one who brought me). – And unlike me, he's not a lazy under-achiever, so as the good attendee that he is, he of course wrote it all down! (I hope you still have your notes, Scotty – who knows when they'll come in handy! 😛 ).
I did take a few "mental notes" though, and because I'm the lazy under-achiever, I've borrowed this diagram from a friend: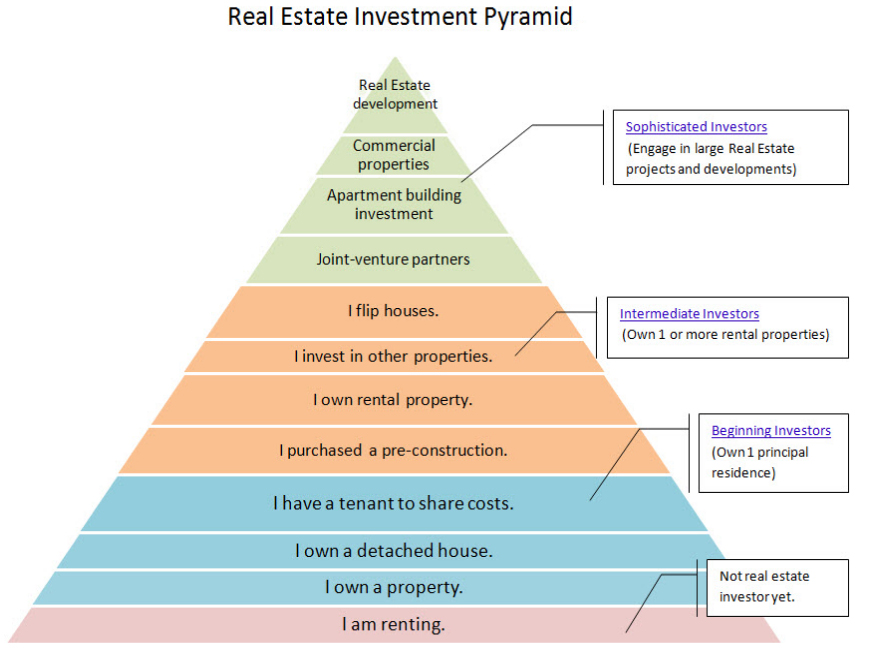 "Rob" presented a few examples, of how to move up in the pyramid from being an Intermediate Investor to becoming a Sophisticated Investor earning Gangsta' Money (his words!).
Seeing that I've been considering investing in commercial real estate, I really liked the Real Estate Pyramid (Robs version was a bit more simplified, but I really like this one from wealthinthehouse.com).
Naturally, wanting to earn Gangsta' Money, I'm still considering investing in commercial real estate – but not because Rob said so – because I already knew this, before I came to the event 😉
The 2nd topic of the night, which I "wrote" down in my mental notebook, was that it doesn't matter where you're from, how you're raised, or how much money you have. If you wan't something (anything – not just money, really), then the first thing you need to do is:
Take action! – And seize the opportunities, when they come your way!
I believe the universe just provided me with an opportunity 😉 – I hope to share with you, the arrival of Property #1 in the coming weeks! – So stay tuned!
The whole experience was a little surreal, to be honest! The comment of the night, which sums it all up really well, came from my buddy (Scotty); on the ride home, he proclaimed: "I think this is the closest I've ever been to a cult!". HA!
If you've seen ads for this Robert Kiyosaki event (with the fine print stating: Robert Kiyosaki will not be attending this event), and wondered if it would be worth spending 2-hours on, then I'd strongly advice you to: DO IT! If nothing else, you'll get a few laughs out of it – and maybe a few good points along the way too. But it isn't rocket science really – it's just (a) good (american) business 😉