4

min read
If you spend some time in the various personal finance spaces around the great Internet, you'll eventually stumble upon statements like this:
 Debt is bad! You should avoid debt by any means necessary!
While I don't dispute the fact that living debt free might "feel good", in terms of economical advantages, living without leverage is not mathematically sound – especially not in todays interest environment (0.5% 30-year fixed-rate loans are available in Denmark these days. 0% 15-year fixed-rate is available and even -0,5% 10-year fixed rate too).
But obviously there's a huge difference between debt and leverage.
What do you mean Nick? Sounds pretty much the same to me?
Well, you might have heard the terms "Good Debt" and "Bad Debt".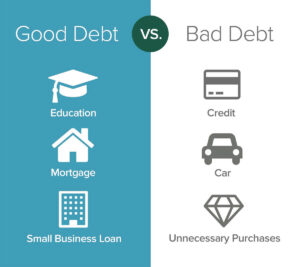 Debt is per definition bad – UNLESS you use it as leverage to purchase an asset.
If you borrow money to purchase a depreciating asset like a car, an iPhone or even a luxury vacation – well then, you've joined the owners club of bad debt.
On the other hand, if you borrow money to purchase an (expectedly) appreciating asset instead, welcome to the owners club of good debt – also known as L.e.v.e.r.a.g.e.
The most well-known of appreciating assets are of course real estate, but also rare (collectable) artifacts like paintings, watches, jewelry, sculptures, fine wine or even cars could be put in this category.
Education can sometimes also be considered as an asset, provided that said education grants you marketable skills that can increase your future income.
In general, it's pretty acceptable in society that one acquires some good debt to purchase a home. The problem is, it also seems to have become acceptable to acquire a shit load of bad debt, because we've become a society built on status symbols. If your neighbors/friends has fancy new gadgets and expensive consumables, you automatically crave the same – at least that's what we're taught to believe.
I'm no different. I used to drive fancy cars and buy the latest gadgets, because I thought it would fulfil me. But guess what? It didn't.
I never had any bad debt though – and you shouldn't either!
So why is Good debt better?!
Well, it's pretty obvious: when you use good debt/leverage to acquire an asset you otherwise would have spent 10-15 years saving for, you jump-start the compound-engine ahead of time!
This is why I chose to deploy some leverage in order to purchase my Property #1, and it's also why I'm considering doing it again to purchase my next property! (I've already paid of the leverage-loan on Property #1). I also find that leverage can work as a great carrot for me to try and save more, to bring it down faster (only to deploy it again at some point, ofc 😛 ).
However, when you go to the bank to borrow money to purchase your own home, they first and foremost focus on your debt factor. Which mean they focus on your debt:income ratio.
The banks like to keep the ratio between your debt and your pre-tax household income at a maximum of 4:1. 5:1 then you're "high risk", and above that they'll most likely deny you the loan.
When we purchased our current home, our ratio was 5.1:1, because we also had a vacation home. We later sold our vacation home (which led to me starting this blog) and our current debt factor is now 3:1 (give or take). This is a level that both I and the banks are pretty comfortable with. – However, it puzzles me that they wouldn't first and firemost look at your expense to savings ratio and your savings rate. I believe savings rate would be the most interesting metric when granting loans to people. But I guess they also somehow factor in these metrics, so the debt ratio can be used as a guiding principle.
Whether leverage is worth it is entirely up to you. To me it's simply a matter of math. If you can borrow at 4% and your asset appreciates (expectedly) 8% (or more) per year, then leverage is in my opinion a no-brainer (as long as you keep and eye on your debt ratio). Gearing investments always adds an element of added risk, so make sure you're comfortable with adding more risk to your portfolio.
Since I've been at 5:1 before I don't mind going there again, but I'd prefer to be around 4:1…
I (once again) have my Property #2 in sight!
What's your debt factor, and are you comfortable at the current level?