6

min read
Another year is in the history books!
And what a year it has been.
As is the norm here on the Total Balance blog, I like to look back at the previous year and compare the goals and dreams (2021) to the actual numbers.
Unfortunately, we did not manage to reach the target that I set out to reach in January 2021 (€135.000 by year end).
However, I knew that it was an aggressive target, so I'm still fairly content with the 2021 results (€122.189).
But lets dive into the numbers of 2021, and have a look at some targets for 2022! 🙂
The 3 Pillars of wealth
I've previously introduced the concept of the "3 Pillars of wealth", which consists of:
Total Balance (savings + investments)
Our home equity
Our Pension
Since the previous update to the 3 Pillars of Wealth, we've started to include the Wifey's pension in our NW. – So this will be the first year where we'll also dig into how the Wifey's pension funds fared (spoiler alert: she once again got a better return than me. DAMMIT!). This also kind of breaks the idea of the 3 pillars, because the following graph actually contains 4 pillars (just imagine that my pension and my wife's is one combined pillar 😛 ).
I hereby give to you, my dear audience, the "3 Pillars of Wealth deposit & growth distribution of 2021":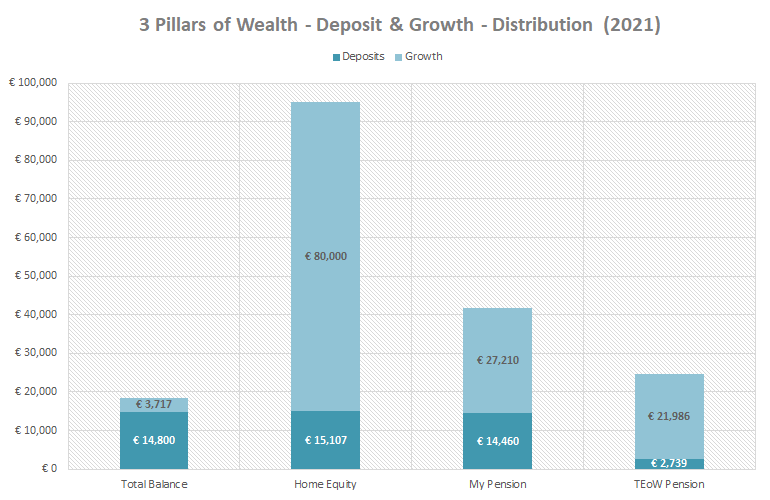 It warms my heart to see that the deposits are almost evenly distributed in the 3 categories (I like symmetry), and those pension returns are also the best we've ever seen.
Our home equity took a giant leap, since we got a new home appraisal, which added €80,000 to our net worth over night. I've always been conservative in estimating our equity, so it was no surprise that it had increased substantially – it was however surprising that it was THAT much (I've still left a margin to the actual appraisal 😉 ).
Nothing is as bad that it isn't good for something (apparently). At least something good came out of this stupid pandemic! I pity the future generation, who's just now entering the housing market. It's brutal. At least the interest rate is still record low, so they have that to be happy about (for now).
Both our pensions had a massive year in terms of growth – this is definitely where we're really starting to see the effects of compounding; the 8th wonder of the world! 😛
To put everything in context, this is a comparison between our net worth from last year to now: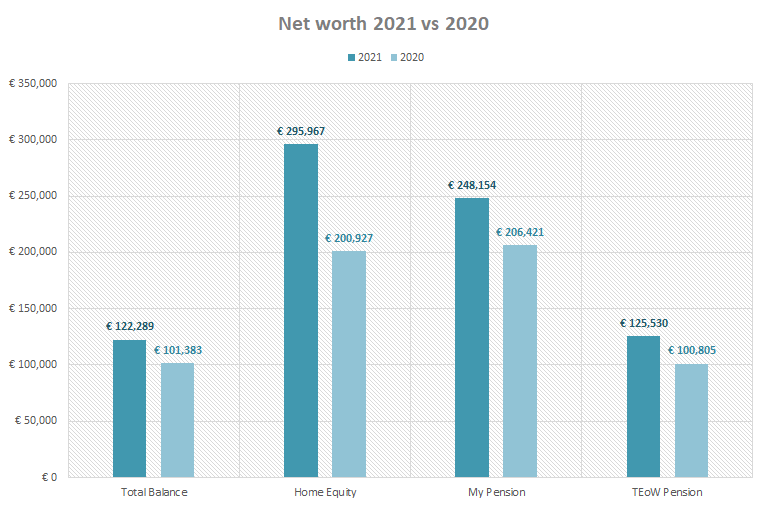 Total net worth 2020: €508,731
Total net worth 2021: €791,840
Granted, the majority of the growth happened in the illiquid part of the portfolio, so it's not really going to contribute to us reaching FIRE sooner. – But it's still nice to see 🙂
In my "2021 goals"-post I mentioned this:
Our home equity grows steadily as we're paying down our mortgage. This will continue in 2021, but in 2022 we're aiming to hit 60% LTV and converting to an interest-only loan. By doing this we will transfer equity from our home to our Total Balance instead (as we believe we can get a better yield on the funds here). This will not happen until early 2022 though (if everything goes as planned – which it often doesn't so we'll see how that goes 😛 ).
I've been planning for this moment for more than 3 years now, and due to the housing market going completely ballistic because of you-know-what – and inflation going in the same direction -we're now ready to remortgage at 59% LTV and never pay another dime towards our principal again! It's exciting, but also very, very scary! This approach goes against everything I've been taught, but when you can borrow < 1% in your home, paying down the principal just doesn't make much economical sense (even though it is scary).  I know some (if not a lot) of you might disagree with me on this one 😉
Looking ahead
Which brings me to the next chapter of this rant!
What's the lookout then for 2022? You might ask!
We're entering Year-4 of the 13-year plan to a Total Balance of €400,000.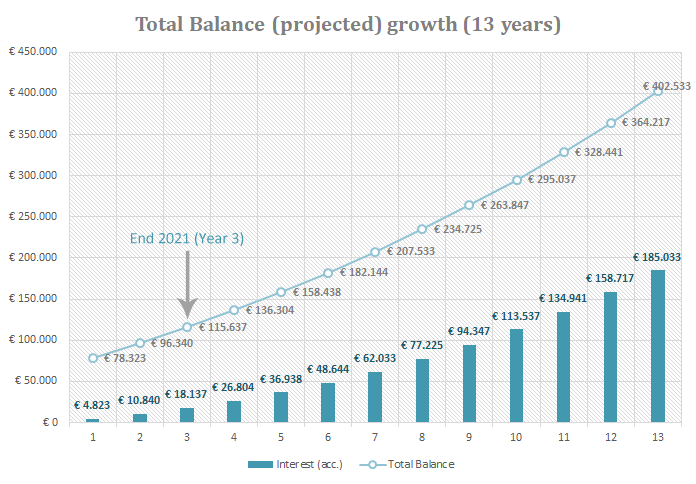 The original plan was made based off of a fairly conservative savings contribution of €1,000/month (if I remember correctly). In 2021 we averaged around €1,200/month in savings.
Because we've decided to stop paying down our mortgage principal, we can now funnel those savings towards our Total Balance instead. This means that 2022 should see average savings around €2,000/month (our mortgage isn't up for refinancing until the end of March – so the larger contributions won't start until April).
With a little help from Mr. Market, this should potentially see us blow past €150,000 by the end of 2022 (landing way above the original target for Year-4).
As you know, I like to set aggressive targets, so I'm going to aim high and go for the Year-5 target instead!
This means that by the end of 2022 the goal is to have a Total Balance of €158.438.
Yikes. Good luck to me (us!) 😀
We didn't reach our target this year, but I have a good feeling about 2022 already! 😛
Personal goals
I'm going to be a copy-cat, and simply copy my "goals" from last year, as I only really succeeded in fulfilling one of them!
These are the exact same goals as last year:
Move more
Get outside more
Play more
Laugh more
Be more present
Eat more greens and less meat (anti-inflammatory diet)
Eat less sugar (anti-inflammatory diet)
Exercise more
Worry less about stuff that doesn't worry about you
If you wonder which one I managed to conquer, it was #6. I've actually come pretty close to becoming a vegetarian – but I don't like that label, so I'll refer to myself as a flexitarian 😛 (I eat meat occasionally). My wife is NOT happy about this development though (she's a red wine and red meat kind of girl 😛 ). I feel like I can live just fine without meat though (especially red meat). I still eat white meat though (like chicken and turkey) every now and then. This change in my diet was to help combat my inclination to inflammation (in my joints) among other things, and I feel like it is helping, so I'm going to continue to shy away from the red meat as much as I can.
I also think I was better at #1 and #2, in that I've been walking (outside) quite a lot in 2021. I'd like to continue the trend, and I'm TRYING to push myself to 10,000 steps per day – but so far I haven't succeeded in reaching that goal during the first couple of weeks of 2022 – so I'm not getting my hopes up HAHA. I have developed a nice habit of working while standing (I have no chair in my home office or at my desk at the real office). I feel like this helps my posture, and it also helps to keep my body's "engine" running during the work day.
I think that was it for this 2022 goals update!
Thanks for reading, and I hope that you will continue to follow our journey 🙂