11

min read
If you're like me you like FREE money! (Yes?!)
In the olden days, when you deposited your hard earned cash in your local bank, they returned the favor with a decent interest rate.
I remember my grandmother once told me that she got 10% on a "high yield interest rate account" in her bank.
Of course, this was 30 years ago. The days of decent interest rates in your bank have long gone – they even "pay" NEGATIVE rates on your cash these days. My grandparents would be turning in their grave, if they knew about this development.
I currently pay -0.7% on my "savings account" in my bank. TRUE STORY!
It's thus no longer just inflation that you have to worry about – your bank is now ROBBING you in your sleep as well (they probably always have, just less obvious back then 😛 ).
Thanks a lot FED, ECB, BoE & BoC and whatever we call these modern day bank robbers. – Because that is essentially what's going on, right?
They print money 24/7 (literally), so every day the value of FIAT money (EUR, USD, GBP, CAD etc.) is declining rapidly. I wonder if the current monetary system is even sustainable (it's not) in the long run?…
Well, this is one of the reasons why I believe our future currencies will be digital and decentralized.
Enter: The World of Crypto Currencies
HELLO BTC, ETH, ADA, SOL, XRP, DOT, LUNA, AVAX etc. (not to be confused with ETC – Etherium Classic 😛 ).
The selection of crypto currencies today is almost endless, and still new variants arrive every day.
The total market cap of the crypto-sphere is rapidly growing, and almost reached $3.0T in November (up from $800B in January), but has currently settled around $2.2T – almost 3x what it was at the beginning of 2021. Just to put the value in perspective, here's a small comparison of Crypto to other assets (from June 2021 – so it's already outdated):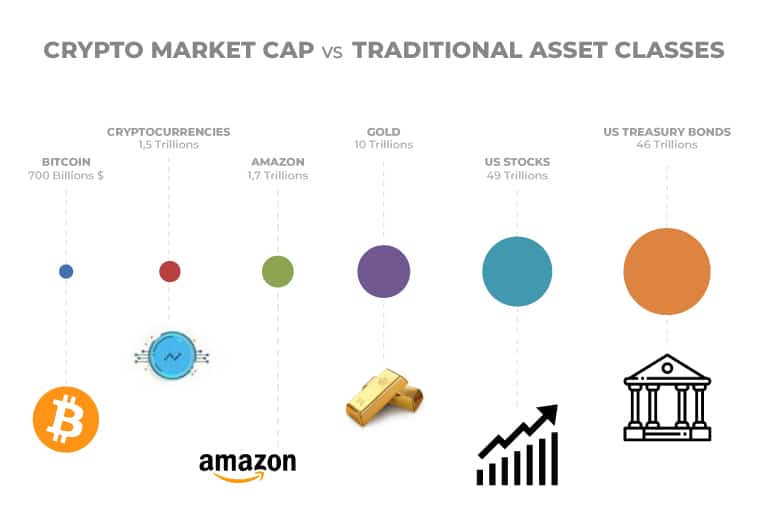 There's no saying what the crypto market cap will be in 6-12 months, but if the current trend continues it will eventually surpass the market cap of Gold. That's pretty mind boggling.
The biggest – by far – in market cap is still Bitcoin (followed by Ethereum), and it looks as though the rapidly growing trend of Bitcoin is slowly flattening, and personally I think it will be a while before we see BTC > $100K (if ever), but as long as it doesn't plummet below previous major support levels (the most notable one being around $39K) I'm expecting BTC to move within acceptable levels of volatility ( 😛 ) in the nearest future. But I'm not a fortune teller, so don't take my word for it!
All I'm trying to say is: If you're looking for a crypto currency with the potential to go 2-10x its current value point, BTC is not it 🙂
– And I believe that's what most new(bie) crypto "investors" are looking for; the next rocket coin, right!?
LUNA is up more than 100x YTD. If only one had put €1000 in LUNA at the beginning of the year, this small gamble (cause lets just be honest that's what it is at this point) would have turned into €100K!
So…Naturally, the quest to find the next LUNA begins, right?!
Wrong. 
There's hundreds of promising new crypto projects to choose from every month, and few will go 100x in a year. Granted, some probably will though. Finding that 1 out of 100s is pretty much like finding a needle in a hay stack.
So…what then?
Enter: The (Centralized) Crypto "Banks"!
If you're not into looking for needles in hay stacks, how's about we just deposit our current crypto holdings in a Crypto "Bank"?!
There's a vast selection of them out there to choose from. I've looked at a handful and have so far chosen two that I use to store my own crypto coins with.
Here's my Top-5 CeFi Crypto Banks (alphabetized – not in order of BETTER<->BEST):
(Sorry, I had to include the taglines! I'm not going to say that I picked Celsius as my first crypto bank solely because of their awesome tagline – but it was damn close! #UnbankYourself – #SignMeUp! 😛 )
These 5 platforms will allow you to earn interest on your crypto holdings (from 4-20%, depending on which coins you hold and how you chose to earn your interest).
What's most astounding though, is that several of these offer rates up to 10% on stable coins (think USDC, USDT – and even USDx, EURx and GBPx!). So if you don't like the idea of hodling <insert your favorite volatile crypto coin here> to earn interest, you can simply just deposit USD or EUR and convert it to USDx/EURx.
My grandmother would be proud if she saw me making 10% on my cash in todays market (probably not, I don't think she understood the world of online banking 😉 ).
Yes but wait a minute, Nick – it's not quite like depositing money in your bank account, as there's no Deposit Guarantee in a Crypto Bank, unlike the regular bank.
And THAT is true. Getting 10% APY on your stable coins comes at a certain risk. Do not put any money in these platforms that you are not prepared to lose. In that sense, it's much like crowdlending 😛 . The CeFi banks are not real banks, and you have no guarantees that THEY (or evil hacker kids) aren't going to run off with your money. Such is life. Full of risks 🙂
This is why I've chosen to spread out my holdings on 2 different platforms (Celsius and Nexo) and I'm currently contemplating adding a third (spoiler alert: It's YouHodler 😛 ).
I like the "tech-stuff" in these platforms, and this will allow me to make comparisons between them, and place my holdings wherever I get the most "bang for my buck" (while spreading the risk of course).
Something that I've learned so far, is that it's actually fairly cheap to buy crypto within the platforms, rather than buying it on an exchange first (like Crypto.com or Coinbase) and then transferring it to your Crypto Bank wallet afterwards. Nexo is by far the cheapest, so buying like $50 worth of your favorite coin (there's a lot to choose from in the Nexo App) is not costing you a ton in fees, and then you also avoid the wallet transfer fees afterwards.
How to get the best rates
I have chosen Celsius and Nexo to begin with, as they have support for a fairly vast selection of coins (Nexo supports the most common top-20 coins and Celsius is close to supporting top-30 I think).
A common trait for both of these platforms is that they have their own kind of Crypto coin (NEXO and CEL), and you get a higher APY on your coins if you chose to earn interest in the platforms native coin (very smart…). I prefer to earn the interest in the standard coin though (if you hold ETH you earn interest in ETH and so on).
With Nexo the interest is compounding daily (yay) and Celsius pays interest weekly (every Monday).
Here's the current supported coins and the rates with Nexo: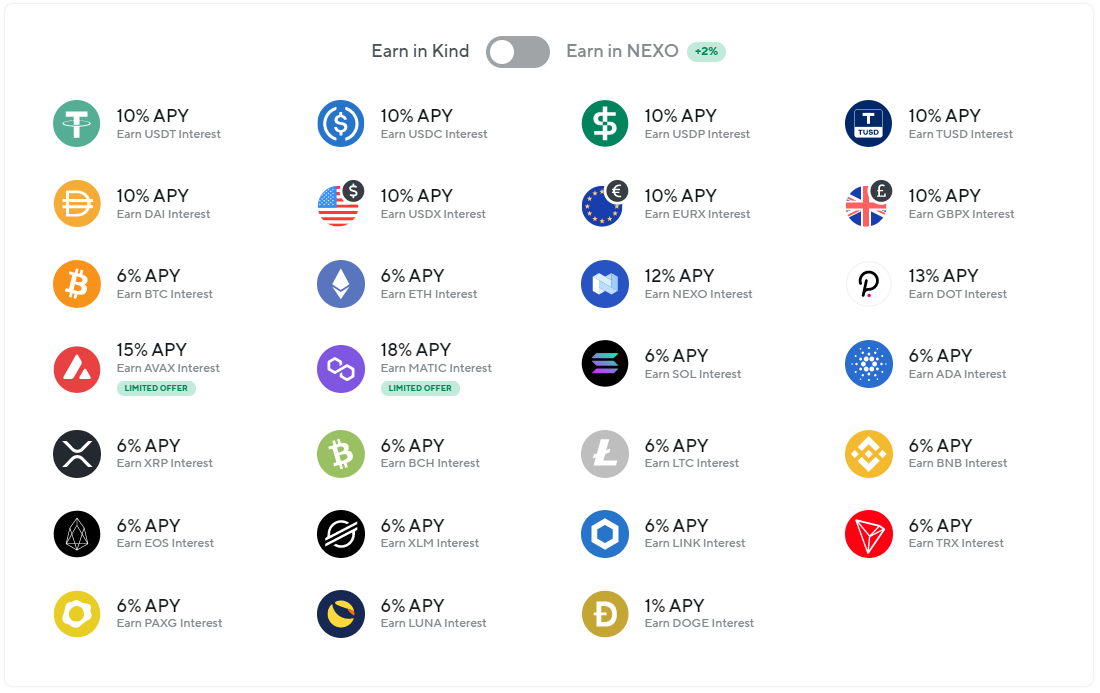 You can either purchase crypto in the app or transfer it from another wallet (note that transfer fees will apply here – and ETH gas fees are insanely high these days – so if you want to store ETH with Nexo or Celsius I suggest purchasing it on the platforms).
You can also add USD/EUR/GBP to the wallet, and they will be converted to USDx/EURx/GBPx and start earning interest! – However, the above listed rates is for "Platinum users" only – and you have to lock in your currency for up to 12 months to actually get 10% on EURx (for example).
So, what does it take to become a "Platinum user" with Nexo?
You have to have 10% of your total portfolio holdings in NEXO (their native coin).
The 2% EXTRA that you can earn in interest, if you chose to get paid in NEXO coin also only applies to platinum users (this was just announced per December 1st 2021). I currently do not hold any NEXO in my account, so I'm not eligible for these high rates. However, the NEXO coin appear to be performing inline with the rest of the crypto sphere (it's up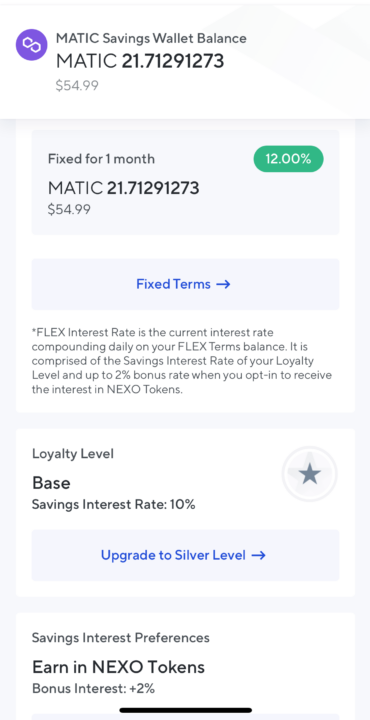 4x YTD), so I think I will maybe convert 10% of my holdings to NEXO, just to give it a try at some point 🙂 (I only hold around $1000 worth of coins with Nexo anyway).
– But I am currently holding a little MATIC (recently purchased), and using a 1-month fixed term agreement I'm making 12% APY on the "Basic loyalty level" (upgradable to Silver, Gold or Platinum, depending on your NEXO holdings) – paid in MATIC.
If I add 10% NEXO to the portfolio I would be able to bump up the interest of my MATIC to 18% (20% if I allow interest payment in Nexo).
I'm not crazy about being forced to keep Nexo in my wallet, so I'm not going to follow that strategy long term – but just to try it out, I wouldn't mind holding $100 worth of Nexo 🙂
Anyway, if you don't mind holding the Nexo coin, then I'd definitely give it a go!
They've recently updated their "loyalty program" and you can read more about the benefits of becoming either Silver (1% Nexo), Gold (5% Nexo) or Platinum member (10% Nexo) here.
Here's the current loyalty rates at the Nexo platform:

So at the base-level you can earn a maximum of 8% on USDx, EURx and GBPx, provided that you lock-in your currency for 3 months. I think that's fair enough. I wouldn't mind keeping some of my cash reserves on Nexo for 3 months at an 8% APY. However I don't really have that much cash laying around currently anyway, so that's a rather mute point atm! HAHA!
With Celsius it's very similar, but the current APY of your holdings is right there in your face when you open the App (unlike Nexo, where it's pretty well hidden for some reason!).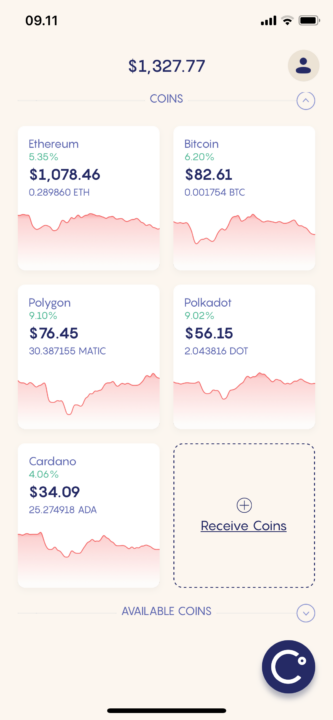 The rates of your current holdings is directly visible on the front page of the app, and the only thing you can do to improve them, is change the interest setting to be paid out in the Celsius native Crypto coin CEL. You can do this for ALL coins or choose individually, which coins your want to receive the "rewards" (yeah, they don't call it "interest", which I find a bit…unnerving 😛 ) in CEL, rather than the coin(s) that you're holding.
They also operate with "Loyalty levels" like Nexo (I'm fairly sure Nexo got the idea from Celsius!), but to become "Platinum member" with Celsius you need to hold at least 25% of your portfolio in CEL. Yikes – that's a lot, and looking at the historical performance of CEL, I don't think I'll be aiming to achieve PLATINUM status anytime soon. I'm happy with earning "rewards" in-kind, rather than in CEL at this point…
I'm currently holding 5 different coins (the BTC was a $40 reward for joining Celsius a while back – I think the reward is $50 worth these days) and the highest earner is MATIC and DOT, both clocking in at more than 9% APY.
Celsius has recently added limits to BTC and ETH, so if you hold more than 100 ETH or 0.25 BTC your rate drop significantly. I'm nowhere near those limits so I'm not that bothered about it – however, I think this will spread eventually to the other coins as well, so if you plan on holding millions in crypto, you'll not benefit from the 5-6% APY on ETH/BTC.
USDC and USDT currently has an APY of 8.5% (10.73% if you earn in CEL and have Platinum level), so the base level of these stable coins is 0.50% higher than that of Nexo.
You can see the current interest levels on the Celsius platform here.
If you're one of those types who just HAVE to be(come) a PLATINUM member in everything you do, here's the Loyalty levels at Celsius: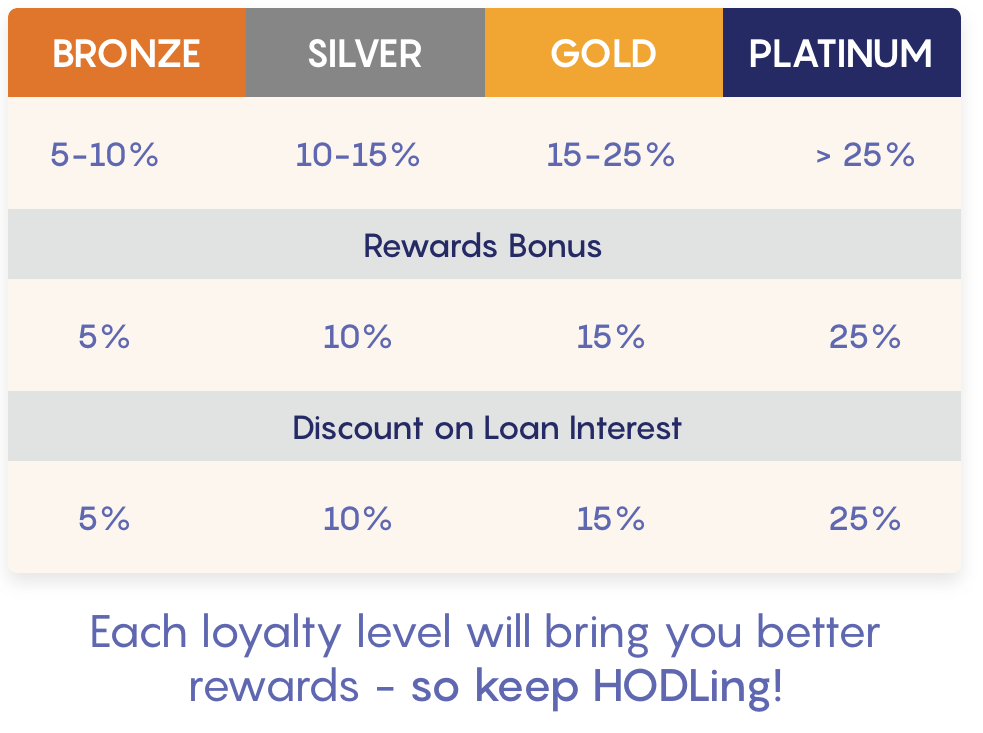 You heard it, people! KEEP HODLing! – And YOLO! 😛
Remember that any investment involves risk – and so does using any of these platforms! Use them at your own risk and discretion 🙂
Now you know how to #UnbankYourself! So, are you gonna? 😉
Cheers!