4

min read
If you've ever walked down a busy shopping street, odds are that you at one point or another, have been solicited by one of those annoying street "sales-people", who will try to convince you to support <insert worthy cause here>.
When I was living in the city (in my 20's) this happened to me quite often. I distinctly remember one guy, who managed to catch my attention AND sell me on one of those monthly plans, to support <insert worthy cause here>. He was young and enthusiastic, and with the argument "it's only 1 pizza per month", I couldn't turn him down. His teeth was so crooked that I could not take my eyes away from his mouth, the entire time he was talking to me. I don't remember which charity it was, but I remember him! I figured that if I supported this <insert worthy cause here> I could honestly – and in good conscience turn down any other solicitor for the next many years! "No thanks, bro – I'm already donating to this cause". Of course it never actually pan out like that.
New charities pop up daily, and admirable as it is, I've always had the same thoughts about charitable organizations as this guy over here (I really couldn't have said it better myself); They are the most inefficient way on the planet of actually helping people…
The true selfless act to help others is very rare. Let's be honest; the majority of us only donate to charity to feel better about our selves.
But there is an old saying:
The more you give, the more you shall receive. 
We know this to be true, and yet our society, unfair as it is, is build (or at least it appear to be turning in this direction) on the opposite values:
The more I receive/have, the better my life will be. 
Selfishness is no longer an abnormality – it's a standard way of life. I have no quarrels admitting that I am in fact a very selfish person. I'm an only child (and the first grand child in the family), so naturally, I was spoiled beyond all limits. This is really no excuse, but that's just the fact. Only child's are much more prone to become selfish, as they never have to share (attention or toys) with their siblings. Luckily for me, I got a half-brother when I was 10, so I'm not a 100% only child 😛 (phew!).
Selfish as I am, I haven't donated to any charities on a regular basis for many years (there's been a few odd donations here and there, but nothing major). And I was starting to feel pretty bad about myself, for not "caring enough" about other people/the planet to spend just a few of my hard earned cash, trying to better the lives of others.
At least that was what I thought – but after going through my expenses for the past year, I discovered that I in fact had donated regularly (to a worthy cause).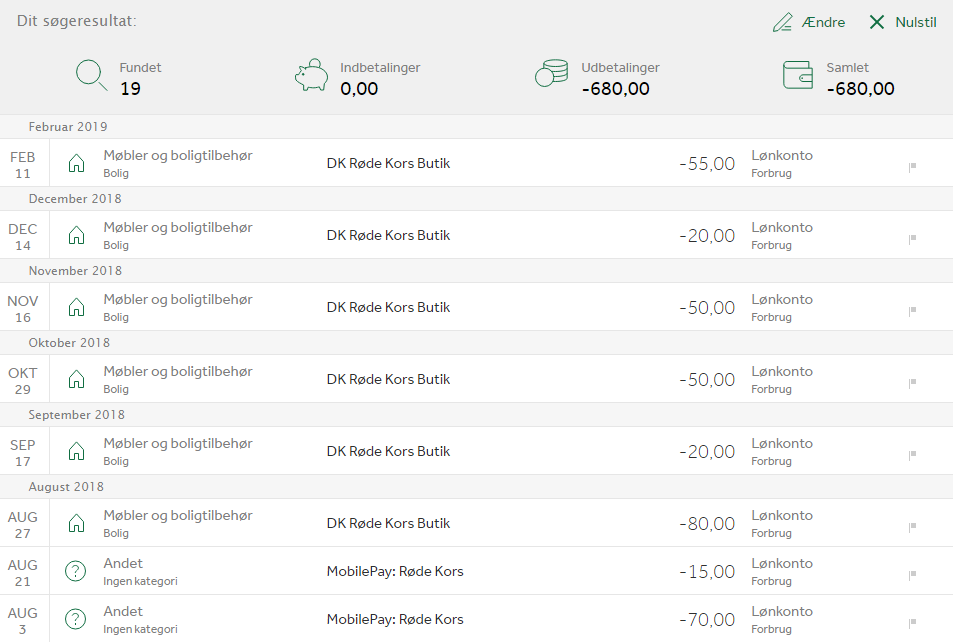 For the past year (actually more – it started in September 2017, when we moved into our new house) we've often frequented the local 2nd hand store – run by the Red Cross. I hadn't really thought about it, but my kid loves to go there (because you can get books, games, toys etc. for less than €2), and it seems we've had a pretty regular visiting schedule – once per month on average, spending just shy of €100 in a year (my wife probably spent about the same amount). I think that's pretty decent, actually (this amount currently constitute about 1 month of earnings from my crowdlending investments).
Everybody wins this way! My kid is happy because she gets a toy/game/book, and her parents are happy, because we don't have to spend €30-€40 to buy it brand new, and the proceeds go to the Red Cross. Also, whenever she has a surplus of toys (and stuffed teddy bears!), we go down to the Red Cross store, and donate them (she likes to see when her stuff is put on the shelves for sale).
So, naturally I did a little research*, and it turns out that the Red Cross in Denmark net about DKK 66.000.000/year (€8.800.000/$10.150.000) in profits from their thrift shops alone (they are nation wide – about 240 shops across the country). The thrift shops constitute about 12% of the total national income of the Red Cross organization in Denmark – and this number is rising (the profits was up 4.5% from 2016->2017).
It's been a recurring topic of this blog, but there can no longer be any doubt: 2nd hand is BIG business.
So there you have it, folks! You CAN please yourself AND help others at the same time 😉 – So the next time you need to buy something (clothes, cutlery, books, furniture etc.), consider visiting your local Red Cross store instead of the local mall! 😉
Life Hack Level: Pro!
*Source: https://www.rodekors.dk/ (it's in Danish, sorry)