6

min read
So, last week I made a bold statement, and accused my wife of stealing my stones (No, not those! – But I like the way you think! 😛 )…
It turned out that I still had them! They were tucked away in one of those moving boxes that you never get around to unpack (we moved over a year ago…).
I vowed to my wife that any box that was left unpacked after 1 year after moving in, I would throw away, as we clearly do not need/use the content of those boxes. We had a total of 88 moving boxes when we moved (I know the exact number, because my wife numbered every single one, and categorized them based on their contents, so we knew which room to put them in, based on the number. Yes. That's my wife – the organizer 😛 ).
Of those boxes, 8 still remain unpacked. We could probably re-pack them so the content could fit in 4 of them (and maybe chuck some unwanted items in the process). – But really what we should do, is just get rid of them…
However, now re-connected with my stone collection, I've passed my stone-obsession on to my daughter. She calls them "her jewels" (No, not in a "MY PRECIOUS"-kind of way, geez!) and she likes to line them up and look at them every once in a while.
The (gem)stones was a part of my (once) vast collection of useless items, which I had a habit of collecting.
Digging up the stones (pun intended) got me thinking, about my childhood. I remembered, how I used to love finding stuff that my own parents had played with, when they were kids. My dad read comics (that I found on my grandparents loft, in a "secret" hideaway he had built when he was 10) and my mom has always been a collector of all sorts of figurines. (Maybe I got my collector-gene from her!)
Once, I discovered what appeared to be an airplane graveyard in my grandparents backyard. I did not understand how, what turned out to be dozens of model airplanes had ended up in the ground of my grandparents backyard. My grandparents laughed when I came in with a handful of airplane parts, asking if I had found a secret buried treasure in the backyard.
It turned out that my uncle once had a vast collection of model airplanes that he had spent the better part of his youth building. Then one day, my dad decided to test if the models could fly…So he threw them out of a window from the 2nd floor…All of them?! You'd think that he would stop, after discovering that the first couple of planes in fact did not fly. My dad is very persistent (apparently). He threw every single one of them out of the window. He was 5-6 years old. Needless to say, his older brother was not thrilled about this kamikaze mission of his.
They remain great friends today, 50 years later, so I guess he got over it 😛
Funny story – but could we get back to the stones now?…
Right. So my daughter obviously only takes an interest in the stones, because they are "pretty" (she is 4). My wife asked me how this whole stone collecting came about in the first place, and it forced me to try and remember, how/why/where I got my first stone.
*flashback sounds* (How does a flashback sound? Shh!)
Since I was a kid I've suffered from migraines, and I remember going back and forth to hospitals and doctors, to try and figure out why I suffered from these migraines. They never found the "smoking gun", so at one point my mom took me to some sort of alternative treatment lady (she wasn't a voodoo lady, no).
I think it was something similar to Reflexology. It was very pleasant and relaxing, and I remember that she would give me two "special stones" to hold in each hand (I don't remember what kind they were, but they were round and there was a specific one for each hand).
During the treatment, the idea was that you'd "drift away" and eventually the stones in your hands would feel as though they had vanished. It worked a couple of times (the stones would feel as though they were gone – the migraines remained), and after the treatment she would put the two special "hand-stones" on another GIANT stone-crystal, which was then supposed to "cleanse" the hand-stones from…I don't know, bad stuff? 😛
It sounds very mumbo jumbo, but I think I've always been very open-minded so I guess I somehow (probably with a little "help" from my mom) adopted the idea that some stones had "special powers". I don't remember which stone was my first one, but most likely it would have been a rosa quartz (the pink crystal), an amethyst (the purple crystal) or a mountain crystal (the clear crystal), which are the most common "magic stones". Having a couple of "magic stones", obviously I couldn't stop there – I was a collector after all, so I just kept going!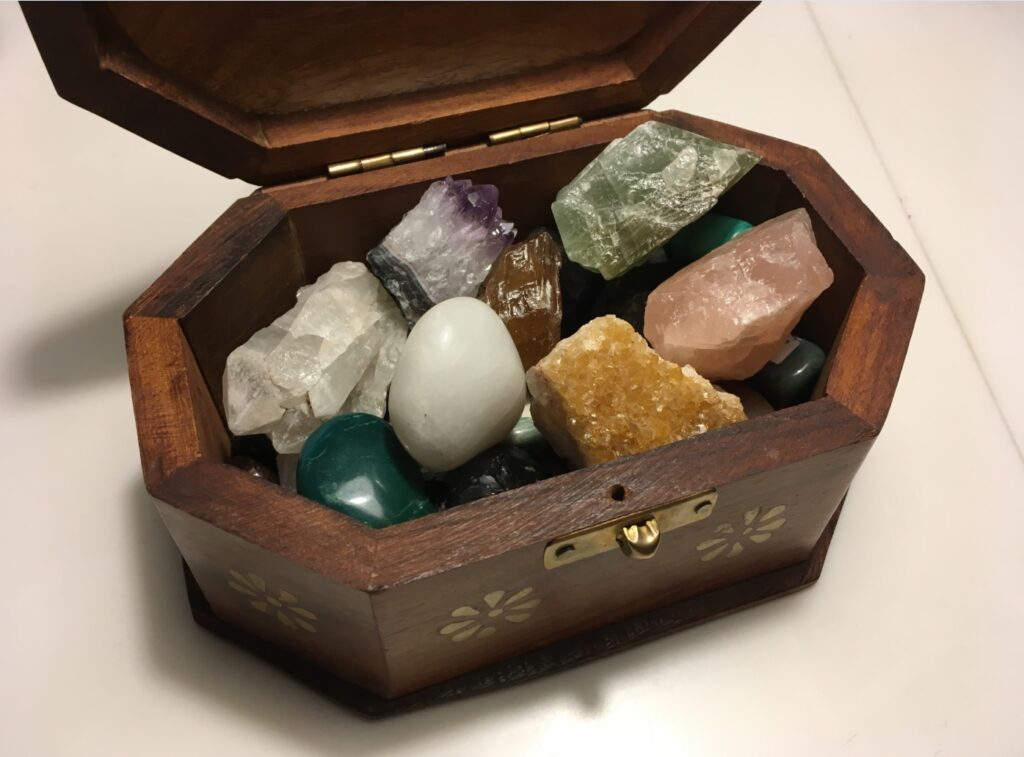 Anyway, the placebo effect is a proven fact 😉 You can believe whatever you want, as long as it works for you…
Whether the stones had any effect or not, the point of this rant is actually that reminiscing the past can sometimes have a powerful effect. I think it reminded me of a simpler time, when you could just be a boy, collecting stones, for their aesthetic appeal, or their healing powers – it didn't really matter, what the reason was – all that mattered, was that I was happy doing it…
This blog is called Total Balance, because I'm searching for the total balance – not just on my bank account, but in my life. Finding the total balance in life is a tough nut to crack. I'm not religious, and I'm not convinced about spiritualism or the power of the universe – in fact I'm a bit of a skeptic! But looking back, I really wish I could regain some of that childhood innocence. Just for one day have that blind faith in something greater than myself.
I do however believe that Total Balance is about body, mind and soul. In order to achieve total balance, I must continue to feed my soul, treat my body and nurture my mind, so that when someone asks who I am, I can reply with confidence:
I am the sum total of who I once was, and who I strive to be tomorrow…