3

min read
The titles just keep getting better and better, don't they?…
Here's a small update, on my first month on FIRE:
If you've read The Plan, you know that I plan to turn my original nest egg of 400.000 DKK (approx. $62.000/€53.000) in to 3.000.000 DKK (approx. $470.000/€400.000). If you've also read The Dough, you know a little bit about, how that is even going to be possible!
However, I've yet to disclose how I plan to diversify my portfolio (currently I'm still in all cash), in order to secure an interest rate of more than 8% on my hard earned cash.
I will be very clear about this: There's no way to be sure that I will actually be able to attain such interest rate, and I'm not a financial expert, so if you choose to follow ANY of my ideas on this blog – whatever happens is on you 😉
Now that we've gotten that out of the way (shit got a little dark there for a moment, huh?) here's how I plan to diversify my portfolio, over the coming months: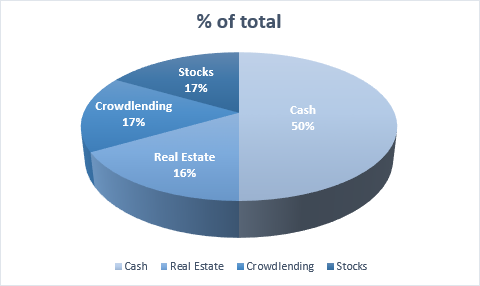 My entire nest egg is currently safely tucked away on a bank account, which yield 0.70% in interest rate. THAT is obviously not going to help me reach my goal, so I've got to get some of that cash out there working for me.
Originally, I considered throwing all of my money into 1 big real estate project (I still consider that, every now and then). The problem with those type of projects is that your money is tied down for 5-10 years. So the "magic compound" is not going to be working a whole lot for you, during those years. Also, it would be kind of boring to make monthly updates, based on 1 single real estate investment… 😉
So for now, my goal is to spread 16,67% (give or take) on 3 different asset classes – namely:
1. Real estate (via brickshare.dk, estateguru.co, bulkestate.com, crowdestate.eu or similar sites)
2. Crowdlending (Mintos, Grupeer, Viventor, Envestio etc.).
3. Stocks/bonds/index (I'm currently eye-balling some of the indexes from the danish provider SparInvest, SparIndex)
I'm reluctant to throw a lot of money into the stock market at the moment, as my spider-senses tells me that the bear market is imminent (shit is about to hit the fan, red.). It's therefore likely that I will be going to put a larger part of my cash, into real estate (and maybe crowdlending as well) during the coming years.
As of right now though, the 400.000 DKK have become 405.000 DKK, as my monthly savings goal (5.000 DKK) has been added to the top of the pile.
So, what's with the shattered dreams – and the broken glasses?
Well, had it not been for my extreme nearsightedness (thanks mom? dad? granddad?), I would have added another 5.000 DKK to the savings pile this month.
Last month, my 7 year old pair of glasses decided that they had done their job (granted, they had served me well). The frame snapped while I was polishing them one day. Since I'm blind as a bat, a new pair set me back 6.000 DKK (yikes! I got the frame for cheap, of course – but the lenses are fu***** expensive). This is a FIRE starters worst nightmare. I'm off to a rocky start! 😉
OK…What about the shattered dreams?
Oh that. I added that for the dramatic effect. Sorry.
See you next month! 😉