11

min read
Here we are again, dear readers!
Another month has passed, and it's thus time to look back and see how investments fared during one of the toughest months the world has faced in many years.
COVID-19 is raging war against our planet and its inhabitants. We're in the midst of a pandemic, and the world leaders are calling it The greatest challenge since World War II (not Trump obviously, he'll have it beaten by the end of Easter 😉 ).
These weeks and months will forever be imprinted in our minds, and we will be talking about the events of 2020 for years to come. The great pandemic of 2020 will now forever be a part of our history. From that perspective, it seems a bit pointless (wrong even?) to be focusing on the stock markets (and/or crowdlending or other passive income streams).
However, pandemic or not, the show must go on. The world has overcome pandemics before, and it will overcome this one too. Stay home and stay safe.
The month in review
My wife and I have been working from home since the 11th of March. Our 5-year old kid has been home with us (yes, it's as tough as it sounds!) for what's now starting to feel like an eternity.
It actually gets better day by day, as we slowly adjust to our "new lifestyle". Our food-budget has been absolutely HAMMERED this month, since we haven't been able to eat lunch at work (which I'm still paying for btw!). We went 25% over budget! (lots of snacking, too!). Luckily the weather has been fairly nice, so we've been able to take long(er) breaks from work to enjoy the sunshine in/around our small rural city. The kid has had an excessive amount of iPad time, but she seems to be adapting pretty well to the situation. She claims she doesn't miss her friends, but she's also pretty adapt at using FaceTime to talk to her friends (mainly her auntie, who's her best friend!) 🙂 (her parents are however pretty excited about the possibility of her returning to daycare after Easter – but we're trying not to get our hopes up. Personally I don't believe the daycare will open up for another couple of weeks, but we'll have to see).
1 week ago I was really missing going to work, but these past few days I've actually been starting to contemplate the idea of working from home on a more permanent basis. Perhaps not every day, but a couple of days per week maybe. You save the commute and you can get an early start, so you can also logoff early. I would probably go in to work to get lunch though *HAHA*!
Anyway, lets talk some finances!
Life in crowdlending land appears to be getting more and more complicated. Many platforms have basically totally resignated in the midst of this COVID-19 situation. It's chaos out there, and I'm seriously concerned about the majority of my capital now. At this point, I'd be happy to take 50% and then just get out. Leave the rest on the table. I'm mainly concerned about these platforms:
Crowdestor (has now halted all activity for 3 months basically – they are however still servicing withdrawals, so I still have hopes that they will recover eventually)
FastInvest (seems to be operating like a clockwork, which is making me extra suspecious 😛 They are also servicing withdrawals still, and have not announced any chances to their operation)
Grupeer (rumour has it they fall in the same category as Kuetzal and Envestio, so I'm prepared to write-off my money here – which is luckily not more than € 138, of which ALL is "interest", so it seems I managed to get out of that one in time to avoid ANOTHER total disaster)
Monethera (has basically announced that they've ceased all operation until things calm down – seems like a convenient excuse to close up shop and run away with our money. Also psychologically preparing to write-off my money here)
TFGCrowd (Seems to be operating as if nothing has changed, and they are also still servicing withdrawals, so I'm going to give them the benefit of doubt for now)
Wisefund (also seems to be fully functional, although 1 out of my 5 projects didn't pay interest this month – but given the situation that seems as expected. They are also still servicing withdrawals, so I have no reason to suspect them of foul play – but I'm still hesitant to trust them 100%)
So that leaves Crowdestate, Estateguru, Mintos and ReInvest24.
Crowdestate is still servicing their customers like normal, and while there are late projects on the platform, there is a constant flow of communication in regards to those projects. I have 3 late projects, and I think maybe 1-2 of them will eventually have to go through the bankruptcy procedure. It will be interesting to see how that pan out. Interest on the platform is getting close to 10% for the A-rated loans, and at that level I don't think it's worth my time (or risk). But if you believe 10% is worth the risk I will still recommend you try out Crowdestate.
Estateguru I sold my 1 loan on their secondary market in March. It worked like a charm, and it seems the platform is still solid and they've improved functionality continuously. Like Crowdestate, the interest rates have now dropped to around 10% for the A-rated loans, so I have decided to leave this platform altogether. However, I believe the platform to be solid, although the type of projects that they fund is of the risky sort, so I think we can expect a higher default rate in the coming months (mainly due to the COVID-19 situation). Their default rate is currently around 2%, so that's actually very respectable.
Mintos is still chugging away, but they've just announced that selling loans on the secondary platform is going to have a fee of 0.85% from April 13th. At the current rate of secondary market activity this will put just shy of €6.000 into Mintos' pocket – EACH DAY! I wonder if you can buy stocks in Mintos?! 😛 Anyway, no doubt this new fee will have a negative impact on the amount of loans being sold on the secondary market, but it doesn't really change anything in the big picture. Mintos is THE platform to be on in Europe in terms of quality, security and liquidity. I will stay invested in Mintos for now, but I still don't plan on adding more cash to the platform (at least not for now).
ReInvest24 is very challenged by the COVID-19 situation, as it seems real estate is not exactly selling like toilet paper these days. I have confidence that Tanel (the CEO of Reinvest24) will eventually sell the property that I'm currently invested in (which I've been waiting for since November!), but whether he's going to get his asking price is the big question. Anyway, I'd be happy at this point if I'm just able to retrieve what I put in (€400 out of €547 currently on the platform).
IN OTHER NEWS!
Brickshare has got a new appraisal of the building that I'm currently invested in, and it's good news. However, given the current situation in the market, I'm not going to write-up the value in my books, as I believe their appraisal (it's from an external appraiser) is too optimistic. The project is supposed to pay out a dividend by the end of April – so lets see how that goes 😉
I trust the team and the platform, but real estate in Denmark is also going into a period of great uncertainty (suddenly rising interest rates?!) so I don't think I will be buying more projects on the platform anytime soon. They are having great difficulties funding their latest project. I'm unsure whether the people dislike the building, the area or just the project as a whole. They've funded 67% and it's been running for more than 3 months now. The earlier projects usually funded within 1-2 months, so perhaps people are just sitting on their cash these days – I would too, if I had any 😛
The investor-group of Property #1 had our first general assembly in March. The numbers from 2019 was approved and the budget for 2020 also. The project is running according to the budget, and we have not had any complaints from the tenants. I'm extremely anxious to know how the tenants are doing right now, as several retail chain stores in Denmark has announced to their landlords that they won't be paying their rent! There is currently an ongoing struggle between those tenants and the owners associations, whether a tenant actually has the legal right to do so, given the current situation (government basically ordered the country to shut down – but these stores have not been ordered to shut down, but they've lost a considerable amount of their revenue due to the lock down).
It shall be interesting to follow how this situation plays out. I know that other stores have experienced the complete opposite (increased revenue), so grocery stores and DIY stores are currently having a ball…I was never really crazy about the idea of investing in a DIY store (Jem & Fix, Silvan, Bauhaus), but the current situation is making me rethink that strategy. I've always been hot on the idea of investing in a grocery chain store (like Rema 1000), and it's clear that if you find a good location even a pandemic isn't bad news for such type of investments…
Before COVID-19 I was looking at the so-called recession-safe retail stores – now you also have to consider which companies are also PANDEMIC-safe…You live and you learn 😉 (Maybe this topic will warrant its own post soon!).
The pretty graphs
For the first time ever, I experienced a drop in my Net Worth, due to my pension being down about 4%. I'm quite happy with my AA though, but have decided to use the situation to take on a little more risk, and have increased my stock holdings with about 10% on my pension. Hopefully this will contribute to a faster recovery, once the market returns to "normal" at one point. If the market drops further I will increase it another 10%.
Crowdlending income this month did not break any records, and it probably wont do that again anytime soon (maybe never). I continue to minimize my exposure in this asset type. I'm not completely decided where it's going to end (0%?), so I'm just going with the flow atm.
The boring income statement
| | | | | | | | |
| --- | --- | --- | --- | --- | --- | --- | --- |
| Platform | Invested | Deposits/withdrawals | Last month | Current value | Bonus/fees | Monthly income | Exp. Return |
| Crowdlending | | | | | | | |
| Crowdestate | € 700 | € 0 | € 782 | € 786 | € 0 | € 4 | 13% |
| Crowdestor | € 1.150 | € 0 | € 1.233 | € 1.237 | € 0 | € 4 | 16% |
| Estateguru | € 90 | -€ 104 | € 104 | € 0 | € 0 | € 0 | 11% |
| FastInvest | € 26 | -€ 90 | € 150 | € 61 | € 0 | € 1 | 14% |
| Grupeer | € 0 | € 0 | € 138 | € 138 | € 0 | € 0 | 14% |
| Mintos | € 900 | € 0 | € 1.067 | € 1.075 | € 0 | € 8 | 11% |
| Monethera | € 800 | € 0 | € 952 | € 966 | € 0 | € 14 | 16% |
| ReInvest24 | € 400 | € 0 | € 547 | € 547 | € 0 | € 0 | 13% |
| TFGCrowd | € 700 | -€ 244 | € 736 | € 507 | € 0 | € 15 | 17% |
| Wisefund | € 500 | € 0 | € 529 | € 535 | € 0 | € 6 | 18% |
| | € 5.266 | -€ 438 | € 6.238 | € 5.852 | € 0 | € 52 | 14% |
| Commodities | | | | | | | |
| GOLD (Coins) | € 5.333 | € 5.333 | € 0 | € 5.333 | € 0 | € 0 | |
|   | | | | | | | |
| Properties | | | | | | | |
| Brickshare | € 1.333 | € 0 | € 1.333 | € 1.333 | € 0 | | |
| Property #1 | € 68.667 | € 0 | € 68.667 | € 68.667 | € 0 | | |
|   | | | | € 70.000 | | | |
| Cash | | | | | | | |
| Bank #1 cash (main savings) | € 0 | € 438 | € 1.560 | € 1.998 | | | 0,50% |
| Portfolio Leverage | -€ 3.800 | € 1.200 | -€ 3.800 | -€ 2.600 | | | -3,50% |
|   | | | | | | | |
| Total balance | | | € 79.331 | € 80.583 | | | |
 A decent savings rate this month finally brought me passed that € 80.000 mark, which means that I'm now more than 20% towards the way to my (lean) FIRE goal! That feels pretty good!
Some of you have noticed (thanks, avid readers) that I do not change the value of my GOLD holdings on a regular basis. It has actually increased by about 5% since I bought it, but it fluctuates a lot, so I prefer just to update the value once per year (or something like that). So by the end of 2020 I will update the book value of my GOLD holdings (4x 1oz Coins). My gold coin collection is still missing the American Eagle, so I'm semi-hoping (and at the same time NOT hoping) for a Gold drop, so I can add that coin to my collection 😛 But for now I'm happy that Gold seems to be a fairly safe investment, which was one of the reasons I chose to add it to my portfolio. Ideally I wouldn't mind to have about 10% of my portfolio in Gold (ultimately), but at this stage of my FIRE journey, I'd rather prioritize assets that provide some kind of dividend (like properties!).
A while ago I alluded to having Property #2 in my sights. This particular property has however proven as a non-pandemic safe investment, so I've shelved it for now 😉 (because I don't expect the current pandemic to be the last one of my lifetime).
In other news: my main bank have now announced that they are dropping the interest rate to: 0%. No surprise there. All the more reason not to sit on too much cash I guess…
The classic growth chart
As always, the classic growth chart for tracking purposes. The last couple of months has been pretty horrible, but it should normalize again in the coming months (unless two more platforms tap out!)…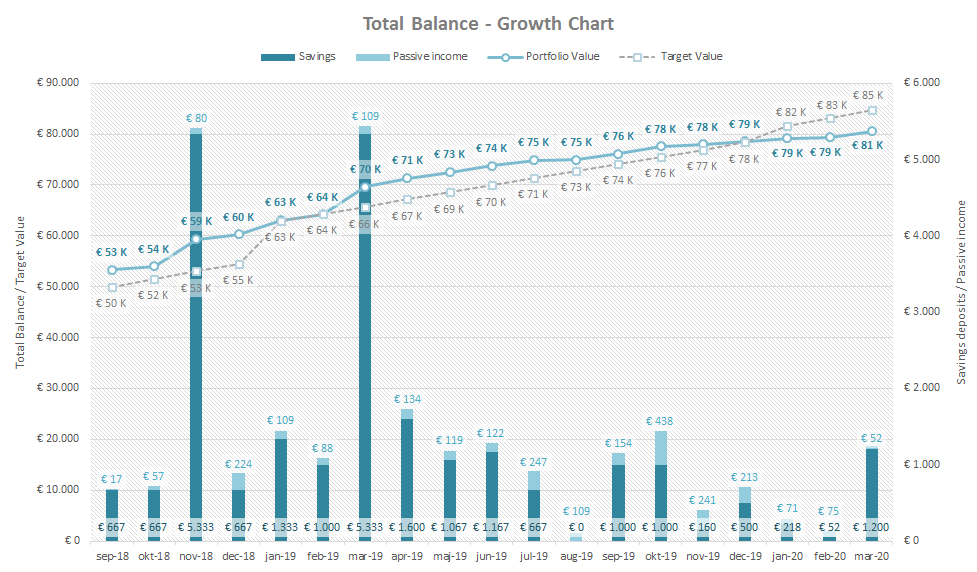 2020 boasts a new look for the Classic Growth Chart. It's getting increasingly difficult to display the progress month by month in a clearly visible manner, so eventually I'm gonna have to switch to a quarterly view (and eventually, yearly of course). But for now I think I can manage to squeeze in another month or two in the chart. It's so damn satisfying to look at my progress. Of course now my target is getting away from me, which is really annoying 
 (I will catch up eventually though! 
 ).
In conclusion
In the midst of a pandemic the show must still go on. Thanks to a decent savings rate this month, I'm now 20% towards my goal of becoming financially independent. It feels good to have reached that milestone. My target to surpass € 100.000 by the end of 2020 is however becoming less and less likely to happen. BUT, as always uncle Nick has tricks up his sleeve 😉
Thanks for reading, and see you next month (pandemic or not)! 🙂