12

min read
A red sun rises; blood has been spilled this night.
Indeed!
Welcome to another BLOOD RED Monthly update from yours truly.
Not the greatest start to a new year, but I suppose we were overdue for a correction after the crazy bull run we've seen since the great dip of 2020 (because of you-know-what). Luckily you-know-what is a thing of the past (almost) here in DK, and it also seems like we've seen the worst of this correction too (for now at least!).
I always dread the updates when I know it's been a red month! However, it seems the damage to our portfolio has been fairly limited, thankfully 🙂 (Our Net worth has taken a bit of a hit though)
Fingers crossed that next month will be a little greener (pun intended! 😛 )
The month in review
I'm crazy busy at my new job, so I've not had a lot of time to be active in the community. At the same time we're busy helping out my sister in law, who bought a house in December. We've thus been spending a lot of weekends with her, helping her move in and paint and remodel and all that stuff.
I don't mind doing smaller building projects, so while it sometimes seems like the weekends just disappear at the blink of an eye (Monday mornings are always rough – especially during winter time 😛 ), it feels good to help out family and to make a difference to someone who really appreciates your help 🙂
Even though we've been very busy, I still managed to make some moves in the market, during the month of January! Quite a lot, actually! haha (I don't remember what I did 14 days ago, so it's always a surprise to myself what actually happened at the beginning of the month, when I look back!).
A couple of months ago, I decided that I wanted to try and "test" the early payout feature of The-Many. You can sell your shares back to The-Many at any time, and they will then re-sell them on the secondary market. There is interestingly enough no fee for buying shares on the secondary market – but there is an "early exit fee" for selling your shares (1%). This seems a bit warped, as experience has shown me that it's a much better deal to buy the shares on the secondary market AFTER The-Many has taken their cut out of new projects (I've seen this in 3 deals now). So here's an expert tip to you, if you're considering buying into a project with The-Many: Wait for shares to be listed on the secondary market – you'll basically get a better deal here 😉
So not only does "early investors" get punished when The-Many takes their cut from the fund (it loses 2-3% in value), they also gets punished when selling their shares again. This is stupid. There has to be a way to REWARD early investors – not punish them.
Anyway, I received my payout and immediately threw it at crypto instead – which turned out to be really shitty timing! HAHA. Not only did crypto also experience quite a drawback in January, but The-Many also announced (shortly after I received my payout) that they had been approached by "someone" who was interested in buying their entire Real Estate portfolio (a handful of projects). Since The-Many has recently been acquired by another big Danish player (Selected Group) they now have big money in their back, which gives them a lot more muscles when negotiating new real estate deals (they can simply buy them outright, without having to first collect the down payment from investors – and this has been a big annoyance in the past). I don't know if it would make sense for The-Many to hand off their ENTIRE Real Estate portfolio (unless it's a really, really good deal of course!) before they had a good alternative for their investors to place their money (enter: Selected Group). Anyway, I'm actually considering going back into The-Many, because re-entering is free, and I'm going to have spare cash in the coming months that'll need to placed somewhere "safe". I would like to see some impact from Selected Group first though – or at least some sort of indication about which direction they will be headed (Selected Group has several active managed funds that I suppose they are planning to offer to The-Many investors – one or two that I myself would be very interested in, as they contain a lot of alternative investments like infrastructure, solar, wind and forest etc.). We'll see, but I'm overall positive on the future outlook of The-Many, and I think/hope we'll get some news soon from them 🙂 (I still have close to €15,000 invested with The-Many in two different projects).
Fundbricks finally announced that investors in the "Fredericiagade" project would get our money back (+ interest) at the beginning of February. It's not home yet, so I will not be popping the champagne just quite yet, but this is the last of my crowdlending adventures, so I'll be happy to close down that chapter and move on to other things.
In the Crypto-sphere, I opened up an account with Binance and bought a bit of alt coins and put them in the "locked staking" earnings program (LUNA and NEAR). Currently earning about 14% on those coins (for 90 days). At this point I think it was mostly just FOMO that set in, as I only bought coins for about €600, so it's hardly something that is going to make me FI all of a sudden (unfortunately). But it's interesting to learn in that sphere, and I plan to continue to "dabble" in this space to learn more about the (undoubtedly) future of digital currency.
At Nexo I deposited some of my The-Many money (€1000) and left them in EURx to be locked for 3 months at 10% APY. To unlock the 10% interest rate I need to be holding at least 10% of my portfolio in the platforms native crypto coin, NEXO. 10% interest rate on FIAT in todays market is…crazy, right? Too good to be true, even?…
Originally I was planning to add €1000 to this pot each month, but someone reminded me that Nexo in many ways resembles some of those other ventures that I once had (which didn't pan out that great for my money!). It might be a lot more sophisticated, but when someone deliberately obfuscate their books, doesn't explain their business model, and does not share any public office address and doesn't answer support enquiries – your alarm bells should go off. I will keep what I have with Nexo and Celsius for now, but I would be a fool to trust them blindly with my money – so I will not deposit more than I'm willing to lose. I've lost upwards of €1,500 on such adventures before, so I suppose I've reached my cap for now.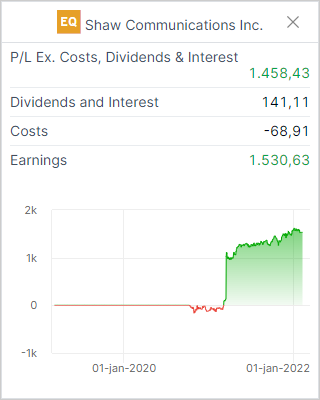 After realizing this fact (about Nexo/Celsius/Binance) I still had an itchy trigger-finger! (WHAT?! I had money to invest, man! 😛 ), so I did something that I might regret. I sold one of my Dividend stocks – and purchased another one instead.
I bought it in October 2020 because it looked like decent value at the time, and it had a pretty good dividend payout ratio (I don't remember the exact percentage, but it was > 5%).
I wrote this about my "acquisition" in the monthly update:
Welcome Shaw Communications Inc to the roster! My little dividend stock portfolio now consist of 3 Canadian stocks, which yielded me a nice little dividend income of €30 this month. To be honest, I'm not really sure where this is going to end HAHA. I started this portfolio because I wanted to supplement my weakening crowdlending income, but since that has pretty much diminished by now, I'm thinking about adding another couple of stocks to this pot. I'm thinking 5 might be a nice round number? 😉 We'll see where it goes! (it's really just to "kill time" while we wait anyway. For what?! Property #2 of course!). Clearly I'm not good with money just sitting in my account.
I bought it at around $23 and 6 months later their "big brother" Rogers Communications decided to splurge and offered to buy the company at $40 per share. That was a fun day! The stock exploded from $24 to $34 within 2 days. It then wobbled around a bit but continued to surge to $38 and then without haven given much thought to it (normally I plan this kind of stuff 3 months in advance!) I decided to sell it. Why?
Well, I took a long look at Rogers and didn't really like what I saw. First and foremost they're not a high dividend pay-out company (which was the main reason why I bought Shaw to begin with) and on-top of that the stock basically hasn't moved anywhere for the past 5 years.
And also there was still that off chance that the merger wouldn't happen, and then Shaw would most likely plummet back down to the $20-$25 territory.
So, I took the profits and ran. I had gotten almost 10 years worth of dividend payouts handed to me over night. Can't really complain about that.
So what then!? – Well, I put the money straight into a new REIT. Yes that's right – MORE PROPERTIES! 😀 For every year that I do this financial blogging thing, I'm becoming more and more convinced that properties is the (only) way to go in the long run. As I stated in October 2020: All of this is really just to "kill time" while we wait anyway. For what?! Property #2 of course!
Anyway, I bought True North Commercial REIT (TNT.UN). An OFFICE REIT, Nick?! Really?! ARE YOU CRAZY?! Haven't you heard that REMOTE WORK is the new black (since you-know-what)!?
Yes, I have 🙂 – But 8% dividend yield!? Sometimes you just have to take a chance! And I'll admit, this is a bit of a gamble! It will be interesting to see how they develop their portfolio in the coming years, and whether they can continue to deliver such a high pay-out ratio. Personally I wouldn't mind if it was slightly lower, but they didn't even lower their dividend payout during the you-know-what dip (unlike my other Canadian REIT, which immediately took the opportunity to slash the payout by 25%! – Still waiting for them to raise it again!). So – hoping and expecting TNT.UN to provide a decent steady dividend for the next decade. Clearly I can't expect much in terms of capital appreciation here, but they have high quality tenants (mainly government) in most of their properties, and I was in a gambling mood – so yeah, there you have it HAHA!
The pretty graphs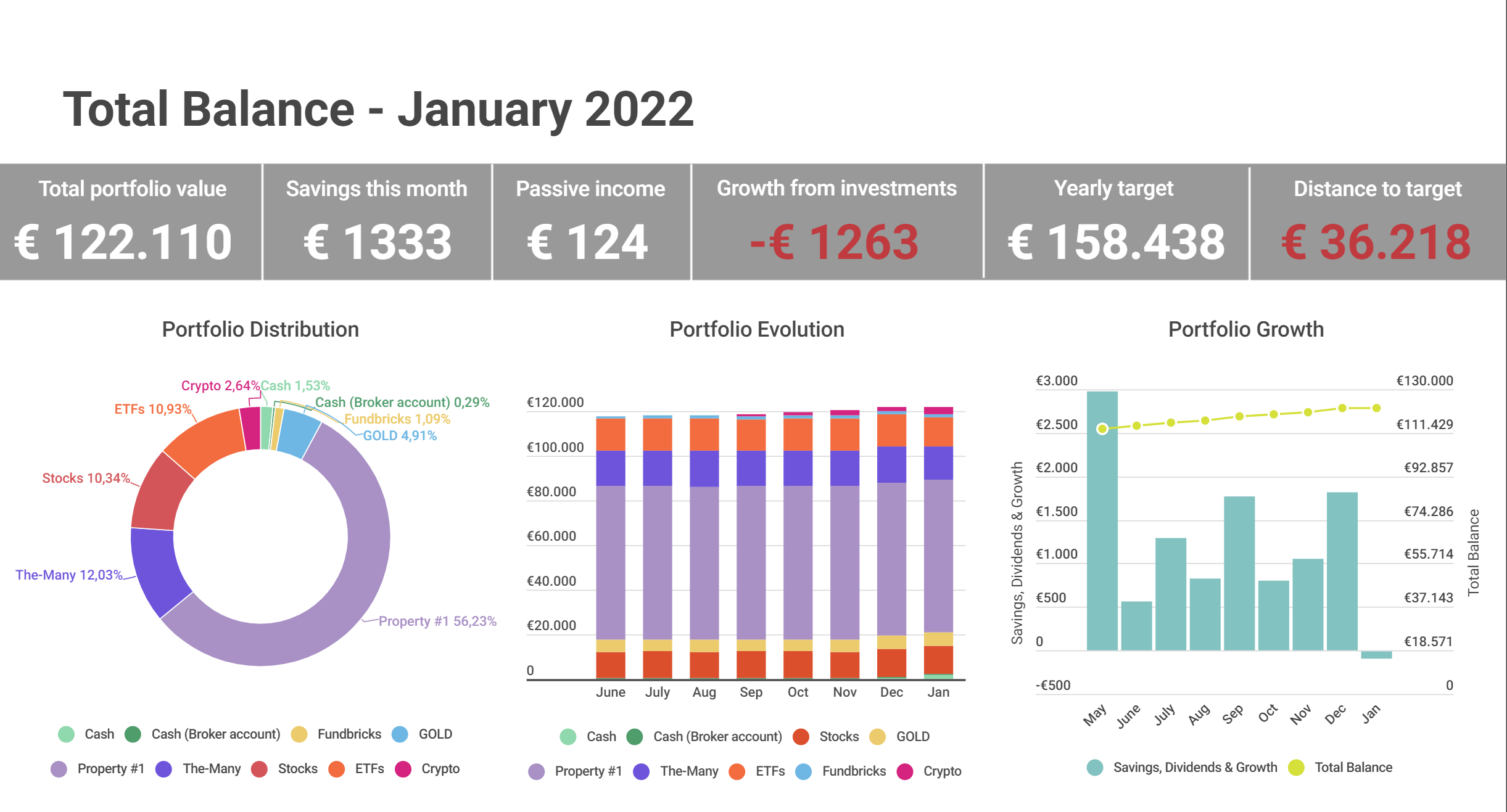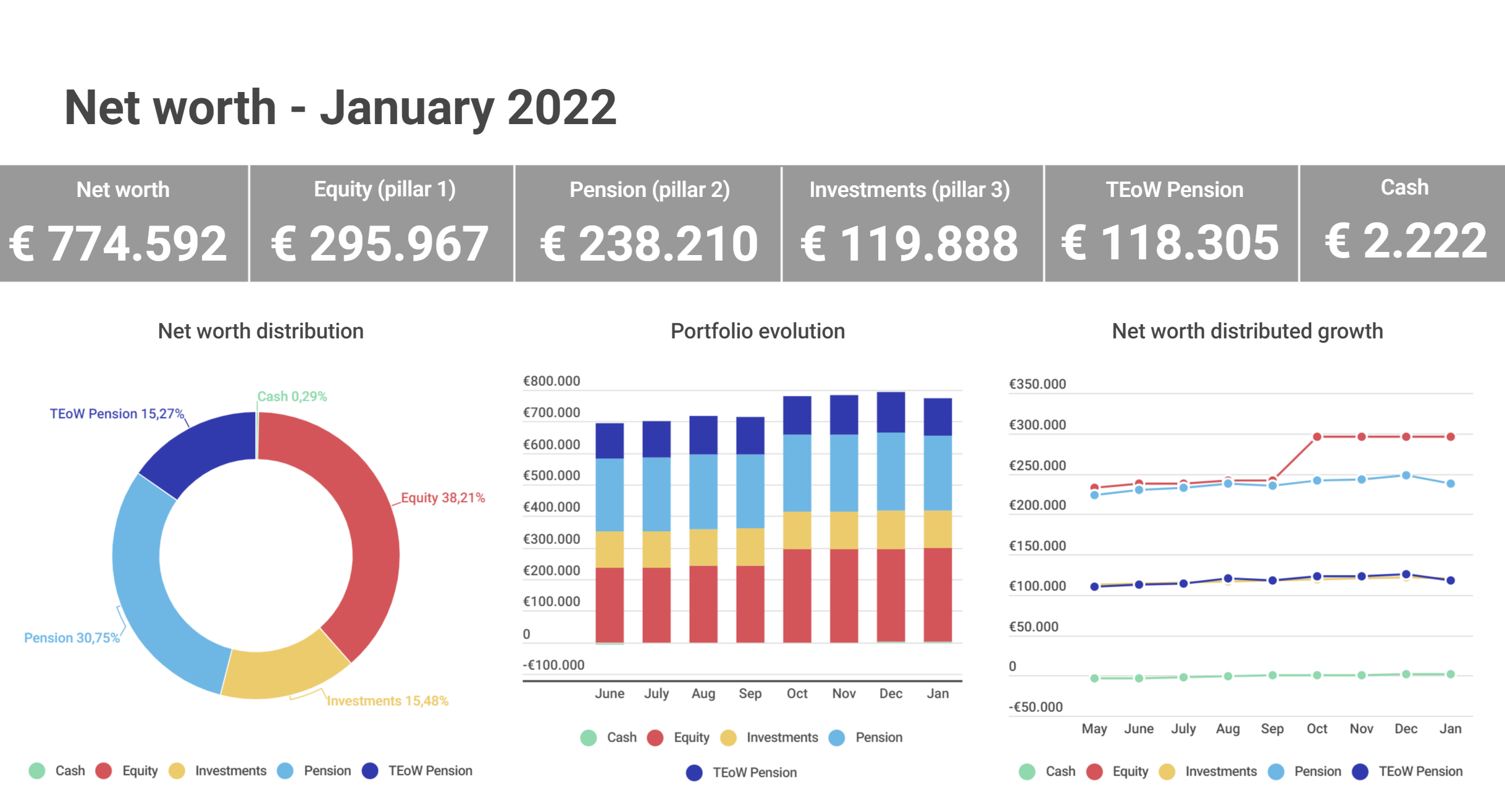 The Stocks-page has been retired from the Infogram, as I didn't think it provided much value (and to cut down on the time it takes to make these updates 😛 ).
We registered the biggest drop in our Net worth ever recorded on this blog – because both of our pensions has taken a big hit. Our pension portfolios has been bombarded ~6 months back. Oh well, better luck next month! At least my contributions are on pause, so there's that to celebrate! HAHA (I will begin depositing to my pension again in March).
The boring income statement
| | | | | | |
| --- | --- | --- | --- | --- | --- |
| Platform | Invested | Transactions | Last month | Current value | Monthly income |
| Commodities | | | | | |
| GOLD (Coins) | € 5,333 | € 0 | € 6,000 | € 5,500 | |
| | | | € 6,000 | € 6,000 | |
| Stocks (Dividend portfolio) | | | | | |
| Bank of Nova Scotia (BNS) | € 1,000 | € 0 | € 1,488 | € 1,520 | € 12 |
| PROREIT (PRV.UN) | € 2,018 | € 0 | € 4,038 | € 4,087 | € 17 |
| Shaw Communications (SJR) | € 2,000 | -€ 3,365 | € 3,365 | € 0 | € 7 |
| Toronto Dominion Bank | € 1,000 | € 0 | € 1,090 | € 1,149 | € 8 |
| TransAlta Renewables (RNW) | € 2,000 | € 0 | € 2,480 | € 2,318 | € 8 |
| True North Commercial REIT (TNT.UN)* | € 3,552 | € 3,552 | € 0 | € 3,552 | € 0 |
| | | | € 12,461 | € 12,626 | € 52 |
| Stocks (Indices) | | | | | |
| iShares Global Clean Energy (IQQH) | € 6,667 | | € 6,798 | € 6,001 | € 0 |
| iShares MSCI World Min Volatility (IQQ0) | € 4,417 | | € 5,142 | € 4,885 | € 0 |
| Xtrackers MSCI World ESG (XZW0) | € 2,721 | | € 2,628 | € 2,464 | |
| | | | € 14,568 | € 13,350 | € 0 |
| Properties | | | | | |
| The-Many (Brickshare) | € 15,999 | -€ 1,386 | € 16,034 | € 14,687 | € 59 |
| Property #1 | € 68,667 | € 0 | € 68,667 | € 68,667 | € 0 |
| Fundbricks | € 1,333 | € 0 | € 1,333 | € 1,333 | € 0 |
| | | | € 86,034 | € 84,687 | € 59 |
| Crypto | | | | | |
| Celcius (ADA, BTC, DOT, ETH, MATIC) | | € 0 | € 1,189 | € 872 | € 3 |
| Binance (ATOM, FTM, LUNA, ONE) | | € 615 | € 0 | € 516 | € 0 |
| Nexo (BTC, ETH, MATIC, EURx*) | | € 1,000 | € 954 | € 1,837 | € 10 |
| | | | | € 3,225 | € 13 |
| Cash | | | | | |
| Bank #1 cash (main savings) | | € 1,333 | € 533 | € 1,866 | |
| Bank #2 Opportunity money | | € 0 | € 0 | € 0 | |
| Broker account (CAD, EUR, DKK) | | -€ 148 | € 504 | € 356 | |
| | | | € 1,037 | € 2,222 | |
|   | | | | | |
| Total balance | | | € 122,189 | € 122,110 | |
Unfortunately I couldn't prevent the portfolio from seeing a tiny negative growth this month – even with the nice savings deposit, which was a little higher than expected (I aim at €1000-1200/month).
For the first time in a long time I passed €100 in passive income due to the extraordinary payout from The-Many (I sold a project).
I'm now starting to build up a small cash reserve again – which I'm of course already planning to spend soon 😛
The classic growth chart
As always, I include the Classic growth chart for tracking purposes: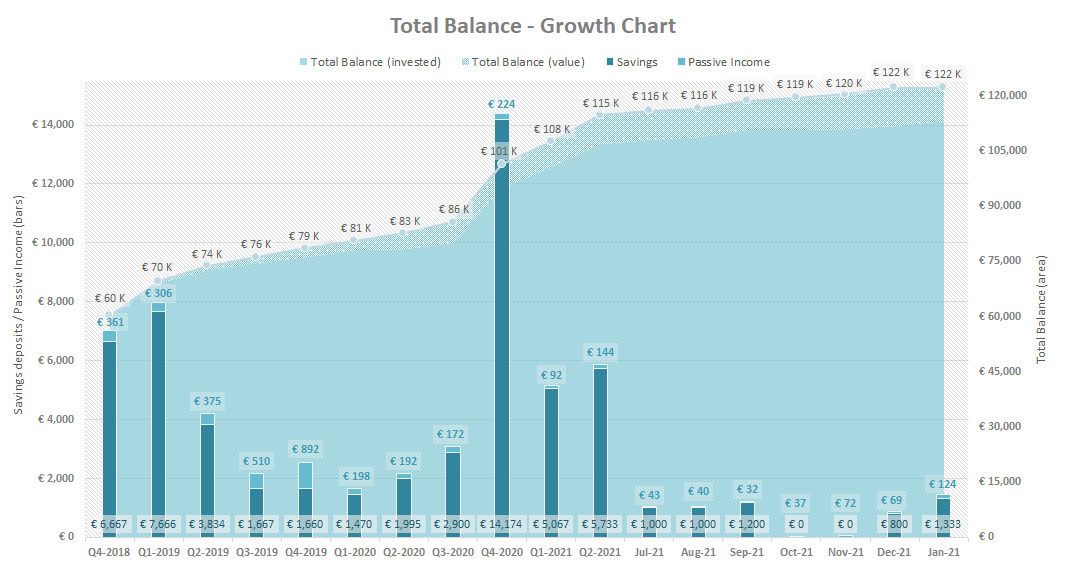 It's nice to see those bars reaching for the sky once again. I'm happy to see the nice passive income this month (from various sources). Provided that Fundbricks pay back the loan in February (as they have announced) next month should look even better! (fingers crossed).
I was anxious to start this update, but looking at the numbers it wasn't quite as bad as I had anticipated (unless you look at our Pensions! – OUCH!).
There will probably be many more red months on our path to FI, and with every one we pass I feel like I'm handling it a little better every time…(haha – not really).
In conclusion (TL;DR)
We spent the month working on my sister-in-law's new house (it's really old though!) and yet still found some time to buy more crypto (via Binance).
I also sold one of my dividend stocks (had a 75% profit, so really couldn't ask for more here) and replaced it with another REIT (True North Commercial REIT), which might be a bit of a gamble to be honest! Time will tell if I one day will come to regret this decision… 😉
We had a decent passive income thanks to the payout from a The-Many project that I had decided to exit (mainly to test the "early exit feature"). Given the latest development with The-Many (being acquired by Selected Group) I'm considering putting some more of my free cash (back) into The-Many's projects, but I'd like to see some more news from them, regarding how they intend to leverage the relationship with their new owners…
We had a decent savings rate this month (I don't calculate our savings percentage – but I aim to hit at least €1200 in savings per month, and this month we went a bit over).
That's it for this months update!
Hope to see you again next month 🙂