8

min read
Hello everyone! It is now June already! – This means that I've yet again fallen behind (as usual) with the monthly update.
Last month the sale of our current primary home went through – and so did the purchase of our new future home.
Our new home is a renovation project, and thus we won't know for sure when we will be able to move in. However, we know that we will be moving OUT of our current home by the end of July. Luckily, we've already got the keys to our renovation project (it was vacant). So we will have a place to stay when we move out – this place just won't have a kitchen…or a bathroom…
The update
How can you live in a place with no kitchen and no bathroom?! It's called CAMPING, people! 😛
Those of you who know me (and my wife) knows that when we go "camping", it's the luxury version WITH a kitchen and a bathroom…So this time, we'll get to go "glamping" in our own backyard. We are planning to rent a mobile-home that will be placed in the backyard of the new place, until the renovation is finished (or at least until we can move in).
How long will this take?! – You ask. I'm 100% positive that it will take longer than we expect…So I'd say anywhere between 3 and 6 months. My absolute hope and desire is that we are living in the new(ly) renovated house before Christmas – but hopefully sooner…
Because of the situation we're now in with technically having two houses (with two mortgages) AND a mobile home (those things aren't cheap!) we have decided to put the FIRE project on pause for now. We're going to need every spare € that we can find to "fill in the holes" for the next couple of months – and it's also likely that we will be converting a portion of our Total Balance into home equity instead…I have battled a lot with this decision, and it has not been easy.
For the past 5 years we've been laser focused on saving money to put into investments. Now we will be focusing on building our new home base, and in doing so we will be lowering our future cost base significantly. Once the dust settles (ha! Pun NOT intended 😛 ) we should have lowered our "running" costs by about 1/4. At the same time, we will have lowered our mortgage by more than 1/3. This means that theoretically (I've done the math – of course) we could be debt free within 7-8 years – if we made this a priority.
But NICK, you've always said that striving to become debt free is not mathematically sound!? WHAT GIVES?!
I know, I know. I stand by my previous comments in regards to debt.
However, for the past decade (almost) money has been close to free (borrowing has been extremely favorable). In Denmark we had a 1% 30-year mortgage at one point. Our flex-rate was negative for 4 years. We paid -0.33% on our mortgage at one point (then the bank add their fees and shit, which makes it not completely free – but when you factor in inflation, borrowing money at these rates was essentially FREE).
The interest rate is now hovering around 5% in Denmark, and while I find it more likely that the rate will be lower in 12-24 months (so does the banks btw – it's not just me 😉 ), I don't particularly enjoy having to pay 5-6% to the bank every month (remember the fees – they add almost 1% on top of the going rate, depending on your LTV). Couple that with a stock market that appears to still be somewhat overvalued, I'm having a hard time justifying the risk premium to favor investments over debt settlement at the moment. Basically you can "gamble" and hope that the stock market will generate average returns over the next couple of years, but I seriously doubt that will be the case. Then again, I've been wrong about that stuff before, so who knows 😛
Anyhow, we have not quite decided on the terms of our new mortgage yet, so I will update you once the final funding is secured 😉
As of now the bank is making big money on us, because we've basically bought a house without having released the equity from our current home yet (this will not happen until September, most likely). The banks love these kind of situations of course, because they get to make money in both ends of the deal. The amount of "paper money" that goes to waste in such a tiny house-swap is astounding…This is also one of the drivers behind my desire to (maybe) become completely debt free. If I can avoid paying the bank a single € on our NEXT house deal (yes, we're already planning our next move when our daughter eventually move out haha). Doing our next home deal without involving the bank would warm my heart! 😛
Anyway, this is 10+ years from now, so a lot can happen until then haha!
Next month we will be moving into our temporary housing/camper, which will look something like this: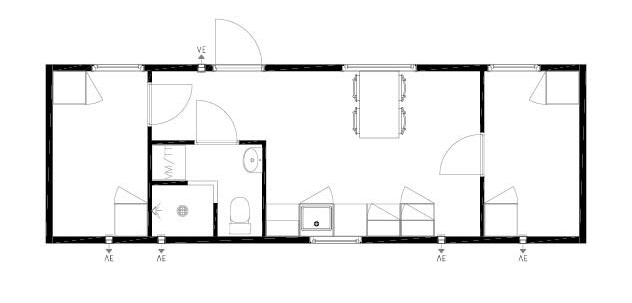 This small 2-bedroom "apartment" is approximately 300sqft (30m2). Not exactly our dream home, but it will do for a couple of months I suppose 🙂
Our future home will be a bit bigger and boast a handful of rooms. It's going to look something like this (this is the current layout):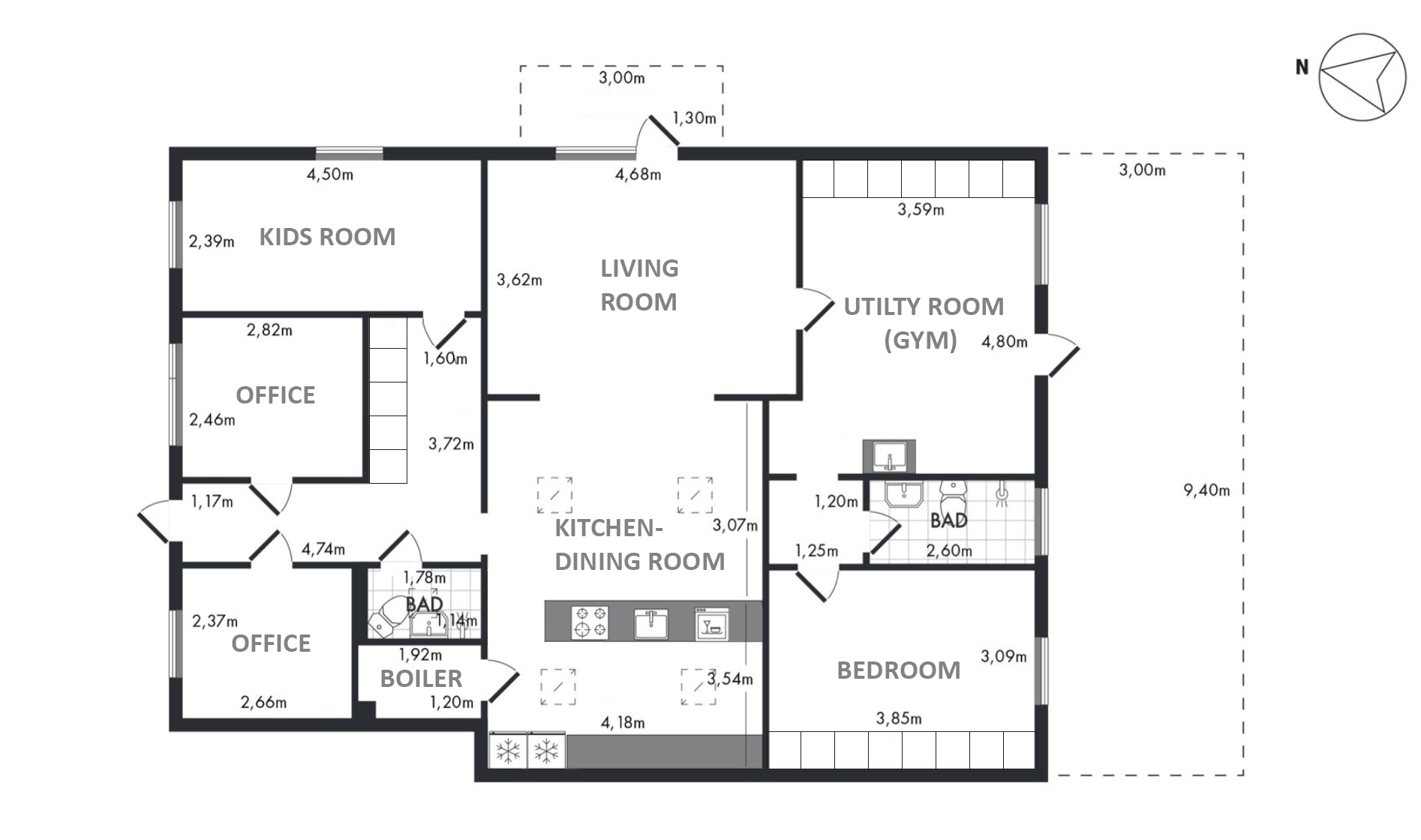 It's 1380sqft (129m2). All the rooms will be fitted with floor to ceiling windows, which will have a door so you can walk outside from any room of the house. We're currently working on finding the right windows/doors and a company that can fit them. Because it's now required to have 3-layered thermo glass in your windows/doors they weigh a ton, so you need 4 guys to fit them…This is not great for the budget :-S
We of course have a budget for the build, but we've already exceeded it for most of the categories haha…
Just for reference, here is our overall budget:
| | | |
| --- | --- | --- |
| Description | Price (DKK) | Price (EUR) |
| New outhouse | 50.000,00 kr. | € 6.711,41 |
| New Windows and doors | 150.000,00 kr. | € 20.134,23 |
| Driveway | 25.000,00 kr. | € 3.355,70 |
| Underfloor insulation | 35.000,00 kr. | € 4.697,99 |
| Underfloor heating | 75.000,00 kr. | € 10.067,11 |
| New floors | 45.000,00 kr. | € 6.040,27 |
| Small bathroom | 50.000,00 kr. | € 6.711,41 |
| Big bathroom | 75.000,00 kr. | € 10.067,11 |
| New Kitchen | 150.000,00 kr. | € 20.134,23 |
| Paint | 13.000,00 kr. | € 1.744,97 |
| Plants and garden stuff | 5.000,00 kr. | € 671,14 |
| Cupboards for gym/utility room | 10.000,00 kr. | € 1.342,28 |
| Cupboards for bedroom+hallway | 25.000,00 kr. | € 3.355,70 |
| New electrics | 30.000,00 kr. | € 4.026,85 |
| Foundation damage | 25.000,00 kr. | € 3.355,70 |
| Plumbing | 35.000,00 kr. | € 4.697,99 |
| | | |
| | | |
| Total | 798.000,00 kr. | € 107.114,09 |
It's pretty unlikely that we'll be able to come in on budget, as we keep adding new things to the list haha. I can laugh at it, because I've had to adopt a mindset that is way different from usual, otherwise I would go insane. Normally I don't like to overspend, but to keep my sanity through this ordeal, I've chosen to adopt a new mantra: There is no problem that can't be solved by throwing more money at it… (this is only for the reno-project, of course 😛 )
With such a large and vast project I cannot be pinching every penny, because it would most likely drive me insane. I'm a little out of my comfort-zone, but I tell myself that these expenditures are temporary, and that they are an investment in our future life in the house 🙂
Hopefully, every penny that we put into the project will one day return in form of equity when we sell the house again. A lot of the budget is placed in areas that you cannot see (like underfloor heating), but it's stuff like this that brings great value to a home. If you've ever lived in a house with underfloor heating, you know what I'm talking about.
Anyway, for the past couple of weeks my head has been filled with thoughts about the house-building process, and for now the FIRE project will thus have to take a backseat.
I will continue to write updates, albeit they will probably be more house-related than FIRE/Finance related – but I hope you guys will stick around, as the FIRE project will resume (of course) once we have settled in our new home (realistically 6-8 months from now…).
The classic growth chart
As always, I include the Classic Growth Chart for tracking purpose: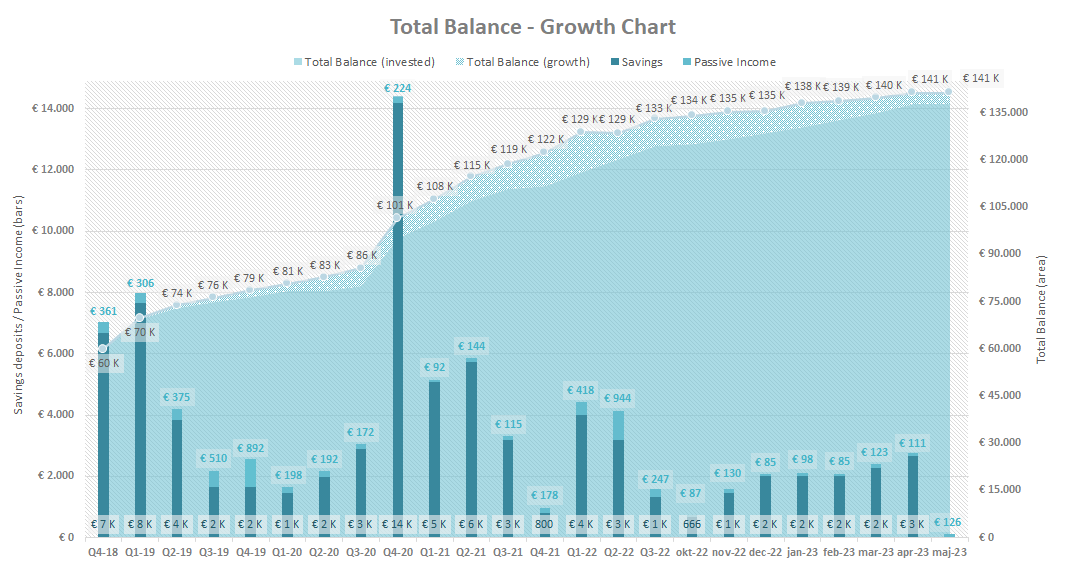 In conclusion (TL;DR)
The new-home renovation project is all-consuming at the moment, which is why we've had to put the FIRE project on hold for now.
Once the dust has settled from the build project, we will of course resume our FIRE journey.
Hope that you guys will continue to follow our journey, and I will of course strive to keep on making these updates. However, as we will not be saving anything towards our Total Balance for the coming months, I will only be updating the Classic Growth Chart in this period.