10

min read
This is really a retorical question. "Should YOU invest with Brickshare?" might be a more appropriate question.
As many of you know, I'm a big fan of Real Estate. I've been tracking a handful of major Real Estate "developers" in the country, hoping that I could invest in one of their projects. Recent developments in the regulatory sphere however, have rendered this possiblity mute (in the short term at least). To participate in the kind of projects that I'm interested in, you have to be able to put down at least €100.000 in one project. With that kind of money, you're considered to be in the "professional investor" segment (in regulatory terms), and I'd sure like to consider myself as a professional investor! 😛
However, I'm not – at least not in terms of the money. I simply don't have that kind of money (yet) to invest. And even if I did, I would be reluctant to invest €100.000 in a single project. I simply prefer to spread out my risk.
This is where Brickshare enters the picture! They've (also) discovered this gap between the professional investor, and the semi-professional (people like me/us), who realize that real estate investments are becoming more and more popular (perhaps mainstream even) for a reason. Much like stocks, if you find the right one to invest in, they can earn you good money 😉
For the international audience (or the new readers) who doesn't know Brickshare(.dk) (sorry, it's all in danish), they are the danish counterpart of propertypartner.co (they are not affiliated). I also recently discovered an Australian "bricks" company as well, called brickx.com (gonna have to look into that too!). There are probably dusins of these type of companies, scattered across the globe already (I imagine) 😉 The rise of the tech era has brought "brick investing" to the masses!
For those who doesn't know either of the before mentioned companies (let's call them "the bricksters"), this is how it works:

But Nick, this post is supposed to be about Brickshare – not Brickx!?
Yes, I know – bear with me here. They all work in a similar fashion, only Brickshare doesn't count "bricks". They count shares, as you actually invest in a real estate fond, when you invest with Brickshare. This means that when you invest with Brickshare, you own a part of the company that owns the actual property. Brickshare is just the middle-man (the realtor, so to speak). If Brickshare should go bust, you'd still own a part of the company that owns the actual property. You'd have to find a new administrator of the building, but you'd still own whatever part you chose to buy originally.
The downside of owning (rental) properties in this fashion, is obviously the cost of the administrative overhead that Brickshare represent. If you want to become a landlord yourself, you can undoubtably create a much more lucrative business, by doing it all yourself (find the property, convince the bank to lend you money to buy it, find tenants, fix whatever problems may arise etc.). But you'd have to endure the entire cost of the purchase yourself. This is no doubt the most attractive approach from an economical perspective, but few of us dream of becoming a landlord (with all that it entails), and few of us have the means (or the time) to actually become one (even if we wanted to).
So, Brickshare is the alternative. The hands-off approach. I like hands-off passive investments (especially real estate!) so this is obviously right up my alley!
However, there's always a BUT(T) 😉
As a concept, I really like Brickshare. And unlike Brickx and PropertyPartner, the rental income from the Brickshare projects are actually quite favorable (in my opinion). However, when you compare the Brickshare projects to their competitors (the ones only operating in the professional investor segment), the yield is a little in the low end (it all depends how they do the budgets – and where the property is located. The lower the price, the higher the yield). Again, as a small-time (or semi-pro) investor, you can't really compare yield with the big guys (or so it seems) 😉
I consider rental properties to be a much more reliable, safe and lower risk investment, when compared to stocks. There. I said it.
The major downside however, is that typically Real Estate is a long-term very illiquid form of investment. Brickshare knows this. So they're planning to build a "secondary marketplace", where you can list your shares in a given property, and sell them to other investors at any given time. PropertyPartner already has a fully functional "resale marketplace".
According to my intel from Brickshare (Intel – 007-style, HA!), the secondary marketplace is scheduled to launch in 18 months…
I work in the IT industry. I know how this works, so I'd be surprised if this feature actually appear within the next two years. Either way, it's coming – but it's not going to be there for a while. So IF you invest with Brickshare, you should plan to hold on to your shares for a while…
When I tell people about my plans to invest in real estate, their first reaction is: Are you sure it's the right time for that?!
Brickshare will obviously have you believe that there's no time like NOW to invest, because they are looking for investors for their newest project. Most of you will probably share this opinion. There is no timing the market. There's only time IN the market, right? 😛 Your opinion will most likely vary, depending on your current "location". Are you IN the market, or OUT of the market?…
I'm OUT of the market (sitting on a pile of cash, waiting to enter). If you're in a similar position as me, I'm sure you'll agree with me that it does make sense to try and time your entrance IN the market…Once you're IN, you have to ride the wave (whereever it may take you). Of course there are also a people who believe that moving IN and OUT of the market is the winning strategy. Provided that you have enough liquid assets to do so, I can't say whether this would be a winning strategy or not, but I think most of us would prefer to stick to the first option (ride the wave).
I try not to invest in anything, without doing a proper amount of research first. Since I believe that Real Estate investments (definitely) belong in my portfolio (preferrably as a big part of it!), naturally I've had my eye on the recent development in the real estate market for a while now (in Denmark – I can't keep my eye on the entire world, unfortunately! Perhaps my foreign readers care to comment on the state of their countries current real estate market?).
Back in December I wrote a little "market analysis", which concluded that the market prices (for apartments) had started to go down. After years of rapid price growth, it seem only fitting that we were in need of a correction. I noticed this trend already back in November. So when I started to look into the new project that Brickshare is about to launch (supposedly it should open for investors this week!), something immediately caught my attention. On the presentation page of the project, at the very bottom there is a graph that depicts the last 5 years of price development of the apartments in denmark (which I assume is for the greater Copenhagen area only, but it doesn't say…):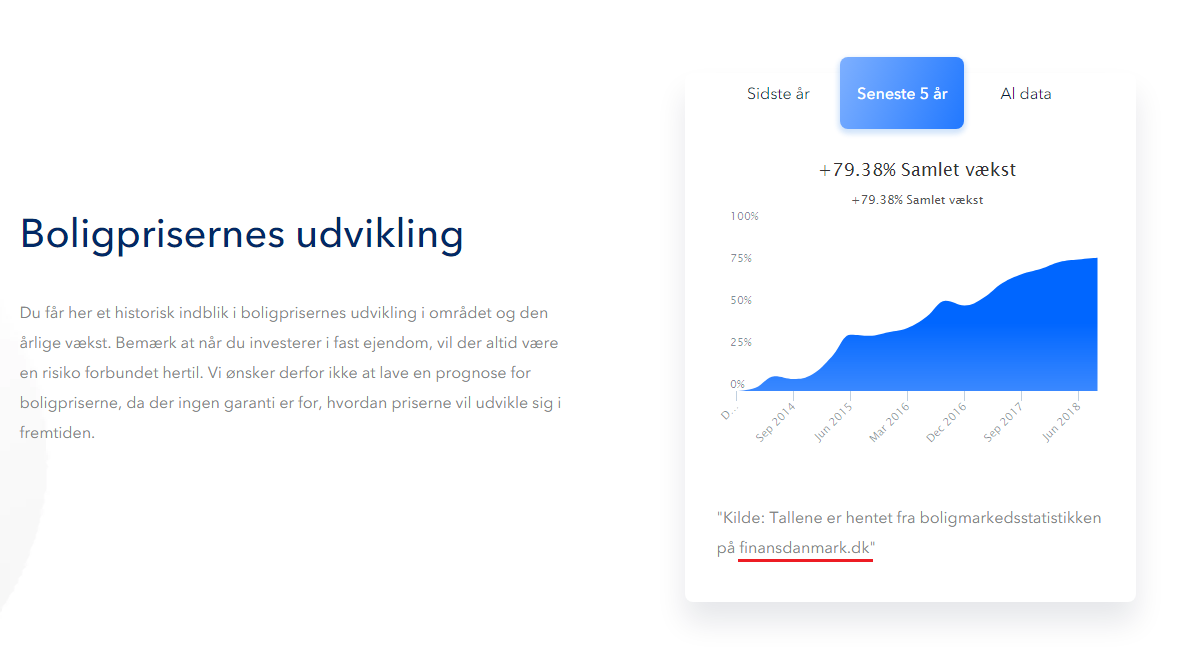 79.38% Growth. That's not bad! So if I had invested 5 years ago, I would have done pretty well for myself! It's important to remember that these are the stats for the most expensive part of the country (the capital region). If you look at a nation-wide graph, the growth curve is a lot less steep.
I'm a huge fan of statistics and graphs (is it that obvious?)! – So whenever someone tries to manipulate me (intentionally or unintentionally) using incomplete data-series, I notice! 😉
You see, this graph is missing data for Q4-2018. If you follow the stock market just a little bit, and someone was trying to present you with a graph depicting the last 5 years worth of growth in the market, and didn't include Q4-2018 (while trying to convince you to buy stocks) – what would you say to them?…
As your knight in shining armour, I'm obviously here to save you from the great injustice of the evil capitalists! (too much!?). – So here is the same graph, now with Q4-2018 data included: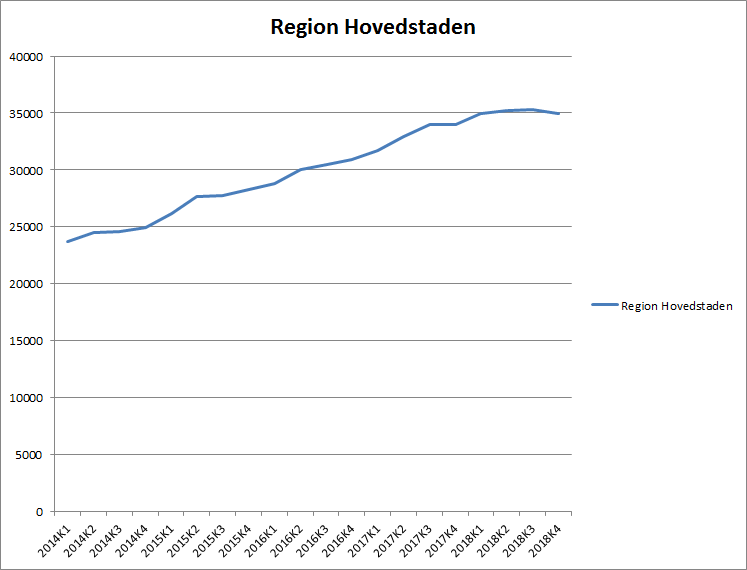 It's going down, captain! I just love when my predictions come true 😎
In the budget for the property that Brickshare is selling to their investors, they calculate a yearly yield of 9% – but in this yield, they include an expected yearly capital increase of 1% (they expect the prices to go up by an average of 1%/year for the next 10 years).
Looking at the development for the past 5 years, I guess it's not unfair to assume a conservative growth of 1%/year. – But I'd really prefer it, if they'd budget with a 0% increase (like some of their competitors do – it's not all of them, but some of them does).
If only we could predict the future, huh?
– BUT WAIT! Someone have (or at least, they've tried to!). This week, the National Danish Bank released their "Market outlook" for the coming years – and it paints an interesting picture!
According to The Danish National Bank, they expect the new taxation system (which is going to be introduced in 2021) to have a negative impact on the apartment prices in- and around the big cities (this includes Copenhagen). They expect the prices to decline more than 5%, before the year 2022. OK. So it's not just me, who has the idea that Brickshare (and their peers) might have a slightly pink view of the future?…
If you couple this outlook with the added insecurity of potential interest rate increases, the picture sure does look a little bleak – and suddenly a 1% increase seem a little far fetched!
– But wait. There is more…
These statistics (the graphs above) are based on averages. If you zoom in on particular areas of Copenhagen – let's say Nordvest (NV – North West, the area of Copenhagen where the Brickshare project is located), you'll see this: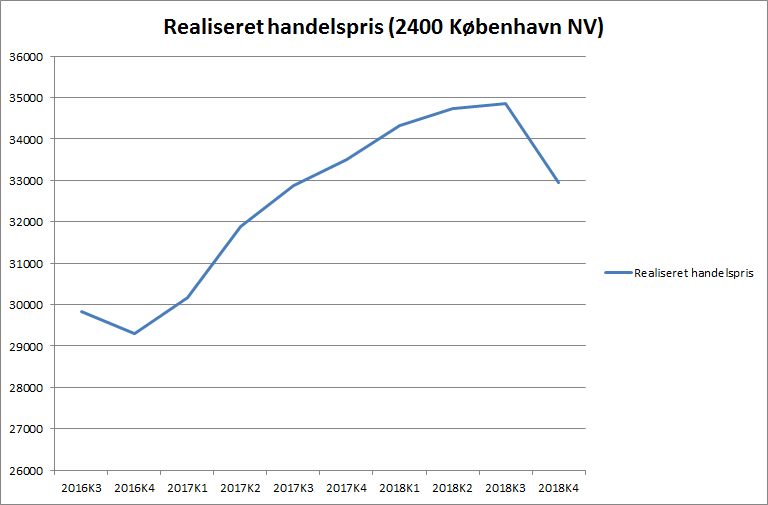 Ouch. The actual sales price of an apartment in Copenhagen NV dropped 5.5% from Q3-2018 to Q4-2018!? I wonder how Q1-2019 is going to look (sorry, no data yet! But I'm sure it will be interesting!).
So the big question remain: Did Brickshare not include the stats for Q4-2018 on purpose?…I've asked them about it, of course 😉 (no concrete answers yet, sorry!).
Am I going to invest with Brickshare? – YES, I am, because I believe in the concept. Am I going to invest in their newest project? – I'm not sure yet 😛
So there you have it dear readers: Always do your homework, before you invest (in anything!).
Are YOU going to invest with Brickshare? (or any of the other Bricksters?)