5

min read
Another year, another milestone!
We managed to hit last years target of €100.000, crossing into 2021 – with a little help from the Mrs. 😉 (Some call it "cheating" – I call it team work! 😛 )
Some of you might now be sitting with this question (or something similar) on your mind:
 Well, how much money does the Mrs. have!?
I could tell you – but then I'd have to kill you!
She has enough to make a difference (like we saw in 2020), lets put it like that 😉 Some of it might ultimately end up being included in our Total Balance, but for now it will remain in her pocket (as per her request).
– And to answer your next question: Yes, it feels good to have a "sugar mama" 😛 *HAHA*
Anyway, enough about sugar mamas and pocket money – lets get down to business!
The 3 Pillars of wealth
Last year I introduced the concept of the 3 Pillars of wealth. It's basically what constitutes my Net worth, and it consists of 3 pillars (duh):
Total Balance (savings + investments)
My home equity
My Pension
Since (some of) the Mrs. savings are now included in our Total Balance, I think it would be fair to also include her Pension (we already include her share of our home equity) in the Net worth statements that I update every month. It won't make any difference for our Total Balance, but it will help the overall transparency (I think? Let me know if you disagree). I will include the Mrs. Pension in the next monthly update. I will however not include it in the round-up for 2020 for now.
Both of our jobs come with a fixed Pension scheme, which we can choose to add extra to, but we cannot choose to add less. I actually opted to take 50% of my yearly salary increase (which was 2%) and put into my pension, so my contributions to the Pension pillar was slightly larger in 2020 than 2019. I might do the same for 2021 (we get a 2% salary increase in June 2021).
Our home equity grows steadily as we're paying down our mortgage. This will continue in 2021, but in 2022 we're aiming to hit 60% LTV and converting to an interest-only loan. By doing this we will transfer equity from our home to our Total Balance instead (as we believe we can get a better yield on the funds here). This will not happen until early 2022 though (if everything goes as planned – which it often doesn't so we'll see how that goes 😛 ).
So below is how the 3 Pillars developed in 2020 (note: below only includes my pension – not the Mrs.):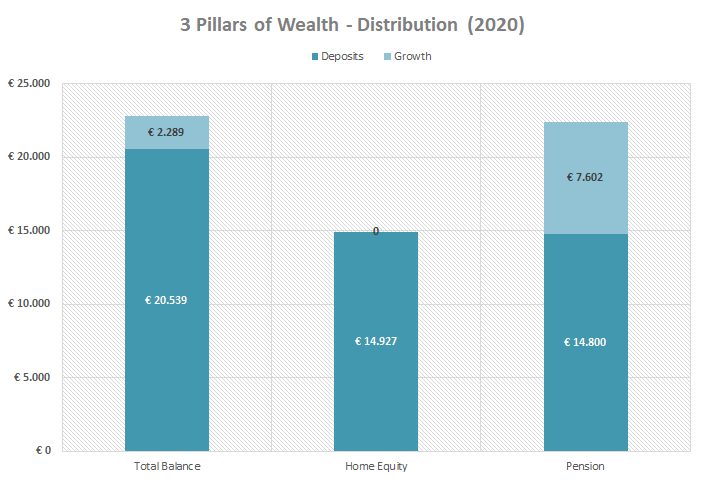 I prefer not to write-up our home equity, even though we know that most likely it is appreciating a little every year. Our neighborhood is very varied, so it's difficult to compare the prices across the homes that are sold in our area. By my best account, the value of our home has increased somewhat, but we won't know for sure until the day we actually sell it, so for now the growth remain at 0. – But please do notice the nice symmetry! (HAHA!). I love symmetry, but in this case (again) it is purely coincidental.
Just to compare, this was how I projected the (contribution) Distribution for 2020 would look (this was my prediction in February 2020):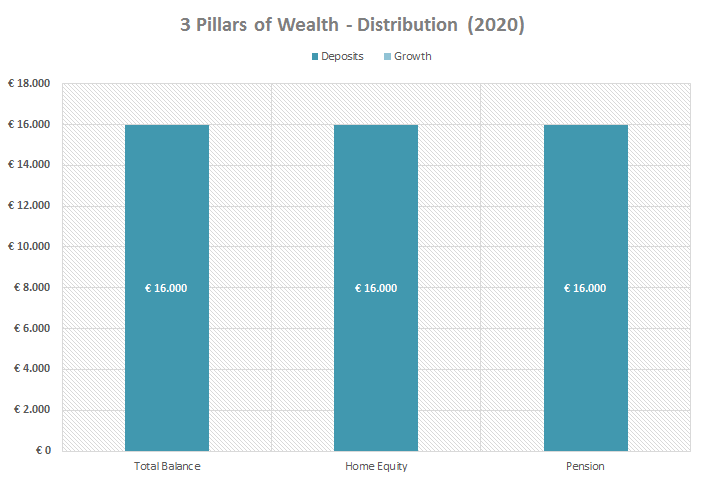 This just goes to show you that my plans rarely end up how I imagine them *HAHA*. – But it looks close enough, I think 😛
Looking ahead
So far I've managed to hit my target 2 years in a row! (YAY!)
This is of course nice, but perhaps this means that my targets have not been aggressive enough? 😉
In Year-1 of my journey I made a 13-year plan to hit my final goal of €400.000, which would make me (us) Lean FI. Ideally I would like to cut it down to a 10-year plan though. Whether that will be possible will depend on how well my investments perform during the next couple of years – so for now I will adhere to the original 13-year plan depicted below: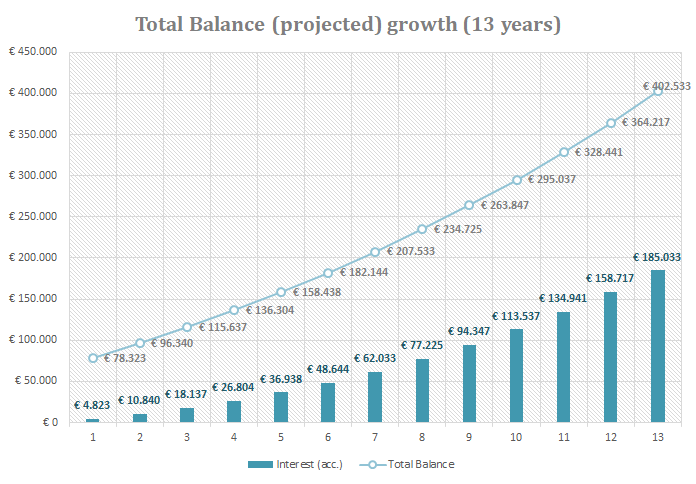 According to the 13-year FIRE plan, Year-3 should see my (our) Total Balance grow beyond €115.000. Since it's now €101.383 we're a little ahead of the plan (for now…). €115.000 seems very achievable – I want to aim higher than that…
So I figured I would shoot for the Year-4 target instead – which according to the above depicted plan is somewhere around €136.304.
This means that I would have to somehow find a way to add about €35.000 to our Total Balance in 2021. That's €2917 per month, which compared to the average growth in 2020 of only €1902/month seems fairly far fetched. – But where there's a will there's a way! (maybe…).
You know I'm a fan of even numbers, so lets go ahead and ROUND DOWN to €135.000 😛
So how do I intend to do this? Honestly, I have no idea…(That's not true – I actually have a rough idea, but it will all depend on how Mr. Market behaves!)
This shall be interesting indeed!… *HAHA*
Personal goals
Now that we've got the financials out of the way, several of you have mentioned the absence of any personal goals in my previous goal posts.
This is actually completely intentional, as I've never been one to set personal goals for myself. I'm not very good with new year resolutions either. But who am I to not listen to my audience?! 😛
So i thought about it long and hard, and this is what I came up with:
Move more
Get outside more
Play more
Laugh more
Be more present
Eat more greens and less meat (anti-inflammatory diet)
Eat less sugar (anti-inflammatory diet)
Exercise more
Worry less about stuff that doesn't worry about you
I'm well aware that these are not GOALS per se. They are more like "guiding principles". – But anyway, this is what I'm willing to put in writing for now 😛
So there you have it, folks!
2021 is going to be an exciting year – and maybe we will even break some (sort of) records. I sure hope so, in terms of investments and growth – both personally and financially 😉