3

min read
Latest portfolio update – March 2023
It's difficult seeing the upside here, but at least (I've just noticed this) we're still on target for reaching our yearly goal – provided that we don't see anymore meltdowns that is!…
The boring income statement
| | | | | | |
| --- | --- | --- | --- | --- | --- |
| Platform | Invested | Transactions | Last month | Current value | Monthly income |
| Commodities |   |   |   |   |   |
| GOLD (Coins) | € 5,333 | € 0 | € 6,500 | € 6,500 |   |
|   |   |   | € 6,500 | € 6,500 |   |
| Stocks (Dividend portfolio) |   |   |   |   |   |
| Bank of Nova Scotia (BNS) | € 1,000 | € 0 | € 1,250 | € 1,144 | € 0 |
| Enbrigde (ENB) | € 2,400 | € 0 | € 2,102 | € 2,109 | € 27 |
| PROREIT (PRV.UN) | € 2,018 | € 0 | € 3,826 | € 3,647 | € 17 |
| Toronto Dominion Bank | € 1,000 | € 0 | € 1,049 | € 960 | € 0 |
| TransAlta Renewables (RNW) | € 2,000 | € 0 | € 1,557 | € 1,706 | € 8 |
| True North Commercial REIT (TNT-UN-T) | € 3,552 | € 0 | € 3,044 | € 1,956 | € 19 |
|   |   |   | € 12,828 | € 11,522 | € 71 |
| Stocks (Indices) |   |   |   |   |   |
| iShares Global Clean Energy (IQQH) | € 6,667 |   | € 7,345 | € 6,928 | € 0 |
| Xtrackers MSCI World ESG (XZW0) | € 2,721 |   | € 2,349 | € 2,449 | € 0 |
|   |   |   | € 9,694 | € 9,377 | € 0 |
| Properties |   |   |   |   |   |
| Property #1 | € 68,667 | € 0 | € 68,667 | € 68,667 | € 0 |
|   |   |   | € 68,667 | € 68,667 | € 0 |
| Crypto |   |   |   |   |   |
| Nexo (BTC, ETH, MATIC, EURx) |   | € 0 | € 756 | € 756 | € 4 |
|   |   |   | € 756 | € 756 | € 4 |
| Cash |   |   |   |   |   |
| Bank #1 cash (main savings) |   | € 0 | € 0 | € 0 | € 0 |
| Bank #2 Opportunity money |   | € 2,266 | € 40,249 | € 42,515 | € 48 |
| Broker account (CAD, EUR, DKK) |   | € 71 | € 335 | € 406 | € 0 |
|   |   |   | € 40,584 | € 42,921 | € 48 |
|   |   |   |   |   |   |
| Total balance |   |   | € 139,029 | € 139,743 | € 123 |
I kind of feel like I'm piling money into a black hole at the moment. I've been eye-balling a 6% Danish (realkredit) bond for the past couple of weeks, and it's certainly looking mighty interesting, compared to the dogshit returns my portfolio has been seeing lately! Anyway, I've made my bed! I guess I must lie in it 😉
What do you guys think? Does it make sense to move some of that cash into a 6% bond at this point? 🙂
The Classic Growth Charts
As always, I include the Classic Growth Charts for tracking purpose: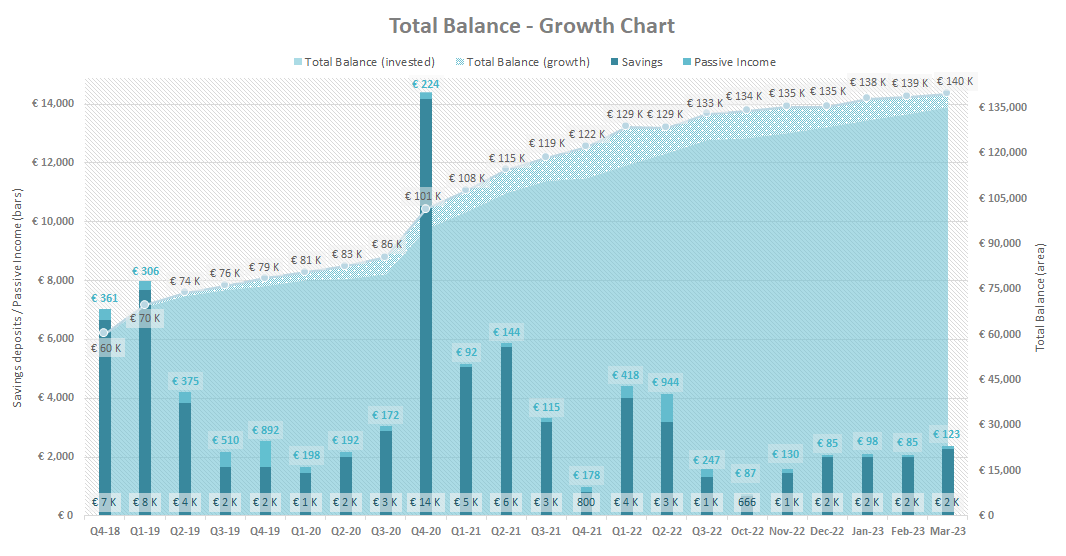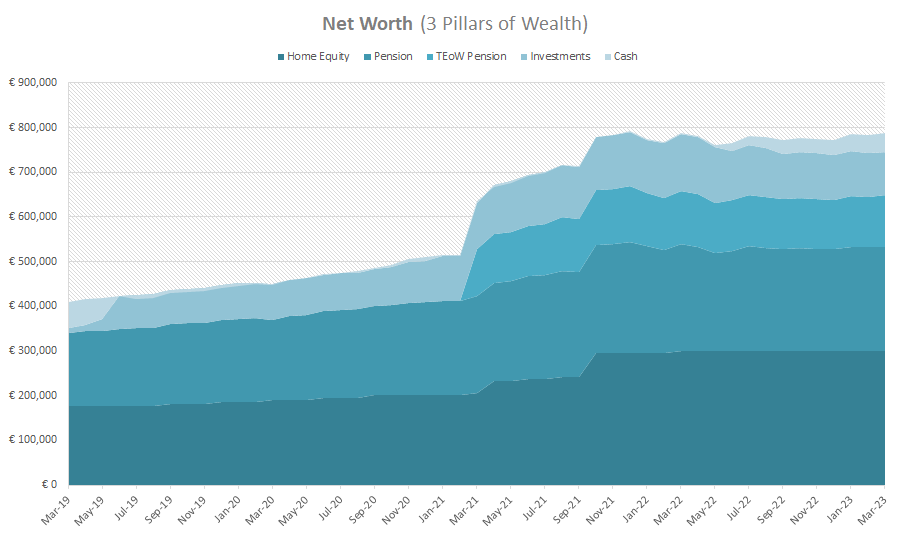 Our Total Balance growth value has not been lower since Q2-2020! Quite the setback. I have faith that it will recover again eventually though. I think my portfolio pretty much mirrors what's been going on in the world for the past 3 years. It has not been great! Our return currently stand at 3% without dividends (passive income). If we count the dividends our return is actually a more respectable 7.4%. I suppose that's not that bad, all things considered (this is not counting the appreciation/added equity in Property #1, which we'll hopefully see some of in the fall).
In Conclusion (TL;DR)
I managed to tuck away a cool €2,266 this month.
Our savings rate is currently hovering around the 25% mark, which is ok – but not great! Ideally I'd like to see it go above 30%, but this will not be possible before we move to a (hopefully) cheaper house.
One of my dividends stocks (True North Commercial REIT) had a meltdown because they cut the dividend by 50% (and because of the credit crisis) – it's down -54% since I bought it This obviously leaves a bit of a dent in our portfolio! No biggie – we'll keep going!
We had the annual general assembly in the investor group of Property #1 and it was decided to push that leverage lever all the way UP. This will have to be approved by the bank though, so we won't know what'll actually happen until June/July.
Lastly, I'm considering dumping a big part of my cash stash into a 6% bond and would love to hear your thoughts on this (good/bad?). HIT ME UP in the comment section below, guys! 😉
Read the (latest) full monthly update here.
To read about my goals (for the year, and onwards) go here.