The Portfolio
The Portfolio
2

min read
Latest portfolio update – August 2019
It's really interesting to see, how my Pension and my Equity are now almost the same! At the end of this month is the quarterly mortgage payment though, so unless some serious growth happens in my Pension funds in September, the Equity should once again take a small leap ahead next month 😉
The boring income statement
| | | | | | | | | |
| --- | --- | --- | --- | --- | --- | --- | --- | --- |
| Platform | Invested | Deposits / Withdrawals | Value last month | Current value | Bonus / Fees | Return | Change (%) | Expected return |
| Crowdlending | | | | | | | | |
| Bulkestate | € 3.525 | € 0 | € 3.525 | € 3.525 | € 0 | € 0 | 0,00% | 14% |
| Crowdestate | € 700 | € 0 | € 723 | € 731 | € 0 | € 8 | 1,09% | 13% |
| Crowdestor | € 1.300 | € 0 | € 1.265 | € 1.285 | € 0 | € 20 | 1,56% | 16% |
| Envestio | € 850 | € 0 | € 1.388 | € 1.422 | € 12 | € 22 | 1,55% | 16% |
| Estateguru | € 100 | € 0 | € 108 | € 109 | € 0 | € 1 | 0,92% | 11% |
| FastInvest | € 400 | € 0 | € 424 | € 429 | € 0 | € 5 | 1,17% | 14% |
| Grupeer | € 1.140 | € 0 | € 1.270 | € 1.283 | € 0 | € 13 | 1,01% | 14% |
| Kuetzal * | € 750 | € 150 | € 623 | € 784 | € 0 | € 10 | 1,28% | 19% |
| Mintos | € 900 | € 0 | € 999 | € 1.009 | € 0 | € 10 | 0,99% | 11% |
| ReInvest24 | € 1.000 | € 0 | € 1.002 | € 1.005 | € 0 | € 3 | 0,30% | 13% |
| Viventor | € 400 | € 0 | € 417 | € 417 | € 0 | € 0 | 0,00% | 13% |
| | € 11.065 | € 150 | € 11.744 | € 11.999 | € 12 | € 92 | 0,78% | 15% |
| Stocks | | | | | | | | |
| Pro Real Estate Trust (REIT #1) | € 910 | € 0 | € 961 | € 962 | € 0 | € 5 | | 9% |
| | | | | € 998 | | | | |
| Properties | | | | | | | | |
| Brickshare | € 1.333 | € 0 | € 1.333 | € 1.333 | € 0 | | | |
| Property #1 | € 68.667 | € 0 | € 68.667 | € 68.667 | € 0 | | | |
| Property #1 Leverage | -€ 8.000 | € 0 | -€ 8.000 | -€ 8.000 | | | | -3,5% |
| | | | | € 62.000 | | | | |
| Cash | | | | | | | | |
| Bank #1 cash (main savings) | € 0 | | € 0 | € 0 | | | | 0,70% |
| Bank #2 cash (emergency fund) | € 0 | | € 147 | € 0 | | | | 0,5% |
| | | | | € 0 | | | | |
|   | | | | | | | | |
| Total balance | | | € 74.731 | € 74.997 | | | | |
  
All in all a combined passive income of €109 for the month of August. 
Pretty standard month, really! Eventually I'd like to see every platform chip in with at least €10/month. This would obviously require me to up my deposits on the smaller platforms (like Viventor and FastInvest), but as I mentioned earlier, I'm not too keen on adding more funds to my current P2P platforms.
The extra money I got from my bank interests last month, I added to Kuetzal.
The Classic Growth Chart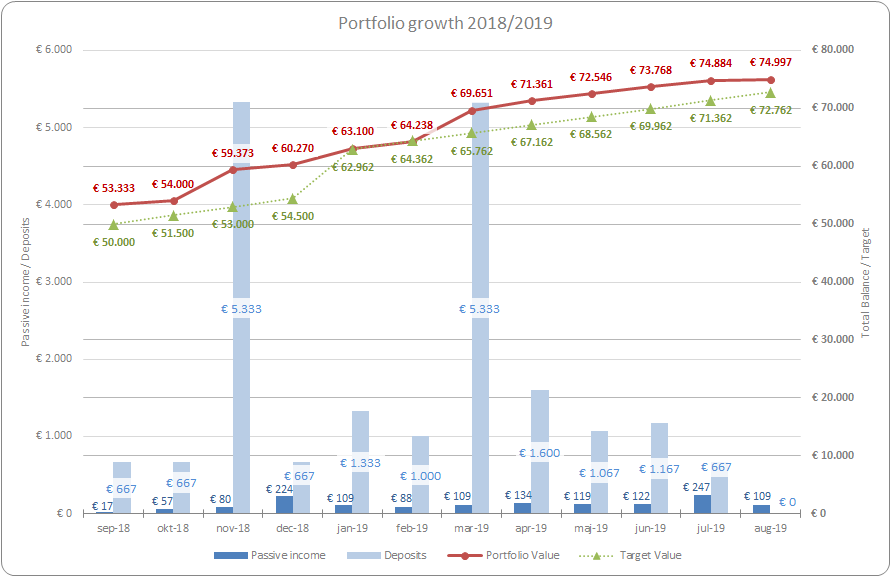 Not much to say to my classic growth chart this month – those (normal) savings are really missed this month, and it's clear that I will not remain way ahead of my target for the remainder of the year (like I have been, since "receiving" my vacation money in march).
The conclusion
In conclusion I ALMOST breached €75.000 this month, which would have been a really nice number to surpass! I will save that joy for next month. My Total Balance progress thus remain at 18% (18,75%). I hope to blow by 19% next month 😉
So far I'm still ahead of my yearly target, but I will get deducted in my salary during my summer holidays, so it will even out during the year (as I wont be able to add significantly to my savings during those months). I expect to hit my yearly target of just shy of €80.000 (to stay on schedule to FIRE within the next 13 years), if I can continue to grow my passive income during the rest of the year. I expect a couple of large payouts from Bulkestate at the end of the year (November).
Read the (latest) full monthly update here.
To read about my goals (for the year, and onwards) go here.