2

min read
Latest portfolio update – March 2022
Second consecutive month where we're seeing growth rates north of €2,000. Not bad! I don't expect it to continue though – but I'm not going to complain if it does 😛
The boring income statement
Platform
Invested
Transactions
Last month
Current value
Monthly income
Commodities
GOLD (Coins)
€ 5,333
€ 0
€ 6,000
€ 6,000
€ 6,000
€ 6,000
Stocks (Dividend portfolio)
Bank of Nova Scotia (BNS)
€ 1,000
€ 0
€ 1,617
€ 1,663
€ 0
Granite REIT (GRT.UN)
€ 1,859
€ 0
€ 1,719
€ 1,813

€ 3

PROREIT (PRV.UN)
€ 2,018
€ 0
€ 4,284
€ 4,825

€ 18

Toronto Dominion Bank
€ 1,000
€ 0
€ 1,224
€ 1,246
€ 0
TransAlta Renewables (RNW)
€ 2,000
€ 0
€ 2,470
€ 2,661

€ 8

True North Commercial REIT (TNT-UN-T)
€ 3,552
€ 0
€ 3,866
€ 3,895

€ 19

€ 15,180
€ 16,103

€ 48

Stocks (Indices)
iShares Global Clean Energy (IQQH)
€ 6,667
€ 7,044
€ 7,383
€ 0
iShares MSCI World Min Volatility (IQQ0)
€ 4,417
€ 5,075
€ 5,366
€ 0
Xtrackers MSCI World ESG (XZW0)
€ 2,721
€ 2,520
€ 2,652
€ 0
€ 14,639
€ 15,401
€ 0
Properties
The-Many (Brickshare)
€ 14,025
€ 0
€ 14,687
€ 14,687
€ 0
Property #1
€ 68,667
€ 0
€ 68,667
€ 68,667
€ 0
€ 83,354
€ 83,354
€ 0
Crypto
Celsius (ADA, BTC, DOT, ETH, MATIC)
€ 0
€ 926
€ 1,083

€ 3

Binance (ATOM, FTM, LUNA, ONE)
€ 0
€ 635
€ 709

€ 5

Nexo (BTC, ETH, MATIC, EURx)

€ 1,066

€ 3,106
€ 4,409

€ 15

€ 4,667
€ 6,201

€ 23

Cash
Bank #1 cash (main savings)

€1600

– €1066

€ 1,066
€ 1,600
Bank #2 Opportunity money
€ 0
€ 0
€ 0
Broker account (CAD, EUR, DKK)

€ 48

€ 101
€ 146
€ 1,167
€ 1,746
Total balance
€ 125,007
€ 128,805
A somewhat standard passive income month this month but a great growth month for both crypto and stocks.
Savings was a bit above average, which I'm hoping can become the norm for the next couple of months. I'm trying to save as much as possible obviously, but with an old house and a somewhat lavish lifestyle (we like the occasional takeout you know) and not to mention the insane inflation rate we're seeing these days, you never really know what expenses might be luring right around the corner!
The classic growth chart(s)
As always, I include the classic growth charts for tracking purpose.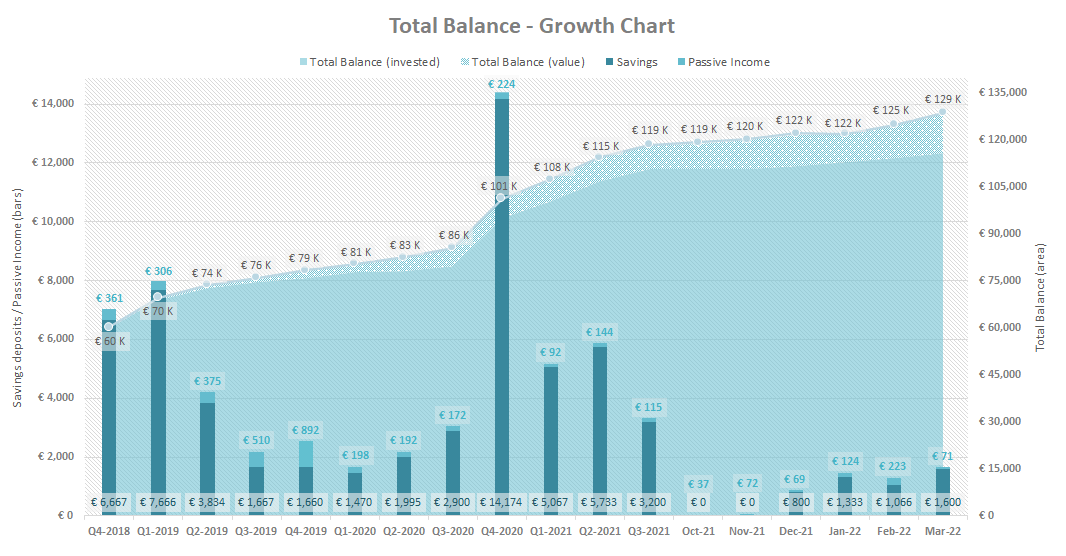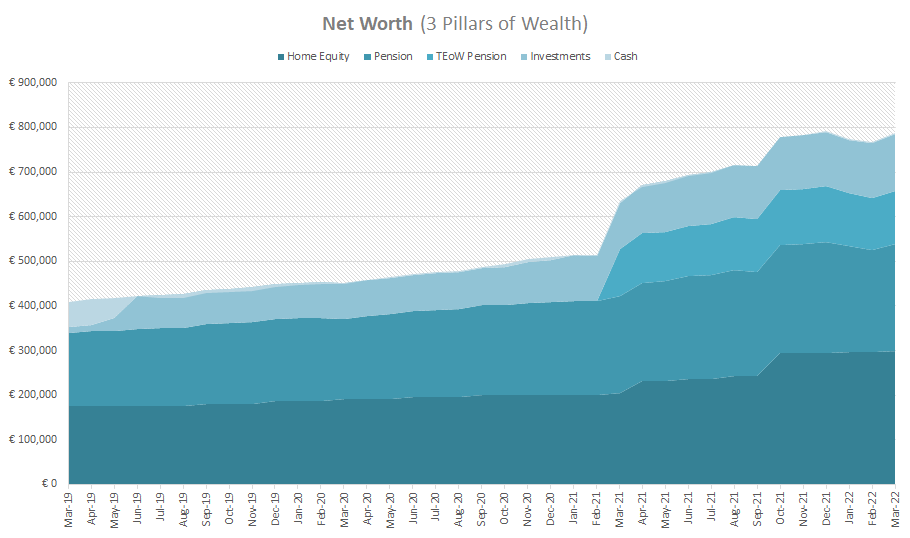 As always, I'm pretty cash lean…This has become the norm – until my investments with The Many are liquidated 😉
The total returns on our Total Balance currently stand at 9.9%. I think that's very respectable, given the market situation for the past couple of years and the fact that our main investment class is real estate. We're currently not writing up the equity value of the stake we have in Property #1 on an ongoing basis, but at one point we're going to (our tenants add about €8,000/year in equity via the principal payments on the loan every year). This will mean a quite significant boost in our Total Balance.
In conclusion (TL;DR)
Our primary home got remortgaged using a 3-Year fixed-rate flex mortgage at 1.69% (including bidrag/contribution). This was 3x what I had hoped – but you win some and you lose some. This was definitely a major loss and a big blow to my master plan.
Anyway, the coming years will tell whether we can invest our principal savings at a higher rate than ~2% (I have my hopes up – but you never know, right?).
Both crypto and stocks had decent months, so all in all a good month for investments. Passive income was average, but savings was above average. YAY! You have to celebrate the small wins, right? 😛
Read the (latest) full monthly update here.
To read about my goals (for the year, and onwards) go here.