2

min read
Latest portfolio update – October 2021
Our Net Worth (Page-3) has taken a big leap this month due to our new home appraisal. For a long time my Pension and our Equity has been in a neck-to-neck race, but the equity has now left my pension in the dust (again). Hopefully it will catch up again eventually 😉
My wife's pension has also been doing well in October, so it's pretty much on par with our Total Balance. So the plan for 2022 is to divert more funds towards our Total Balance (instead of adding more equity), so hopefully it'll be an interesting race to follow! 😀
The boring income statement
| | | | | | |
| --- | --- | --- | --- | --- | --- |
| Platform | Invested | Transactions | Last month | Current value | Monthly income |
| Commodities | | | | | |
| GOLD (Coins) | € 5,333 | € 0 | € 5,500 | € 5,500 | |
| | | | € 5,500 | € 5,500 | |
| Stocks (Dividend portfolio) | | | | | |
| Bank of Nova Scotia (BNS) | € 1,000 | € 0 | € 1,293 | € 1,345 | € 0 |
| PROREIT (PRV.UN) | € 2,018 | € 0 | € 4,045 | € 4,047 | € 17 |
| Shaw Communications (SJR) | € 2,000 | € 0 | € 3,252 | € 3,143 | € 7 |
| Toronto Dominion Bank | € 1,000 | € 0 | € 968 | € 1,012 | € 0 |
| TransAlta Renewables (RNW) | € 2,000 | € 0 | € 2,503 | € 2,441 | € 8 |
| | | | € 12,061 | € 11,988 | € 32 |
| Stocks (Indices) | | | | | |
| iShares Global Clean Energy (IQQH) | € 6,667 | | € 7,168 | € 7,526 | € 0 |
| iShares MSCI World Min Volatility (IQQ0) | € 6,667 | | € 7,357 | € 6,996 | € 0 |
| | | | € 13,930 | € 14,522 | € 0 |
| Properties | | | | | |
| The-Many (Brickshare) | € 15,999 | € 0 | € 16,034 | € 16,034 | € 0 |
| Property #1 | € 68,667 | € 0 | € 68,667 | € 68,667 | € 0 |
| Fundbricks | € 1,333 | € 0 | € 1,333 | € 1,333 | € 0 |
| | | | € 86,034 | € 86,034 | € 0 |
| Crypto | | | | | |
| ADA | | | € 40 | € 43 | |
| BTC | | | € 78 | € 91 | |
| DOT | | | € 50 | € 67 | |
| ETH | | | € 777 | € 988 | |
| | | | € 945 | € 1,189 | € 5 |
| Cash | | | | | |
| Bank #1 cash (main savings) | | € 0 | -€ 267 | -€ 267 | |
| Bank #2 Opportunity money | | € 0 | € 0 | € 0 | |
| Broker account (CAD, EUR, DKK) | | € 32 | € 356 | € 388 | |
| | | | € 89 | € 121 | |
| | | | | | |
| Total balance | | | € 118,559 | € 119,354 | |
My small Crypto portfolio (with Celcius.network) generated a small passive income of €5 in October. Not a lot! But hopefully it will continue to grow over time 🙂
My dividend stocks produced the standard amount of dividends, so this month was fairly ordinary. I hope to eventually be able to add more dividend-paying assets, but given the current cash flow drought it's unlikely that it will happen anytime soon, unfortunately! Oh well, patience is a virtue… 😉
The classic growth chart
As always I include the Classic Growth Chart for tracking purpose.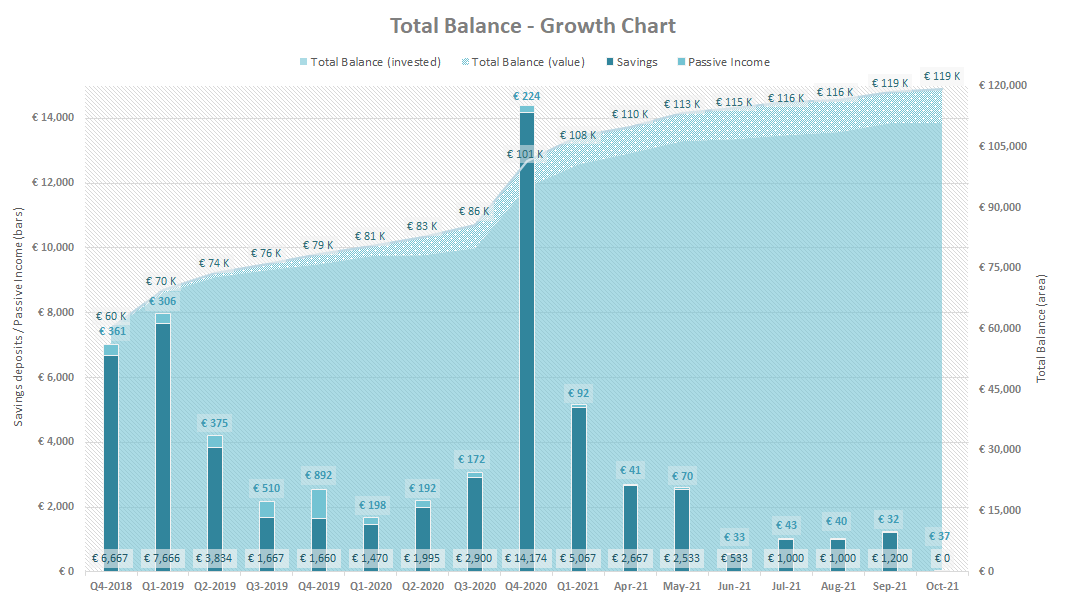 I know! Those zero-savings months looks terrible in this format. AAAAAARGGH my graphics heart is bleeding. Oh well 🙂
Unfortunately, next month will also be a zero-savings month 🙁
In Conclusion (TL;DR)
All in all it was an average passive income month, and our stock portfolios (including our pensions) have now surged to new highs once again.
I've got a new job again (will start in December) and this will have a short-term negative impact on my savings. Hopefully it will pick up again come the new year 😉
We got hour house appraised and as a result we've now got almost €300.000 worth of equity in our house. Pretty crazy. So we've decided to stop paying down on the mortgage principal and instead divert the funds towards our Total Balance, which means that it will be invested instead of being stored in our bricks. This will (hopefully) come into full effect at the beginning of 2022 where we plan to remortgage.
That's it for this month, folks!
Hope to see you again next month, and thanks for reading this far! 😉
Read the (latest) full monthly update here.
To read about my goals (for the year, and onwards) go here.