10

min read
TODAY! Is my blogs 2nd birthday! YAY!
You can read my first birthday post here.
In my first year of blogging, I created 50 posts. My 2nd year didn't quite match that, but I managed to churn out a respectable 40 posts. Quality over quantity, I suppose? I'll let you guys be the judge of that, I guess! HAHA
Looking back a lot has happened in 1 year.
A challenging year not just for the Total Balance household, but for the entire world. The Covid-19 pandemic has changed our ways of working and socializing – probably forever…I don't think anybody saw that one coming!
Strangely enough, the worlds financial markets has pretty much recovered already, albeit certain areas are still suffering from post-traumatic pandemic disorder.
The race to bring a vaccine to the masses is on, and recent rumors say it will happen already this year. Last I heard, 8 different vaccines was in the final stages of development (phase 3). China and Russia are said to be the first countries to start vaccinating their own population – safe vaccine or not…
Personally, I'm not a huge fan of this development, but I'm not at risk of dying from the virus, so I probably shouldn't be complaining. So I won't 🙂
Instead, Lets look back at what happened in my second year on FIRE…
The beginning (of the end)
In late 2019 it became apparent that one of the crowdlending platforms that I had invested in was a scam. Early in 2020 it then became apparent that more than 1 of them was a scam! I wrote a bit about it in my February 2020 update titled "bloodbath".
Obviously, the entry of a pandemic did not boast well for the baltic crowdlending scene as a whole. As a result, other platforms tumbled as well.
So that was obviously a major blow to the master plan, and I kind of lost faith in these particular kind of platforms. As a result, I've pretty much decided to wind down my crowdlending investments altogether. I MIGHT keep a few investments with a couple of platforms (just to attempt to recuperate some of the losses, which currently totals around €1.100, so it could be worse I guess).
In my 2020 goals post, I introduced the concept of my 3 pillars of wealth, where I floated the idea of leveraging my mortgage payments (basically stop paying down my mortgage), in order to boost my Total Balance.
However, later on I had to revise that plan due to The Universe having other plans (so it would seem 😛 ).
So in the end, my 3 pillars of wealth projection for 2020 ended up looking something like this: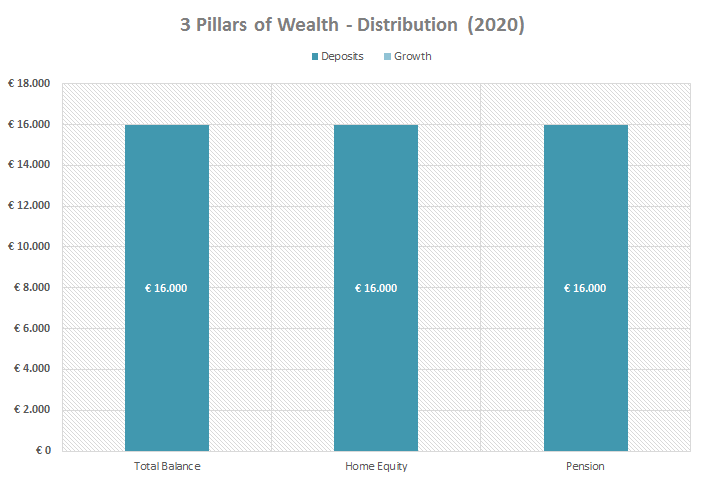 So far, I'm pretty far behind on the Total Balance progress – BUT, as always uncle Nick has some tricks up his sleeve 😉
Equity and Pension contributions are pretty much on track though – so at least I'm 2 for 3 at the moment! HA!
So, what have I learned so far?
Well, a pandemic can truly fuck up your perfect plans, for sure – I learned that much! I'm way behind schedule, so Q4-2020 is going to be a massive sprint to reach the finish line of having a Total Balance of €100.000 (currently at €84.175). We shall see how that goes!
Besides the whole pandemic ordeal, I've been a lot less active in the community (and on the blog) than I was in my first year. I think it's fairly typical (for me at least) to experience a form of "drought" when you've spent the better part of a year digging down (deep) into a subject. I get to a certain point where I kind of "get filled" and start looking for input from other areas (enter: EVs). I'm on track now, and the process of getting to where I am today has taken many years. I'm now (still) trying to find the right balance between being (too) frugal and still enjoying the finer things in life (which is very important to me).
For me, being on the FIRE path doesn't mean that I HAVE to save 50% of my salary and never enjoy a dinner at a restaurant. As long as I add a little bit to my Total Balance every month, I'm still better off tomorrow than I were yesterday (as I see it anyway). I think it's important to find your own path in life, and while you're free to pick up ideas and inspiration from your peers, don't try to make their prioritization automatically fit into your path. You're free to do exactly as you see fit, so don't compare yourself (too much) to others.
In my first year of blogging, I felt like I had a lot to share with the world. Ideas, plans, goals and dreams. Since I've already made 50 posts on those subjects, year 2 of blogging was different, in that I had to "prove" that all my ideas was actually able to fly. Granted, not all of them were (far from it), but as I've learned over the years, the best way to measure your success is to count your failures 🙂 The harder the fight, the sweeter the victory? 😛
I still enjoy blogging, but given that I blog under a "secret identity", I've been finding it harder and harder to "control" my alter ego, if that makes any sense? I often have to ask myself, if I would be making the same investment choices, if I weren't "public" about them. For now I feel like I have it under control, but it's something that I struggle a bit with from time to time…
I'm not a financial advisor (although I did in fact apply for the education this year – but for some reason, the universe wanted it otherwise 😛 ) so I'm learning as I go along, just as much as the next guy!
Wisdom (and wealth) comes with age, or so I think/hope…So at least I've got that to look forward to, right?! HAHA
The Total Balance progress
I know you guys really like the numbers, so let's have a quick look at how I did in terms of €€€ since year 1!
This was "The Classic Growth Chart" from September 2019: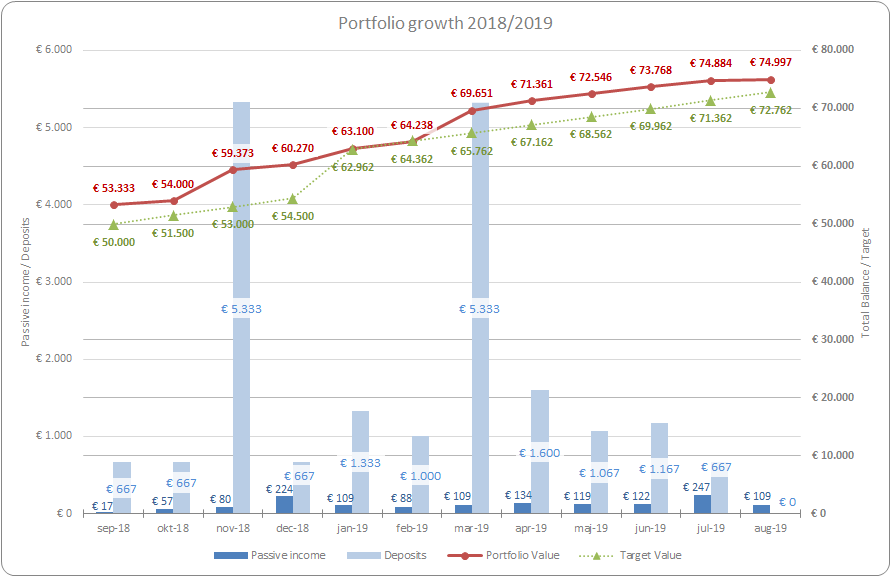 I almost forgot how it looked back then! So if nothing else, at least I spent some time in year 2 "honing the look" of the graphs 😛
I think the new one turned out pretty cool. What do you think?
The Classic Growth Chart from September 2020:
I set an aggressive target for 2020, so clearly I'm pretty far behind right now, and I've only managed to add about €10.000 to my Total Balance since year 1. That's not really all that satisfying, I'll be honest – but as I stated earlier, as long as it's growing I'm not going to complain 🙂 Could it have been better?! Definitely! Could it have been worse? POSSIBLY!
My biggest investment to date is currently building up equity every month, and in 2023 I will receive a massive payout from Property #1. I was hoping to be able to add Property #2 already this year, but given my weak savings rate and the lack of good projects in my price range, I don't think it will happen this year. Maybe not even next year either, but a lot can happen in a year, so I'm keeping my options and my eyes open 😉
In the midst of the pandemic, I also managed to give the blog an overhaul, with a new theme and new colors. I think it came out OK, and it looks a little more "grown up" now. I don't know what you guys think, but I'm pretty satisfied with the facelift. Perhaps I'll make it into a yearly event? 😛
The (most) popular posts
One post really stand out this year, and you guys really showed it a lot of interest, which really pleased me, and I shall try to create more content like that in the future (message received!) 😉
The 3 most read posts of Year 2 were:
I enjoy writing those longer "graph-heavy" posts too, and I have a few draft posts (quite a few actually!) lined up for the coming months. I can't promise I will get to finish all of them, but I will do my very best 😛
The "Lessons from the past" post is my most read post to date. I'm glad you guys found it interesting , and I will try to follow up on it every year.
All in all my views and visitors has gone down a bit from year one into year two, but given that I no longer post weekly, I think that's to be expected. I also dont advertise on any kind of social media, and it's clear that if you want to grow you audience, you have to try and advertise somehow. I'm still hesitant to actively advertise my blog, but I have to admit that I am a wee bit jealous at a few of my peers, who have managed to grow their following substantially in a very short amount of time.
I have 43 subscribers to the blog at the time of writing, and the "sportsman" in me says that I need to somehow raise that to at least 100 😛 Just because it's a nice round number! We'll see…
The goals for year three
I want to continue expanding the blog, and it's pretty clear by now that if I want to expand my reach, I need to expand my audience. I haven't decided on a strategy for this yet, but I'm sure opportunities is going to present themselves, if I'm open to them 😉
I've been wanting to take some of my experience out into the real world, and have been playing with the idea of creating some content that would be aimed at tweens and young teens. I'd maybe like to try my hand at public speaking too, so perhaps I could take "my show on the road" and present my ideas for local schools. My main goal is simply to help educate young people in what money is (and what it isn't), and how you can spend it wisely. I call it "Know your numbers". It's still in the early stages, but I hope year three might be able to take me in such a direction…
I'm a little bit intrigued by the modern "influencer" culture, but I really feel that our youth is being influenced in a (very) wrong direction! Perhaps it's time to step out of the shadows, and join the fight? 😉
I know that I really wish that someone had told ME about the magic of compound interest when I was younger. I figure I might be able to influence a kid or two, if I'm lucky 😛
Anyway, in terms of the numbers I'm reluctant to define any major milestones for year three, as my plan for year two hasn't really panned out yet. I will however continue to save as much as I possibly can (but perhaps try to do a little better than year two!). Provided that I reach my Total Balance goal for 2020 (€100.000), I should be able to reach double-up in 2021 (I started my journey with €53.333 in the bank). That'd be a pretty sweet milestone, I think!
So let's just put that in writing! The goal for year three will be to reach double-up (€106.666), and to expand the reach of the blog.
Wish me luck! I hope to (still) see you around, and thanks for reading this far! 🙂