10

min read
I've often wondered where I got my own money blueprint from. – You know that voice inside of your head, who tells you to either spend or save your money? That's your money blueprint in action.
Is frugality something that is embedded in your DNA? And if so, is it thus hereditary?
Perhaps, but I'm fairly sure that your mindset around money (as well as a lot of other things in life) will be greatly influenced by the environment that you grew up in. Everyone probably has someone in their life that they look (up) to in some way or another, when it's crunch time (decision time). Your "default behavior" is thus greatly controlled by events that happened in the past. It's rarely one specific incident that you can point to, but rather a string of events scattered throughout your entire life that has formed how you handle your money today.
Last week I buried my grandfather. He died of cancer, at the age of 78. It's natural when you lose a loved one, to think back on the time that you've spent with this person. My grandfather (as it turned out) was a pivotal figure, in defining my money blueprint…
1942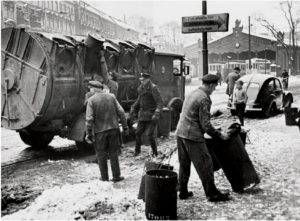 Unlike my kid, my grandfather was born into a poor working class family. He was born during World War II, and had 3 siblings (the 4th would follow only a year after he was born). Out of 5 kids, he was the only boy. As was accustomed for that time period, his mom was a stay-at-home mom, while his dad worked as a dustman (garbage collector) for the city. I imagine it was a tough and dirty job, being a dustman back then. I found this photo in a book about WWII. It depicts the work conditions for a WWII dustman. Notice how the bins does not have wheels like they do today 😉
Today the job as dustmen are highly unionized, and is considered as a pretty good gig (short work hours, decent pay, high job security – although still a somewhat smelly and dirty job).
1950
When my grandfather was 8 years old his dad died. He did not remember how he died, but he believed he basically drank himself to death. His younger sister (still alive today) says he died of a heart attack. Although he liked his alcohol he remembered him as a tough but loving father.
With the sole provider of the family now gone, my grandfathers mother had to start working. At that time only two of the 5 kids was living at home (my granddad and his younger sister), but as you can imagine it was not easy to find employment when you'd never worked a day in your life before. However, she managed to get a job sorting linen at the local hospital. It was not a high-paying job, but it paid enough for her to keep her apartment and feed and clothe her kids (and even some of her grandkids too).
1952-1956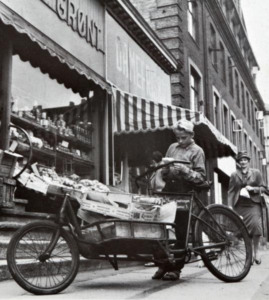 When my granddad was about 12-14 years old (the exact age for when he started working is a bit unclear – and unfortunately it's too late to ask him now 🙁 ), he got a job delivering bread for the local bakery.
He later on also became a delivery boy for the local grocery store.
How he spent his money back then is unfortunately also a bit of a mystery, but knowing how he was later in life, I imagine some (if not most) of his earnings was used to supply the household with food and necessities. I imagine he also bought some treats for himself though. He did love his sweets.
Today what the kids did back then would probably be considered as "illegal" child labor. I imagine though that the kids of today would benefit greatly, from learning early in life to work (hard) for their living. I was spoiled. My kid is spoiled. Her kids will probably be even more spoiled…
Back then most people (young and old) had to work hard to make ends meet.
1957
At the age of 15 my granddad decides to go to sea. I imagine he was yearning to get away from home, and to see the world and go out on his own adventures. He manages to get himself onboard a freight ship sailing for the danish company ØK (Det Østasiatiske Kompagni – EAC, East Asiatic Company Ltd. ). He had secured himself the position as galley-boy. His voyage took him as far as Singapore, where he got himself a classic sailor tattoo of an eagle on his arm. I studied that tattoo in awe many times as a kid.
However, after about 1 year of sailing he'd had enough of peeling potatoes (his own words!). He went ashore in Holland and WALKED back home to Denmark. A small trip of about 900km! He never told us a whole lot about where he slept, how he ate or survived during those months that I imagined it took to return to Denmark. None the less, it was an impressive achievement to walk that far. He must have been very determined to leave that boat to opt for such a long walk home…
1958
Back home in Denmark after a long journey, my grandfather most likely went home to live with his mom again (he didn't say where/how he lived). He once again found himself a job moving various goods, this time for an electronics company. Television was on the rise at that time, and the Danes was rapidly adopting this new media. However, the radio was still the predominant media, and unlike today they were built to last a lifetime – but if they broke, they were fixed. So my grandfather was tasked with moving the various repair parts across the city.
Shortly after his return to Denmark he met my grandmother. And the rest is history, as they say!
The story goes that from the day he met her, he gave her his wallet, and she's been holding on to it ever since.
1960-1980
My grandfather has always been very industrious, and while he never got a formal education, he's held countless (well-paying) jobs over the years. For long periods of time, he held more than 1 job at a time, to support his family and their lifestyle (my grandmother always did enjoy the finer things in life – she also worked full-time though, since she was 14 years old! She always tells us this whenever she gets the chance!). My mom was born in 1962 and my uncle was born in 1964.
They moved to the suburbs to raise their two kids. They got a 2-bedroom rental apartment, and they bought a caravan, which they would use for vacations and weekend "getaways" with the family. They later bought a summerhouse to replace the caravan. In their 58 years of marriage, they owned 5 different summer homes together, and each time they sold one to buy a new one, they would make good money on the sale, so the next one was always a little more expensive (upgraded) than the previous one. I remember two of these summerhouses, and I've had many joyful vacations there with my grandparents. These experiences was probably also a great contributor to why I chose to buy a summerhouse with my wife.
My grandfather would continue to work various odd jobs, and for a while he also drove a cab. He would always tell me that he didn't need no stinking GPS to find his way around the city. He knew the streets of Copenhagen like the back of his hand! The old part of the city, yes – but the city changed a lot since the 1970's! It grew rapidly, so he would often "get lost" when we were driving in the outskirts of town. He would obviously never admit it, though. He always "knew a shortcut" that would somehow take longer than the direct route…That was my grandpa 😛
He became the warehouse manager of the Scandinavian Tobacco Company after moving to the suburbs, and he would smoke a lot at that time (I think everyone did back then…). At one point he smoked 2 packs per day (40 cigarettes). He would quit from one day to the next though, as someone BET him 100kr (€13) – which was probably a lot back then – that he wouldn't be able to quit. He never smoked another cigarette in his life after that. That was my grandfather.
1980-2020
He would later become the warehouse manager for a big German company (the danish branch) who "is one of the world's leading suppliers of products and system solutions for measuring, controlling and regulating gases and liquids". Even while holding this fairly well-paid job (with good benefits – he told me), he would still work part time cleaning offices at night.
He worked that warehouse job until he retired in 2006. Even after he "retired", he would still work part time for another company, managing their stock and product inventory. He stopped working last year though, less than 8 months before his untimely death. They caught his cancer too late. He was too stubborn to see a doctor, even though my grandmother told him he needed to go see one. That was my grandfather – stubborn till the end.
In 1980 they bought a house, which they lived in for 15 years, before moving back into a rental apartment (they were getting too old for gardening, so they said). They sold their last summerhouse in 2008, making a(nother) decent profit.
I was born in 1983 and spent a lot of time with my grandparents during my youth. They would take me on long (car) vacations through Europe, in their summerhouse or even fly to Africa. My grandfather would always complain that my grandmother spent too much money. She would just scuff at him and continue to spend their money like there was no tomorrow. They both worked hard all of their life, to support the lifestyle that they wanted to live.
My grandfather was widely known as the kind of guy who would always walk with his head bowed, looking down at the ground. "You never know what you might find on the ground" he would used to say. He was looking for money, everywhere – and he would often find some. A coin, a bottle (which you can turn in for coins in Denmark) or even the occasional big note (his record find was 400kr, according to my grandmother). He would literally stop the car if he saw a bottle laying at the side of the road. "It's money", he would used to say. That was my grandfather.
 I didn't realize this, until very recently, but there is no doubt that my grandfather is one of the great (if not the main) architects behind my money blueprint.
I don't spend quite as much time looking at the ground as he did, but my record find is 100kr (1 note). I've also picked up the occasional bottle, and during my study-time I also worked multiple jobs (I only did that once though…). My parents didn't have a lot of money when I was growing up, but I never felt like we were poor. I've always been good at saving my money though. You never know when you might need some 😉
So thank you for that (and all the other great stuff), granddad. I love you, and may you rest in peace. I hope there's lots of coins on the ground, wherever you are 🙂
Who is the main architect behind your money blueprint?