3

min read
That's right. You heard it here first (not really), people! The main trait you really need to become a decent investor, is time and consistency.
We've all heard (or read) the term "Time in the market beats timing the market". I'm not a big fan of this saying to be honest, but I understand the message that it's supposed to convey;
If you have money that you are willing to invest, do it now rather than later.
It doesn't matter which asset(s) you choose to invest your money in – as long as you believe it will yield a decent return (and compound on a regular basis, preferably). As long as you invest in something you're better off than if you invest in nothing (or worse; buy new cars and expensive gadgets on a regular basis 😛 ).
Once you've chosen your favorite investment object(s), make sure to keep saving and investing in that/those objects consistently. It doesn't matter if you invest monthly, quarterly, yearly or even bi-yearly. Just keep throwing those benjamins at the pole, like it had a first-class stripper twirling around it! Why? Because the only force stronger than THE FORCE (yes, that was a Star Wars reference) is The Force of the Compound.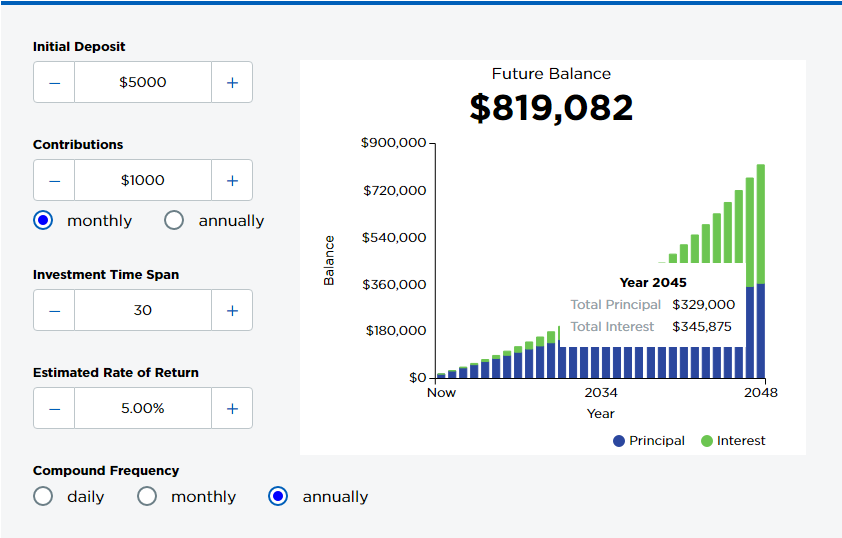 If you were to invest $1000 per month for 30 years at an average interest rate of 5%, you'd end up with more than $800.000. But here is the kicker (this never cease to amaze me!): more than HALF of those $800.000 are "earned" by interests alone. In fact, after 25 years the total interests will surpass the total principal. This means that if you were to simply place those $1000 in a bank account at 0% interest rate (instead of investing them at 5%), after 30 years you would only have $365.000 in your bank account.
So, in case you are (still) telling yourself that you can't afford to invest anything. – The question you should really be asking yourself is: Can you really afford not to invest?
Yes, but 5% is not that easy to hit in todays market, Nick!
Really? Seems like all you really need, is time and consistency 😉
I was actually pretty surprised to see these graphs myself. Look at those REITs, huh!? Note that the period is 1999-2018. Remember the .com crash and the "little" financial crisis in 2008-2009? (of course, history does not provide any guarantees for future returns). I'd probably shy away from Oil though…Perhaps the 2018-2038 graph will have Renewables in there instead? Who knows 🙂
Regardless, historically it seems you have a fairly big selection of assets, which will provide you with an annual return of 5% (or above). So how come the average investor only manage a measly 1.9% you ask?
Because the average investor lack the most important trait to become more than average: Consistency!
Avoid acting on your impulses and emotions, and keep consistently investing in <insert your favorite asset class here>. Oh, and one last thing: If you fail at consistently being consistent, at least diversify for Christ sake! 😛
So, what did we learn today, kids?!
Invest today, not tomorrow. Pick your asset(s) and continue investing in them on a regular basis. Let time (and compounding) do its magic!
Congratulations! You're now on the path to becoming a decent investor 😉
---
Geek out on some (alot) more graphs from JP Morgan here:
https://markets.businessinsider.com/news/stocks/stock-market-66-charts-ultimate-guide-to-markets-economy-jpmorgan-2019-4-1028083580
Geek out on your own compound interest calculations here:
https://www.nerdwallet.com/banking/calculator/compound-interest-calculator