14

min read
You've probably heard the term: "Sometimes you have to spend money to make money".
Well, sometimes you also have to "Spend money to save money" (In the long run)…
By now you've probably already realized what this is about. I'm of course talking about my new adventure; my electric car.
It should come as no surprise to anybody that an electric car needs: POWER. E.L.E.C.T.R.I.C.I.T.Y.
The simplest way of putting power into your electric car, is via the means of what is referred to as "the granny cable" AKA the emergency charging cable. This charger plugs into a standard power outlet in your house.
The grandma cable
The problem with the grandma cable, is that it's limited in the amount of power that it can put into the car. Also, your standard outlets in your house was simply not built to supply a large EV battery with power for 10-12 hours straight. Depending on the age of your installation, using a grandma charger for extended periods of time can result in your installation overheating. Worst case your outlet can burst into flames (there are examples of this actually happening). This is worst case of course. Plenty of people use the grandma cable to charge their EV, without problems.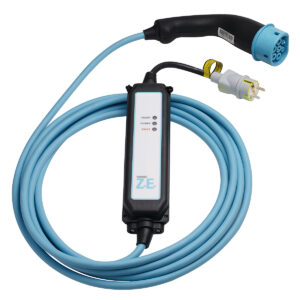 A standard power outlet in our homes (in DK) is typically backed by a 10-13A fuse. But a standard 230V outlet is not rated to supply that much power for longer periods of time. So the granny cable will default to 6-8A, unless you specifically instruct it to charge with 10A (this is advised against, unless you have a new dedicated outlet JUST for the purpose of EV charging).
So, worst case the granny cable will charge at 6A. This translates to about 1.3 kW. My rented Renault ZOE (Q210) has a 22kWh battery, which means that if we assume we charge at a 100% efficiency (we do not), it would take roughly 17 hours to charge the battery from 0-100%. But charging at this relatively low rate is never going to be 100% efficient – in fact the Zoe is well known to be extremely inefficient at low amp charging (single-phase).
So in fact we can expect a 15-20% "loss" while charging with the granny cable at 6A. So not only will it take longer than the 17 hours to a full charge, but there's also going to be a loss of energy during the transfer. This means that while I draw 1.3 kW from the socket, only around 1 kW actually goes into the car battery. Thus every time I charge the car with the grandma cable, I'm paying a power-premium because 0.3 kW is wasted for every 1 kW I put into the battery. That's money down the drain, and naturally we can't have that in our household! 😛
The wall-charger
So, the best thing we can do (if we're serious about this adventure) is to establish a wall-charger for the EV. So what's a wall-charger, you ask?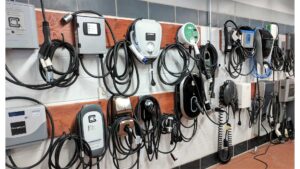 Well, basically that's a dedicated installation with the sole purpose of charging EVs. While the granny cable has the control circuit embedded on the cable it self, the wall charger moves it – well, onto the wall. You then run a dedicated cable from the wall box to your car. They come in various shapes, sizes and price ranges, but the common denominator, is that they all need a dedicated fuse group directly from your electrical switch board (they also all seem to be pretty ugly…).
Every house has a certain amount of power allotted from the power company.
In Denmark the typical power allocation for a residential household is 25-35A. This means that at no point in time should the total power consumption of the house exceed the allotment – and if it does, it will blow the master fuse (placed outside of the house), and that is pricey to replace, so you don't want that to happen.
Luckily my house is equipped with a 35A master fuse (I checked with the power company). Since we don't have anything in the house that could consume an abnormal amount of power, we assume(d) that adding a new RCB (Residual Circuit Breaker) with a 16A fuse dedicated for my new wall charger, would be safe for our installation. Note that I did talk to an electrician about our specific installation – so we did a little more than just assume that it was OK 🙂
A 16A dedicated (3-phase) circuit will allow me to charge the car with 11 kW. This means that theoretically, I could charge the Zoe from 0-100% in 2 hours. A lot better than those 17 hours it would take (at best) with the granny cable!
So now we can run the appropriate sized cable from the switchboard outside to where we want the wall-charger to be placed (I of course opted for a 32A rated cable – so it's future proof). EASY, right?!…WELL…No. If you recall, I live in an old house (1850-ish), and nothing is ever EASY in our house…
The first thing I had to decide on, was how to route the cable from the switchboard out to the driveway. The natural choice would be to dig it into the ground (it needs to be dug down at least 35cm, according to the regulation). But the "direct" route from the switch board to the driveway would mean I would have to dig about 30 meters. Across various types of terrain. Hmm. The digging seemed simple and easy enough, but re-establishing our stone-paved entrance seemed like a daunting task…
As luck would have it, there was another option. I could run the cable directly out from the switchboard, beneath the ceiling (in a cable canal so it would be fairly "disguised") and directly outside under the eaves and 20m straigt out to the driveway. That seemed like the best option, only I would have to use the smallest possible cable canal, as they would be visible from the inside of the house. From the outside the cable would barely be visible, as it would be running underneath the eaves of the roof (thatched, remember?).
OK, but then my electrician told me that a high voltage power cable has to be placed inside a proper protective shell (like galvanized iron tubes) when "visible" on the outside of the house. If they run inside of the walls, they are placed in plastic tubes (much cheaper, obviously). But when exposed outside, there are the possibility of rodents "attacking" them. I find it highly unlikely that a rodent should find it interesting to eat through thick plastic cable shielding, but ok – rules are rules!
So the choice between digging and the routing of 20m+ cable (16mm) through iron piping (with various bends along the way) was suddenly a choice between two evils. For weeks I was 50/50 going back and forth between one or the other. Ultimately, I opted for what (at the time) seemed as the easiest solution. No digging.
If you're right now thinking "why is he telling us this, who cares about cable routing?!" – I'm telling you this because: should you yourself one day decide to get an EV, you will be faced with the same kind of dilemmas! If you let an electrician do the complete installation, you can pay him an obscene amount of money to either do the easy installation, the pretty installation, or the cheap installation (which will most likely NOT be the pretty one).
By now it's probably worth mentioning that we have a couple of different charge network operators in Denmark (most known are E.ON and Clever). They typically offer a wall-charger including a "standard installation" for a fixed fee (this is the cheap – not the pretty installation, and the max cable length is only 10m or something – I had 30m, remember?). The fee vary from somewhere between €1000-€1500.
If you opt for this solution, you'll pay a "charge-box rental fee", and you'll also pay a monthly subscription that will typically allow you to charge at a flat rate – both on your home charger and on their public chargers, scattered around the country. However, these operators have continued to raise their flat rate prices, now to such a degree that you'd have to drive about 25.000km/year for this solution to be profitable (the rate for all-inclusive charging is around €100/month). Also, if you were to one day cancel your subscription, they'll bill you DKK 2.500 to take down the(ir) wall charger! (I assume they only take the charger and not the cable to the switchboard and the RCBs as well, but I'm assuming here…).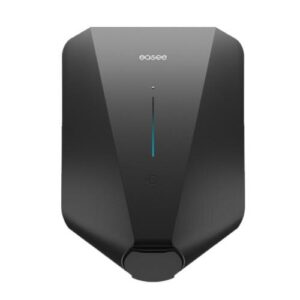 So I quickly decided that I would want to own the installation myself – no monthly fees or cancellation fines for me, thank you very much. I searched the Internet thin for a wall charger that didn't look hideous. I found one from a Norwegian company called The Easee Charger.
Funky name, but pretty sleek product. I've now been using it for a few days, and I must say I like it very much! The price? €850…
But it has AN APP! You've gotta have an App, you just gotta! And unlike the App for my stupid robot mower (b0b), this one actually works.
The Easee charger can either connect to the Internet via your Wifi, or via the build-in 4G e-sim (embedded at no extra cost!). Well done, Norway! 😉
What's really cool about this charger, is that it supports multiple robots (they call it a charge robot). – So, in the event of another EV arriving at our house (pretty sure it will happen eventually), all I have to do is add another charger (€850) and the two charge robots will be able to distribute the available power evenly between them. This is pretty clever, actually! If you only had 1 charger and two cars, you'd have to manually switch the charging cable between the two cars. There are chargers that offer dual-port charging options, but they are €3000+. With the Easee Charger, you can get dual charging for €1700.
My installation is also prepared for 32A charging. This would require an upgrade to my master fuse though, and those are quite pricey (DKK 1.000 per Amp!), so I will postpone this upgrade until I absolutely can't live without charging two cars simultaneously at 11kWh per car (2x16A) 😉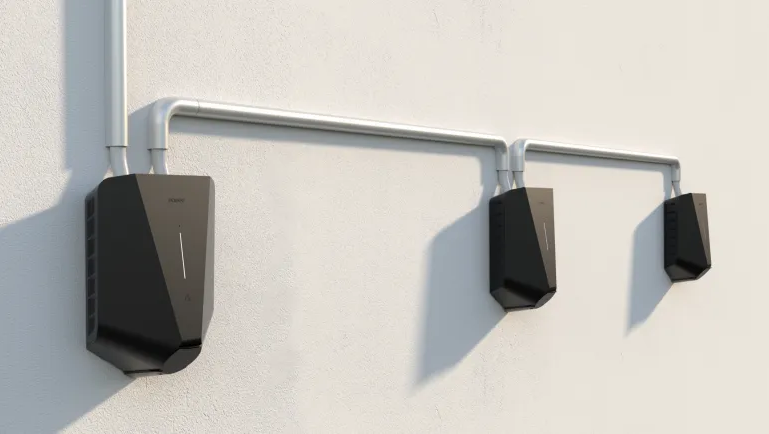 Also, since the battery in an electric vehicle runs on DC power, and the current that comes out of your switchboard is an AC current, you need a special kind of RCD (Residual Circuit Device) called the Type B RCD. As opposed to the standard type RCD (Type A) the RCD Type B also protects against DC fault currents. The Type B RCD is about 12x the price of the Type A RCD! WHAT?! But fret not! The Easee Charger has a BUILT-IN RCD Type B 😎 (it's uncommon still, so be careful which charger you choose)
So my installation doesn't require a Type B RCD in the switchboard (luckily).
If you're confused – don't be. I was too. Just know that if you charger does NOT have a build-in Type B RCD, you need to put one in your switchboard – and pay the steep price. Sorry 😉
I was also a bit confused about the AC/DC part, as I first believed that the home wall-charger actually did the conversion from AC->DC current. But it doesn't. The AC/DC converter is built into the car.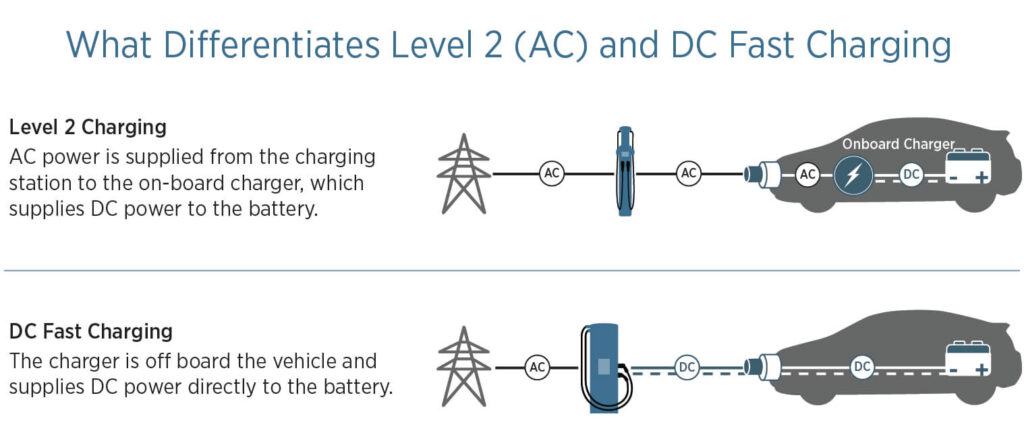 The wall-charger only acts as a control circuit between the house and the car. – And then it adds the APP functionality, of course 😛
Ok, so the charger ran me €850. And then "the rest" ran me about €650…Ooops.
Here's my complete shopping list for the Wall-charger project:
| | | | |
| --- | --- | --- | --- |
| Item | Quantity | Price (DKK) | Price (EUR) |
| 5x6mm Installation cable (30m) | 1 | 1.000 kr. | € 133 |
| Cable installation pipes (galvanised) | 4 | 720 kr. | € 96 |
| Cable bends & fittings (galvanised) | 6 | 480 kr. | € 64 |
| Cable canals | 1 | 100 kr. | € 13 |
| RCD (40A Type A) | 1 | 202 kr. | € 27 |
| RCB (32A) | 1 | 202 kr. | € 27 |
| Type-2 EV Charge cable | 1 | 1.300 kr. | € 173 |
| Easee Charger (incl. Type-B RCD) | 1 | 6.499 kr. | € 867 |
| Installation (electrician) | 1 | 900 kr. | € 120 |
It took in total about 8 hours (!) to run the cable from the switchboard out to the driveway. You see, 16mm cobber cables do not bend 90 degrees! It took quite a lot of time to make sure that the cable wasn't bent too sharp – and pulling it through 20mm steel pipes also took longer than expected – I also had to create some custom 45 degree bends on the pipes. Time well spent!…
But anyway, I managed to do it and in the end I'm happy with the result. Connecting the two ends of the cables had to be done by an electrician (by law), but luckily I have a friend who's an electrician, so he did it for me fairly cheap(ish).
I installed the charger myself though – I just left the last step to the electrician.
He was however not crazy about the fact that I chose to install the charger on the fence, rather than on the wall next to it – but I figured the "floating" look would be much cooler (also very stealth with the black-on-black).
In the first picture above you can see the 45 degree angle that the cable runs from out under the eaves and onto the wall behind the fence. This took a good amount of time to create. It's by no means invisible, but it's not very different from having a gutter running down from your roof in terms of eye soreness (which a thatched roof doesn't have, of course). After a couple of weeks I no longer really notice the pipe. Of course the digging option would have made it practically invisible, but it would also have taken me a couple of weekends to install – rather than 1 day…And time is money you know! HAHA! (read: I'm lazy).
The fuel economy
So the €50/month is my estimated fuel savings. It's not a whole lot to be honest, but it means that the installation of the charger will break-even in less than 3 years. I guess I can live with that.
The Renault Zoe is among the most efficient EVs, in that it runs about 7.3 km per kWh (actual real-life figure, after 700 km in my Zoe). This is mainly due to its small footprint and the small battery pack. In my opinion there's too much emphasis being put on the range of the cars, and not enough on the actual mileage. The bigger the battery, the heavier the vehicle becomes. But since the battery size is directly proportional with the range, the newer EVs have bigger and bigger batteries (Tesla Model S/X has up to 100 kWh battery).
The heavier the car, the worse mileage you get. So there's a sweet spot around the 40-50 kWh battery packs. The newer Zoe with the 41 kWh battery has a mileage of about 300km on a single charge (real-life). In comparison, my 22 kWh Zoe only does about 120km – so the newer cars are much more efficient.
To compare the (direct fuel) price of the different car types (ICE vs. EV) will of course vary a lot, depending on your mileage and your local fuel/electricity prices. In my area, the comparison look (somewhat simplified) like this:
| | | |
| --- | --- | --- |
| Fuel type | Price/20km (DKK) | Price/20km (EUR) |
| Electricity | 5,50 kr. | € 0,07 |
| Diesel | 8,00 kr. | € 0,11 |
| Petrol | 10,00 kr. | € 0,13 |
Of course as the price of diesel and petrol fluctuates quite a bit (same can be the case for electricity – depending on your power subscription), this table will not remain static – but for the sake of my comparisons, these numbers show a clear bias towards the EV, which of course is one of the main reasons why I convinced myself that spending €1500 to save €50/month was a good idea. – In the long run, of course 😉
As for my next EV, the judgement is still out on that one! We'll just have to wait and see what happens! (Edit:  New car post here)
SO, from roughly 1 month of driving an EV I'm sensing that I'm going to become one of those annoying "environmentalist" people who will constantly urge people to quit their ICE and go full EV…I can already hear my friends whine about me 😛 m000hahaha
How about you? Are you planning to go EV anytime soon? I can highly recommend it! You don't have to spend €1500 on a charger, like me – you can probably get going for less (<€1000) 😉