5

min read
I'm going to be the devils advocate today, and explain why I think you shouldn't invest like I do. It might be a bit counter-productive, but I think it's important to own your investment strategy, and in order to truly do that, you need to explore alternative options.
My (current) strategy is based on two elements:
Predictability
Accountability
 
I (currently) have a set goal to reach a certain amount of money, within a certain amount of time. This means that I can track my progress (closely, as you know) every month, and make adjustments accordingly, if I somehow fall behind. My (initial) goal is outlined in this post, where I calculated that in order to reach my (current) Total Balance goal of DKK 3 mio (€400.000) in 15 years, I need to average a yearly return of 8.3% (after tax).
The original plan was based on a fairly low savings rate, and I have since revised the plan. By upping my savings rate, I was able to cut down the time to (lean) FI from 15 years to 13 years (even lowering my goal return to 7.1% at the same time). This is all very fine and dandy, because it gives me concrete yearly targets (which I'm currently on target to reach). – However, this approach obviously also has its downside(s); by setting these targets, and sticking to predictable assets, my chance of reaching FI sooner than expected is kinda slim. Being that I'm still fairly young (36. – If you're 20 and reading this, you might disagree! In that case: FU 😛 ), I really should take a little more risk, and attempt to earn substantially more than 7.1% on my investments. Given the last 10 years of bull-run in the stock market, it wouldn't have been difficult to find a handful of stocks, which would have yielded me a 50%+ return.
Of course, this is all hindsight bias. You can't predict what's going to happen in the market (and this is one of the main reasons why I prefer the more predictable asset types). – Or can you?!
A while back, I stumbled on this post, from one of the "founding fathers" of the FIRE movement, J.D. Roth from GetRichSlowly.org. I don't often read posts from one of "the originals", as I feel more inspired by my fellow "FIRE-starters", whom I can easily relate to. However, this particular post caught my attention, as it included a graph of the "History of U.S. Bull and Bear Markets since 1926", in a uniquely represented fashion that really put things into perspective. Here it is (borrowed from First Trust):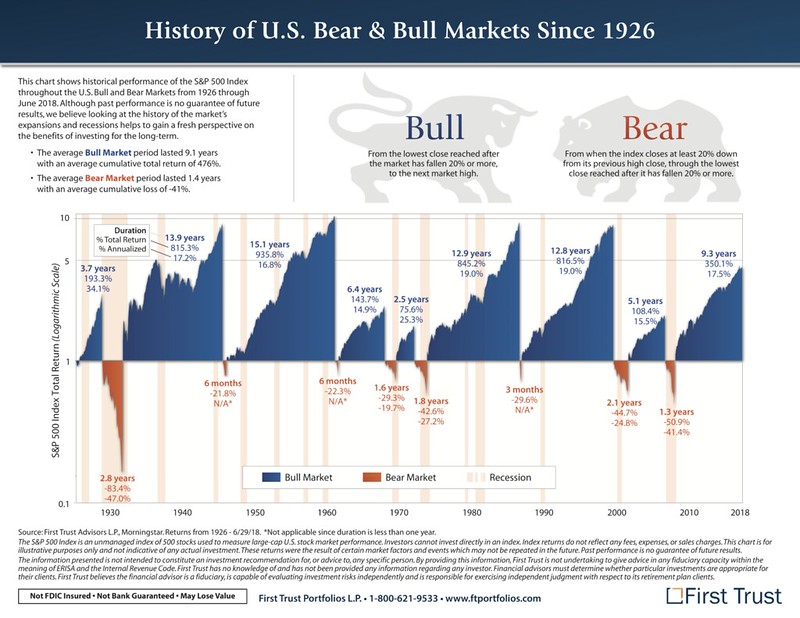 Since 1926 the US stock market has had 9 different periods of bull markets, with an average length of 9.1 years, each period averaging a cumulative total return of a staggering 476%. Meanwhile, in the same period the US stock market only went through 8 periods of bear markets, with an average length of just 1.4 years and an average cumulative loss of -41%.
It's worth noting on the graph above that the Bull market periods range from 2.5 years to 15.1 years, which is a difference of more than 12 years from the longest period to the shortest. The Bear market periods on the other hand, is a lot shorter, ranging from 3 months to 2.8 years. A difference of only 2.5 years. So assuming that history can be used as a reference to predict the future (it can't – but lets just pretend that it could), we could predict that a bear market is now imminent (based on the fact that the current Bull market has now run for more than 10 years – which is above average). On the other hand, the longest historical Bull run was 15.1 years, meaning another 5 years of Bull market would not be unusual, in a historical context…
If we take the average of the 5 longest periods of Bull runs since 1926 (including the current one), we would get an average of just above 13 years.
So, is it likely that the current Bull market is going to end within the next 3-5 years? 
Based on the history: YES.
Based on our current situation: YOU CAN'T PREDICT THE FUTURE, BASED ON THE PAST – YOU IDIOTS!
What we CAN predict though, is human behavior (it turns out, we are very predictable – and we're extremely prone to repeating our past mistakes). BUT, the times are changing, and the future will be run more and more by Robots and AI, and less and less by humans.
"Be fearful when others are greedy and greedy when others are fearful." – Warren Buffet
It is a well-known fact (according to Warren Buffet), that the market is run by fear and greed. Fear will make it go down, greed will make it go up (and sometimes down…). Logically then, according to Warren Buffet, if you are able to control your fear and greed, you will be able to beat the market. After reading and learning a lot about investing I tend to agree with him – at least when we look through the historical lens. If we look to the future, I'm not sure the markets will follow the same trends as we've seen in the past. But, as we say in the past: The future will tell 😉
We have another saying that we (the wife and I) picked up from a little TV show called "How I met Your Mother" (it's great – you should watch it!) that we often use, whenever we choose to put logic aside when making a (tough) decision:
We'll let future us worry about it!
This sometimes result in "future us" eventually uttering the phrase:
DAMN YOU, PAST US! DAMN YOU!
Ultimately, the only one you can truly blame for past mistakes, is yourself. Sometimes you make bad decisions that seem right at the time. As long as you make an informed decision, it can never be truly bad, in my opinion.
I am (eventually) going to fork my investment strategy, to include a "growth portfolio" because it will be like "past me" buying a lottery ticket for "future me". However, whether you choose a spoon or a fork to eat your dinner, the end result should be the same: A full stomach 😉