11

min read
Hello fellow wealth seekers and good folk!
It's November already, and the US elections are stealing the headlines across the globe once again. To no-ones surprise it's another nail-biter, and at the time of writing it's still pretty unclear who is going to be in the oval office by January 20th 2021. The only thing we know for sure, is that it's going to be an OLD man (unless…the old men/man croak before inauguration time…?).
As a result of the uncertain outcome of the elections and the continuous raging of the pandemic, the markets have been somewhat unstable in October (depending on what you're invested in of course). BTC certainly had a good month, if you're into that sort of thing 😉
The Total Balance household however have reached another record-high in terms of savings, thanks to a little "handout" from the Danish government.
WHAT!? The Danish government is giving handouts in the midst of a pandemic?! What's that about?!
The Month in review
It's a long story.
To make it short: the Danish vacation system was changed last year, which meant that a bunch of our own money (paid by our employers towards our vacation fund) was frozen until the year we were going to retire.
The danes have 5-weeks of paid vacation from their employers, by law.
Your employer pays 12.5% ontop of your salary into the vacation fund, which they then use to cover your salary when you take vacation (I guess). – However, if you switch jobs your vacation money is paid out to you, and your new employer then deducts vacation from your salary (when you vacation), until you've worked in the job for at least 1 year. By then you've "earned" your full 5 weeks with the new employer, and the circle is thus full. I know it sounds completely wack, and believe me not many danes understand it either! All we know is that when we switch jobs, we get 5 weeks worth of pay with us that we then have to use to cover our salary, when we take vacation with our new employer. Confused?!
Don't be! All you need to know is the government decided to pay out 3 of the 5 frozen weeks of vacation money, in order for people to go SHOP-AMOK to save the economy.
Well, the joke is on them. – Because FIRE people do not go out on crazy spending-sprees, just because they get a chunk of money for seemingly no reason.  We all know that! We HOARD that shit! Fuck the economy! It's every man for himself!
Just kidding…I did shop a little – but just a little! (Bought a little LED projector, if you must know). YOLO!
Anyway, the vast majority of the money is now sitting safe and sound in my bank account!
At 0% interest, Nick…
Oh shut up!
– Oh wait! I did actually shop some more in October!
Yeeeees, I bought another dividend stock 😎 €2.000 worth, actually!
I'm now gonna be paying up to 42% (currently only 27%) tax on that income for the rest of my life. You're welcome, Danish government!
Welcome Shaw Communications Inc to the roster! My little dividend stock portfolio now consist of 3 Canadian stocks, which yielded me a nice little dividend income of €30 this month. To be honest, I'm not really sure where this is going to end HAHA. I started this portfolio because I wanted to supplement my weakening crowdlending income, but since that has pretty much diminished by now, I'm thinking about adding another couple of stocks to this pot. I'm thinking 5 might be a nice round number? 😉 We'll see where it goes! (it's really just to "kill time" while we wait anyway. For what?! Property #2 of course!). Clearly I'm not good with money just sitting in my account. I honestly don't know how I managed to keep the original €53.333 in there, before I finally found Property #1. Property #2 is most likely going to be a tad more expensive than Property #1, so I suppose I'll need to find a way to STOP buying more stocks…It's cool, they're liquid! 😛
In crowdlending land it's looking more and more depressing – but this month I actually managed to exit a platform with 0% loss. Gotta have some of those too, right?!
I exited TFGCrowd with a total profit of €71, according to the dashboard. I had about €700 invested at one point, but some of the projects were cancelled, so I guess I can't complain about that yield. I will continue to keep an eye on the platform, but probably won't invest with them again, although I have to give them credit – they've not really given me any reason not to…
I decided to write-off the last €100 investment with Crowdestate, as they've now filed a bankruptcy claim against the sponsor. Here's the message from the platform regarding this project: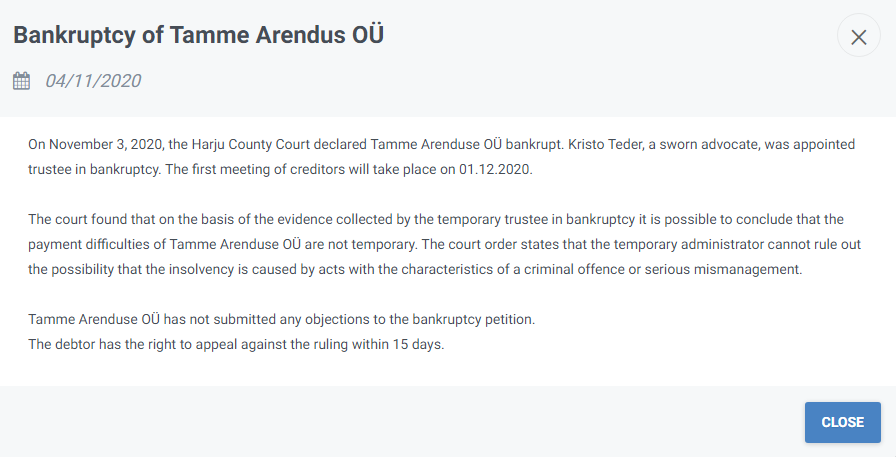 Maybe I'll get some of the money back, but I honestly don't expect it, so I prefer just to move on now rather than later.
My total return on the platform stands at €74, so that's another loosing platform. They still have decent projects, and I do believe they are running a fairly decent business (the platform it self has also improved greatly), but my heart is just not in it anymore, so I'd rather cut this one lose than stare at that €100 for months on end.
7/11 projects at Crowdestor is now late, and my hope to ever come out above €0 on this platform is now pretty much dead. They continue to operate, and they have improved greatly on the transparency on the state of each project. The platform (dashboards) has also improved greatly, and I believe in the team long term – but at this point I'd be happy to take 50% of my money and just walk away. We'll have to see where it goes I guess 😉
Mintos continue to disappoint me a bit, but I have faith that I will be able to exit the platform at a small profit. So far I have €141 in bad loans. My total profit on the platform currently stands at €215, so there's still some room there 😉 I will continue to withdraw funds as loans are slowly repaid.
This leaves me with Wisefund. Not really sure what to say here. I'm invested in 5 loans and 3 are late. 2 of the 3 is in default and the last one is "unknown". At this point if I could walk away with 25% of my cash, I would be happy. We'll see how it goes…
My last open platform is a danish real estate crowdlending platform called fundbricks.com (sorry, it's in Danish).
Fundbricks sell development loans, and the yield is fairly low (7-8%), but I also consider it lower risk than the baltic platforms, as I know the people behind it, and I know the properties they are funding. I joined primarily to support the platform, and to check out the process. So far I have to say that I've not been impressed. I've had 0 updates on the 1 project that I have invested in (I know it is progressing though, because I've seen the building IRL).
Also, the apartments that are currently being built has been put up for sale with a local realtor (sorry again – Danish). From the description at the realtor, I can see that they expect to finish the apartments by May 1st 2021. I can also see that if you buy one of the (fancy – pricey) apartments before December 1st 2021, you can have a say in the choice of some of the materials.
This information should have come from Fundbricks themselves if you ask me. I hope you're reading this Fundbricks: Give. Us. INFORMATION. On. WTF. Is. Going. On. Kthxbbye.
It takes 5min to write a short update, and it's not like the platform is swamped with projects (0 currently open). COME ON?!
Anyway, now to something completely different: On the personal front I had a truly interesting experience in October. I visited a clairvoyant(trainee). Two actually.
A friend of the family is currently educating herself to become a clairvoyant (yeah, I didn't know that was a thing either!). She's in a class with 8 others (all girls), and they needed "Guinea Pigs" to practice their new skills on. Naturally, I volunteered. I've never tried it before, and didn't really know what to expect from the experience.
It was indeed….very interesting! If you believe in this sort of stuff (which I kind of have to, now that I've experienced it first hand), you'll be quite surprised about what a stranger can apparently "sense" about you in 2 minutes. I don't really know how to explain it, other than it was a very nice and powerful experience, which confirmed the feeling that I've always had with me: The universe is on my side…
Good things will happen in the future! I'm sure of it 😉
I found the experience aligned pretty well with the theme of this blog; (Total) Balance…
Anyway, enough about the universe, let's have a look at some pwetty gwaphs!
The pretty graphs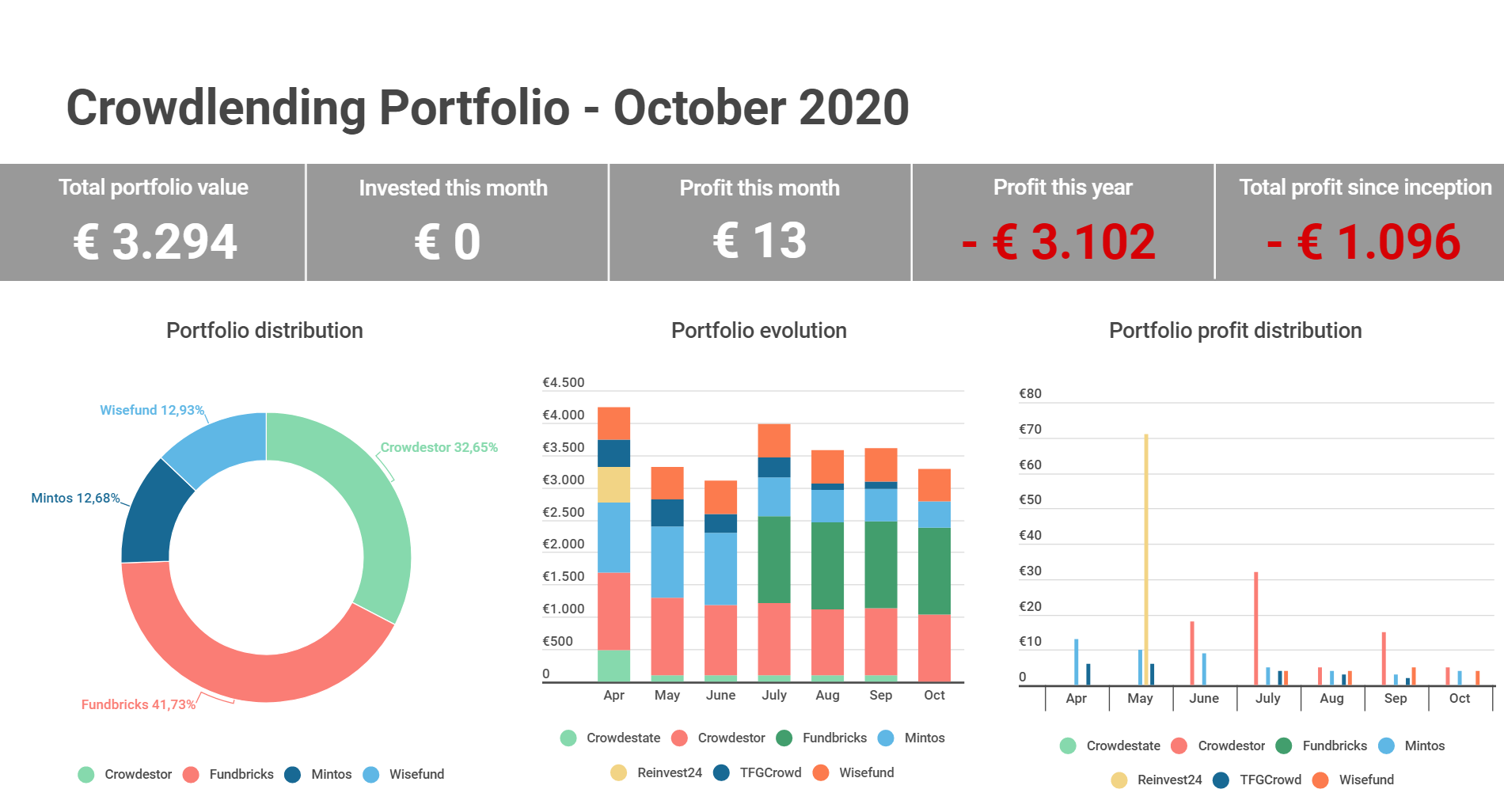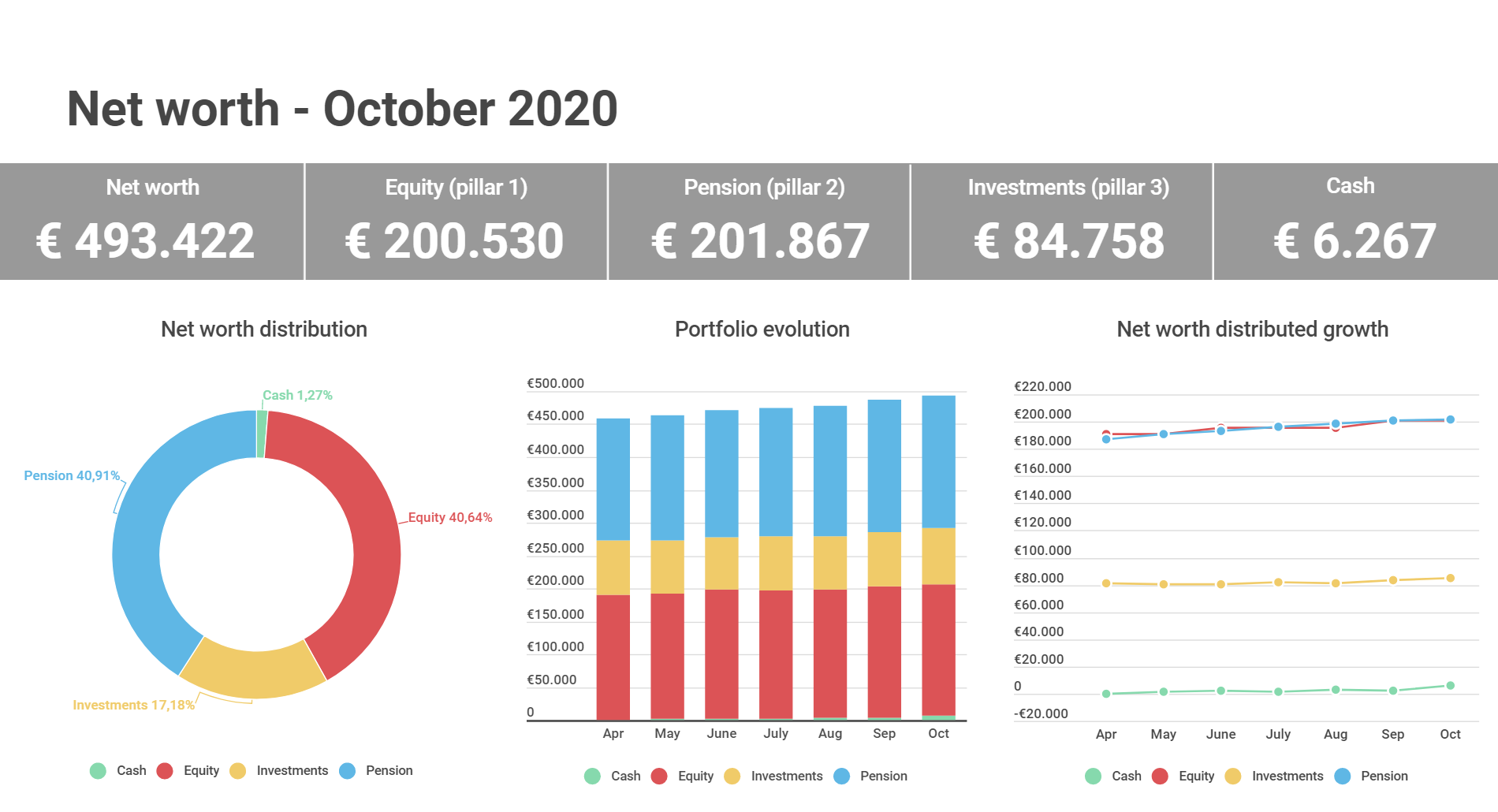 It's becoming less and less interesting to do the crowdlending updates each month, if I'm being honest. I'm semi-preparing to stop doing the infograms when we cross into 2021. Anyone gonna miss em? 😛
Obviously the big news this month is the massive chunk of savings, which is a one-off thing (interestingly enough though, I've managed to achieve something similar somehow each year since 2018 😛 ). I've beaten my previous savings record with more than €100! (was previously €5.333 – also due to vacation money and the one before that was due to a job switch that saw me receive a double-salary in a single month, because I went from being backward-paid to forward-paid, which is normal in the financial sector in Denmark).
I now have a serious belief that I can cross the €500.000 Net worth mark by the end of the year! Halfway towards the (first) €1.000.000! Yeah baby!
The boring income statement
| | | | | | |
| --- | --- | --- | --- | --- | --- |
| Platform | Invested | Transactions | Last month | Current value | Monthly income |
| Crowdlending | | | | | |
| Crowdestate | € 100 | € 0 | € 100 | € 0 | € 0 |
| Crowdestor | € 1.008 | € 0 | € 1.038 | € 1.043 | € 5 |
| Fundbricks | € 1.333 | € 0 | € 1.333 | € 1.333 | € 0 |
| Mintos | € 180 | -€ 110 | € 511 | € 405 | € 4 |
| TFGCrowd | € 0 | -€ 104 | € 104 | € 0 | € 0 |
| Wisefund | € 461 | -€ 14 | € 523 | € 513 | € 4 |
| | € 3.082 | -€ 228 | € 3.609 | € 3.294 | € 13 |
| Commodities | | | | | |
| GOLD (Coins) | € 5.333 | € 0 | € 5.333 | € 5.333 | |
| | | | | € 5.333 | |
| Stocks (Dividend portfolio) | | | | | |
| PROREIT (PRV.UN) | € 2.018 | € 0 | € 2.131 | € 2.131 | € 16 |
| Shaw Communications (SJR)* | € 2.000 | € 2.000 | € 0 | € 1.900 | € 6 |
| TransAlta Renewables (RNW) | € 2.000 | € 0 | € 2.100 | € 2.100 | € 8 |
| | | | | € 6.131 | € 30 |
| | | | | | |
| Properties | | | | | |
| The-Many (Brickshare) | € 1.333 | € 0 | € 1.333 | € 1.333 | € 9 |
| Property #1 | € 68.667 | € 0 | € 68.667 | € 68.667 | € 0 |
| | | | € 70.000 | € 70.000 | € 9 |
| Cash | | | | | |
| Bank #1 cash (main savings) | | € 5.440 | € 2.460 | € 6.000 | |
| Bank #2 Opportunity money | | € 267 | € 0 | € 267 | |
| | | | | € 6.267 | |
| | | | | | |
| Total balance | | | € 85.633 | € 91.025 | |
A little passive income from 3 different sources this month. Not a lot, but free money is free money, regardless of the amount 😉 I'll take it!
Thanks to the new kid on the block (Shaw Communications) I now receive €30/month in dividend income from my small dividend stock portfolio. Maybe next month will see a 4th addition to the roster? (who knows!? mwuuuhahaha).
Thanks to the "government support", I've added a massive $5.440 to my savings this month. 
My goal of reaching €100.000 at the end of the year is now within reach, albeit something fairly magical would have to happen, for me to be able to add another €5.000 to my savings next month. Do you guys believe in magic?… 😉
The classic growth chart
As always, I include the Classic growth chart for tracking purposes: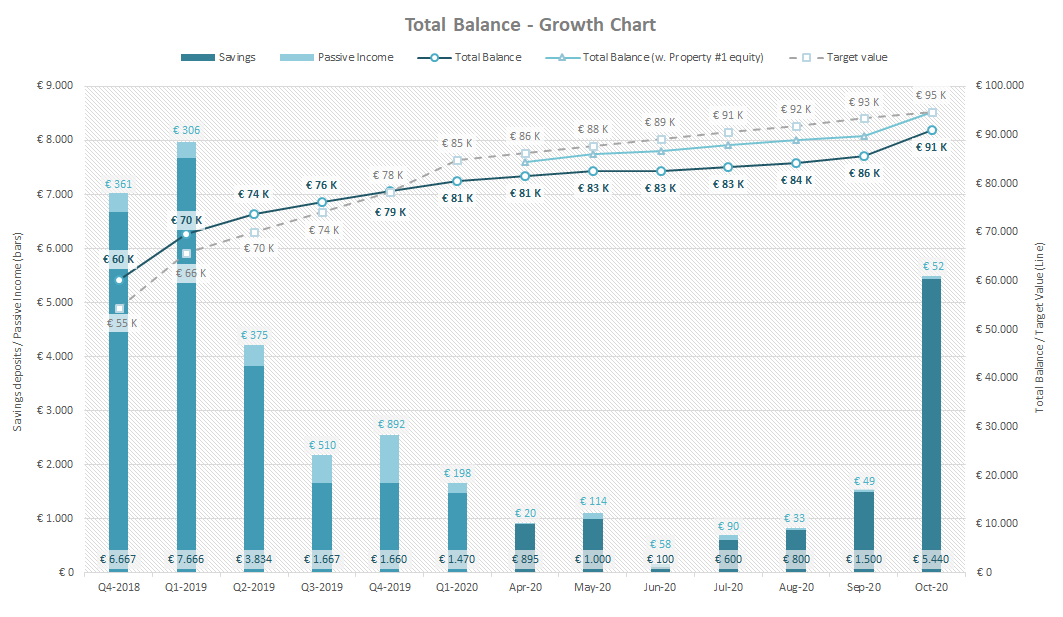 Thanks to a massive savings contribution this month (due to the before mentioned vacation-money payout) I now have my year-end 2020 goal in sight. Granted, it's still far away but there's still two months left of the year, to find some gold hidden somewhere deep in my pockets (or maybe some BTC!? 😛 ).
Anyway, it feels really awesome to look at my progress on the chart – which is exactly why I continue to update it every month. It doesn't seem like a lot of progress happens from month to month, but when you zoom out and look at the big picture, it's pretty clear where the arrow is pointing! – To infinity and beyond! 😎
In conclusion (TL;DR)
Thanks to a little government "spending incentive", all Danes received 3 out of 5 weeks of our frozen vacation money in October. This was certainly a nice addition to my stash, and I'm now once again holding a decent chunk of cash.
I added another new dividend stock to the portfolio, Shaw Communications. I now receive €30/month from my Canadian dividend stock portfolio. Why Canada, Nick? It's fairly simple; I trust the government and the currency more than I currently do the US. I'm not opposed to also at one point adding US dividend stocks to my portfolio, but I currently don't have plans to do so.
With 2 months left of the year, I'm currently €9.000 behind my target of reaching €100.000 by the end of the year. Will I make it!?
Time will tell. I hope you'll check in on the progress again next month!
See ya! 😉
Comments/questions are welcome as always.