9

min read
The calendar is reading March 2021 and February 2021 is thus a thing of the past, and as always here at the Total Balance household it's thus time to take a look back at how the previous month played out.
I must say I have somewhat a feeling of Dejavu; The update from February 2020 was titled "Bloodbath", and it could just as well have been the title for this months update. It seems February is not my month (I do like it though – it's the shortest month of the year, and that means the paycheck arrives faster than all the other months 😛 ). This month we booked the first EVER negative Total Balance growth since the blogs inception. 
The markets took a(nother) dip in February, and I (and many others) have been anticipating this since the new year began basically. It was – and still is – pretty clear that the euphoria was bound to end eventually. The majority of the market has been overbought since May last year, and this dip was to be expected. Personally I don't believe it's over quite yet, but I'm not a fortune teller, so I will refrain from trying to predict the future. For now I'm happy with the allocation that I have (if anything I wish I had some more cash to "throw on the fire", once the flames start to die out 😛 ).
While I certainly don't like to see my growth become negative, I've accepted that it's part of the game, and look forward to see where we're headed in the next couple of months. Overall I believe that the markets will be up at year end, so lets all cross our fingers and hope for that, shall we? 😉
The month in review
I've become quite fond of the danish investor/entrepreneur/writer Lars Tvede. I follow him on Facebook/LinkedIN and he's been pretty much calling every move the market makes since February last year, including the current development (he sold all his positions right before Covid-19 caused the market to drop in March 2020, and then went back in in April and has been trading in silver and platinum since). I like his approach to following the long term trends, rather than necessarily acting on whatever is in the news.
I highly recommend reading his books and/or following him ("Supertrends – 50 things you need to know about the future" is especially interesting!). He mainly post in danish though (sorry guys), but most of his books have been translated to english as well. He's just about to launch his own hedge fund called Atlas Global Macro (sorry, also in Danish!). You have to drop €100.000 to join the "club", and I know that actively managed funds are not very popular in the FIRE community, and that few people in the world are in fact able to beat the market – but Lars Tvede is one of them. Whether he will be able to do it consistently is obviously the big question. I've never been a fan of the 100% passive investment strategy (is it that obvious? 😛 ), so I wouldn't mind joining Atlas Global Macro – but unfortunately I don't have €100.000 to invest atm 🙂
If I had a portfolio of €500.000 I would definitely consider letting Lars Tvede handle €100.000 of them (he's also putting his own money in the fund) – primarily to get access to his knowledge and the tools that he use (which also happens to be one of the same reasons why I purchased Property #1 with a developer – because it gives me access to information that is otherwise difficult to come by) but of course also hopefully to turn a profit. Anyway that will perhaps be something for the future. What do you guys think?! Hit me up in the comment section below, and lets talk!
Besides following Lars Tvede, nothing really exciting happened in February in the Total Balance portfolio. I didn't make any new trades, but there was a little something that happened on the Property front!
After recovering from the annus horriblis of 2020, out of no-where we were informed by our Property managers of Property #1 that we were going to get a new tenant! I bought the property with 2 tenants in 2019. and their lease doesn't expire until 2029. However, one of the tenants has been bought by a rivaling company (we got word of this last year, but at that time nobody knew what the new owners were planning with the store). The new owners wanted to close down the store in our Property #1 (apparently), but because the lease is irrevocable there's basically only three ways you can get out:
Buy yourself out (eg. pay a substantial sum to the owners of the property, eg. ME!)
Find a new tenant to take over the lease
Go bankrupt
The new owners took option 2. – So from April 2021 we will have a new tenant in the building. Instead of selling pet-related equipment, our new tenant will be using the store for selling home appliances. It's certainly a change, and I'm not completely sure it's for the better. A pet-store is pretty crisis-resistant (Covid-19 has certainly proven this; the pet-stores have been allowed to remain open – unlike the home appliance stores…). Anyway, it's a big chain store and the parent company is pretty loaded, so as long as somebody is paying the rent, I should be happy, right?
I'm certainly happy that this situation seemed to completely solve itself, but I wasn't completely happy about not knowing what was actually going on. I've talked to our property managers and we have our general assembly this month, so we will have a chat about the process. We're 9 people who share ownership of the building, and 3 of them is in the board of directors, and they were obviously involved in what was going on – they just simply neglected to let the rest of us know, and it doesn't cost much to send an informational courtesy email, so I'm going to have a word with them! 😉
It seems the new owners of our current tenant simply took it upon themselves to find a new tenant, and since it's a major chain store, I don't think we can complain. – I mean who the hell opens a new store in the midst of a pandemic?! I hope their gamble pays off – for everyone's sake! 😉
I'm not gonna lie, while the situation seems to be sorted for now, I am a bit uneasy about this new tenant. I know the brand store very well (it's nation-wide), but they sell consumer goods that people can generally live without in the event of a(nother) major financial crisis. People cannot live without food for their pets! I liked the old tenant better…
Oh well, there's no need to grief in advance – perhaps my worries are unfounded, but it has made me re-consider my next property. I was prepared to add another retail property, provided that it had an A-location with A-class tenants. Now, I'm leaning more and more towards a residential property, which was always the plan eventually, but the retail properties typically has a higher cashflow (also a higher risk – clearly) and I was kind of planning to add maybe 2-3 retail properties, and then move into residential using the cashflow from the retail properties.
However, the property market in Denmark is currently tough to navigate, as more and more private (and institutional) investors are out there trying to make a buck, good properties are hard to come by – and the ones that does hit the open market are either overpriced or too much of a gamble. Anyway, I'm in no hurry and don't mind sitting on my cash until the right property present itself. – Whether it be residential or retail, my eyes are open! 😛
The pretty graphs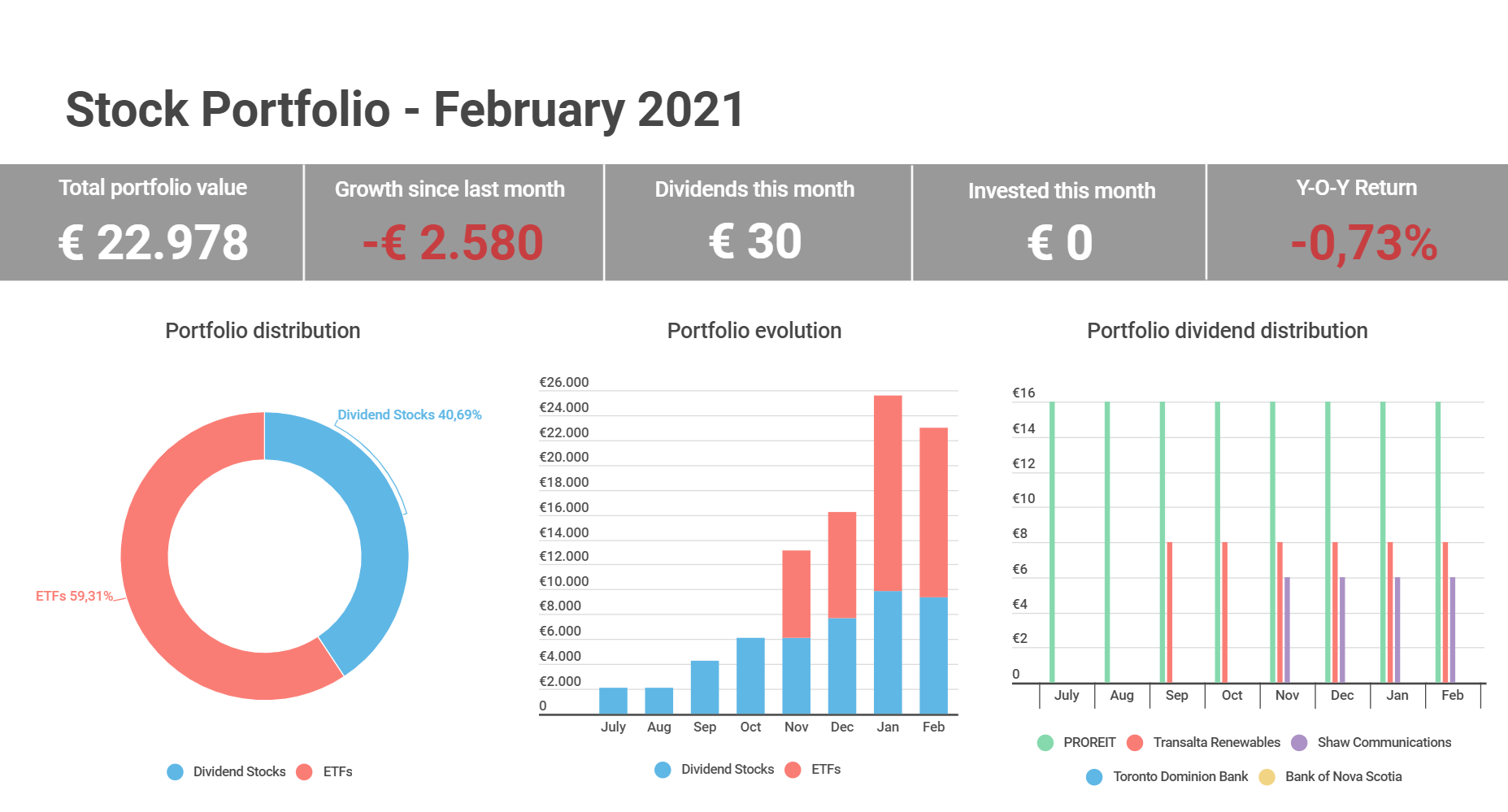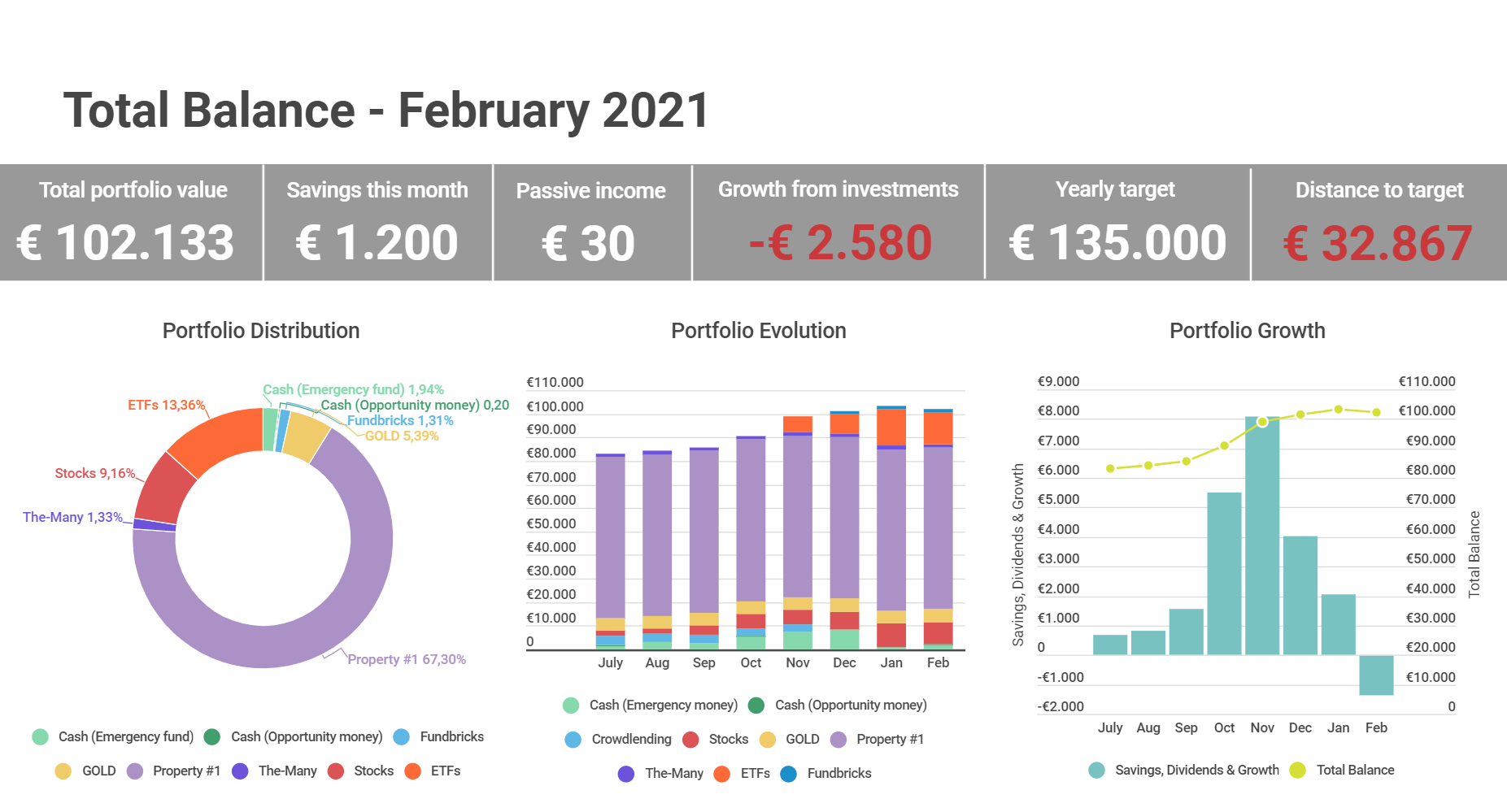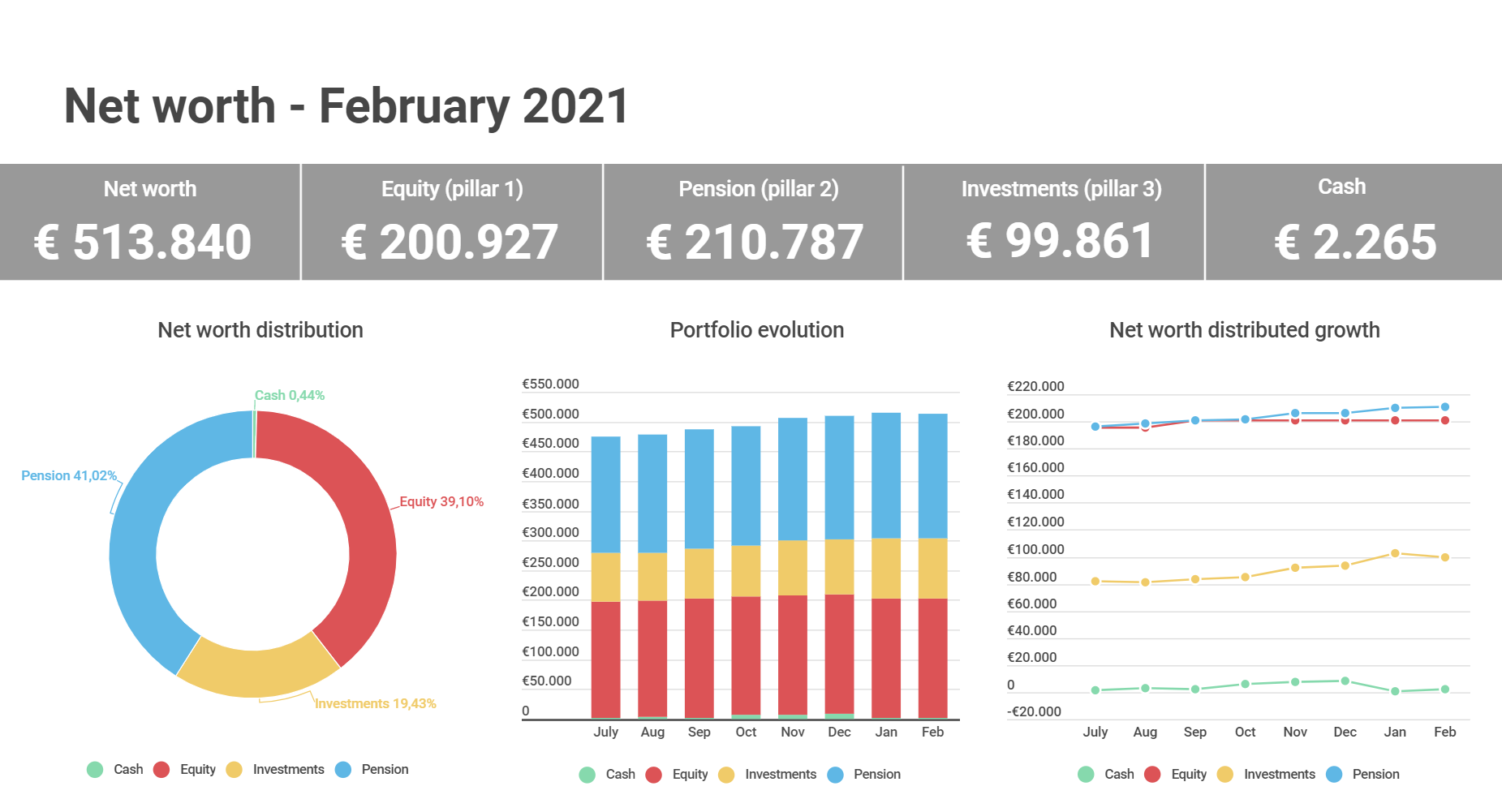 My entire net worth took a dip this month, since my pension was also hit by the dip in the stock market. Hopefully it'll recover again in the coming months.
The boring income statement
| | | | | | |
| --- | --- | --- | --- | --- | --- |
| Platform | Invested | Transactions | Last month | Current value | Monthly income |
| Commodities | | | | | |
| GOLD (Coins) | € 5.333 | € 0 | € 5.500 | € 5.500 | |
| | | | € 5.500 | € 5.500 | |
| Stocks (Dividend portfolio) | | | | | |
| Bank of Nova Scotia (BNS) | € 1.000 | € 0 | € 1.100 | € 1.116 | € 0 |
| PROREIT (PRV.UN) | € 2.018 | € 0 | € 3.398 | € 3.263 | € 16 |
| Shaw Communications (SJR) | € 2.000 | € 0 | € 1.921 | € 1.757 | € 6 |
| Toronto Dominion Bank | € 1.000 | € 0 | € 857 | € 780 | € 0 |
| TransAlta Renewables (RNW) | € 2.000 | € 0 | € 2.600 | € 2.434 | € 8 |
| | | | € 9.876 | € 9.350 | € 30 |
| Stocks (Indices) | | | | | |
| iShares Global Clean Energy (IQQH) | € 6.667 | | € 8.961 | € 7.652 | |
| iShares MSCI World Min Volatility (IQQ0) | € 6.667 | | € 6.721 | € 5.976 | |
| | | | € 15.682 | € 13.628 | |
| Properties | | | | | |
| The-Many (Brickshare) | € 1.333 | € 0 | € 1.360 | € 1.360 | |
| Property #1 | € 68.667 | € 0 | € 68.667 | € 68.667 | |
| Fundbricks | € 1.333 | € 0 | € 1.333 | € 1.333 | |
| | | | € 71.360 | € 71.360 | |
| Cash | | | | | |
| Bank #1 cash (main savings) | | € 1.200 | € 783 | € 1.983 | |
| Bank #2 Opportunity money | | € 0 | € 203 | € 203 | |
| Broker account (CAD, EUR, DKK) | | € 30 | € 49 | € 79 | |
| | | | € 1.035 | € 2.265 | |
| | | | | | |
| Total balance | | | € 103.453 | € 102.133 | |
Steady income from dividend stocks. Other than that, not much to report this month.
The major hit this month came from iShares Global Clean Energy (IQQH) which dropped back significantly. It has been on a pretty steep rally since last year, so I suppose it was to be expected. I believe in this ETF long term, so I'm not shaking in my pants over the current turmoil.
I finally received a little bit of news from Fundbricks! (took you guys long enough!). They are now projecting that the project will exit in the fall of 2021, and 9/10 apartments in the development has already been sold, even though they haven't even been finished yet. I'm impressed by the people who can afford these kind of apartments (inner city – very expensive). Anyway, originally it was expected to exit in the summer, but Covid-19 caused a slight delay in the development. I'd really like to see the building when it's finished, so perhaps I will swing by in August or something – just to check it out 😛
The-Many (formerly Brickshare) have launched a new "Trust" project in Aarhus (the 2nd largest city in Denmark), where they collect investors money and then find appropriate projects to purchase afterwards. I'm not a huge fan of these kind of investments, as I'd like to know exactly what building and location I'm investing in, but it seems this is the new norm among these kind of developers. The biggest in Denmark of its kind, Koncenton does the same. If The-Many came up with a decent new single-building project I'd be interested in maybe buying another stake, as my current investment is delivering as expected (12-unit building in Copenhagen). I wouldn't mind owning a tiny piece of real estate in Aarhus too.
The (not so) Classic Growth Chart
As always, I include the Classic growth chart for tracking purposes: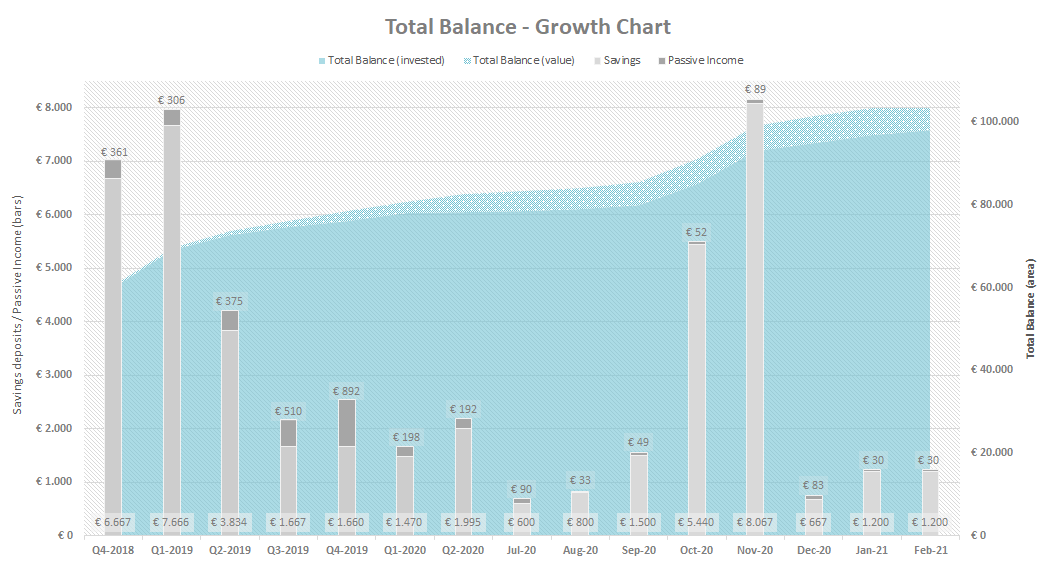 And average savings month and also a pretty bland passive income month.
I'm hoping to keep a nice and steady savings-rate around €1200-€1500 for the year, so for now it looks pretty good! 🙂
A slight decline in the value (for the first time in the history of the Total Balance blog!), but I'm sure it's going to recover again eventually.
In conclusion (TL;DR)
I registered the first drop ever in my Total Balance due to the market volatility. I'm hopeful that the market will recover again eventually (albeit I'm fairly sure we haven't seen the bottom quite yet).
I added an average amount to my savings and received an average amount of passive income.
I also got a new tenant in Property #1, which was a bit of a surprise – but as long as they pay the rent I can't complain, right!?
I will be looking for opportunities in the coming months to place some of my cash, although I don't mind holding onto some cash given the current market volatility.
See you next month!