13

min read
It's been more than 6 months, since I first introduced my plans of purchasing a chunk of real estate, via a real estate development company. 37 posts later (!), and here we are! Of all those posts, this one is by far the most exciting one to write! 😛
I've spent countless hours reading numerous prospectuses and other investing material (I even spent quite a few nights out with the various developers). As fate would have it, Property #1 is not acquired via any of the developers that I have introduced on this blog (I suppose I'll have to write a kind of "inside the walls" review now, won't I? 😉 ).
I have been following their movements for a while though, so when a "hot tip" landed in my mailbox from an old friend (thank you, old friend!), I was ready to jump on the opportunity (what do you know, maybe I did learn something from my night out with the Rich Dad company) 😉
This is so exciting! Are we ready to meet Property #1?!
OK then! Introducing, my Property #1 (of many to come, hopefully!…):
…You bought a parking lot, Nick?!
Technically, yes – but there's also a building on the lot (in the background…) 😉
This one: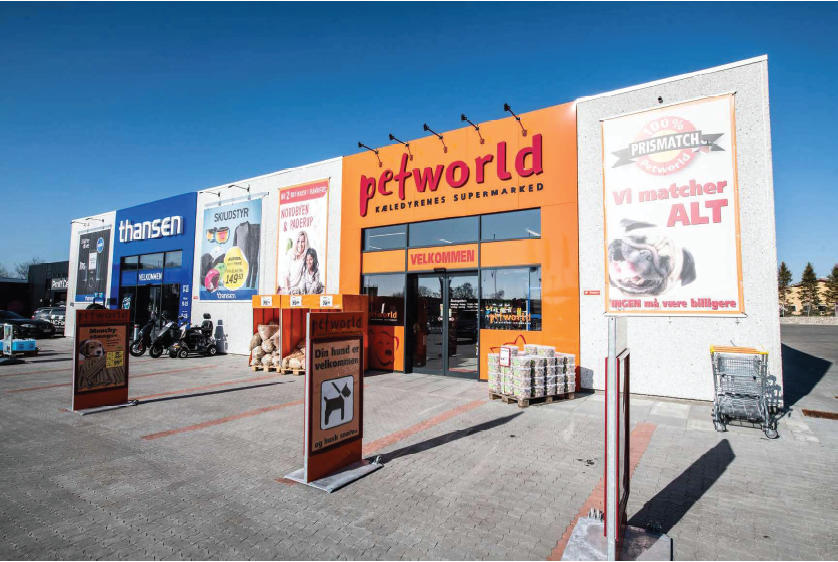 …You bought a PET store, Nick?!
Well, No. – I bought (10% of) a building that happens to house a pet store (they don't sell pets – only food and accessories for pets). It also house one of the most well-known stores in the country – T.Hansen! (They sell auto parts and car accessories etc.).
So yeah, I bought a retail building! It really wasn't my plan to go into retail real estate, until maybe my 3rd or 4th big real estate investment was in my portfolio, but during all my (late night) research, I kind of concluded that the market for residential real estate just really isn't that lucrative at the moment. The prices are simply too high. Yes, there are good deals out there, but they are extremely hard to come by, and they all require a minimum buy-in of €100.000 (DKK 750.000). I don't currently have that much money, nor do I actually wish to put that much cash into one single project (my initial goal was somewhere in the range of DKK 300.000-400.000/project).
…OK, so how much did this old piece of cr…lovely pile of bricks run you, Nick?
Actually, the building is brand new. It was finished in 2018, and the current tenants (the two stores mentioned above) moved in in November 2018. A 10% share of this lovely pile of bricks was a mere bargain, and cost me DKK 515.000 (€68.666 / $79.230) of my hard earned cash. First off, I obviously broke the bank on this one, not only exceeding my original plan of only investing up to DKK 400.000 in one project, but also as avid readers would know, I don't technically have that much cash in the bank right now…
Luckily, the property is not going to be added to my portfolio until the end of July (we've made a down payment of DKK 100.000 on the property, so the seller knows we're good for it), so I have a few months to determine how I want to raise the extra cash (cash out on some of my crowdlending platforms – or deploy a wee bit of leverage? Let me know what you would do if you were me, in the comment section below! ).
Retail Real Estate? Huh! So, what's so unique about this particular property, Nick?
I'm glad you asked! As with all other Real Estate investments, there's 3 important things to consider: Location, location and location 😎
This property is placed in a so-called growth city (estimated to grow between 5-10% over the next 10 years), in an area that is popularly referred to as a "retail park". This means that it's flanked by several other retail stores (because it attracts people). What is kind of unique for this particular location though, is that it also includes grocery stores (the closest neighbor is a Rema1000, which is one of my favorite grocery stores, which you can actually also invest in on similar terms, but the buy-ins are typically around €100.000. Bummer.).
OK, but itsn't it kind of just a square cardboard box with some paint and a few windows?! What could possibly go wrong here, Nick!?
Yes, obviously this was also one of my biggest concerns, going into this project. The building itself is not worth much (if I'm honest) – it's the location and its current tenants that I bought into. Did I mention that it's a so called "Net lease", and that the tenants has signed a 10-year irrevocable contract?
Before I decided to invest in this particular project (and it was not easy getting a piece 😉 ) I was looking at purchasing my 2nd REIT, which is well-known for its portfolio of "recession safe" retail stores. Have a look at Realty Income Corp and you'll understand what I mean.
I'm not claiming that T.Hansen or Petworld is recession safe (T.Hansen is fairly safe I think), but the fact that this property can financially sustain itself with only T.Hansen as the tenant (should Petworld go bust) made me jump on it (T.Hansen occupies about 65% of the footprint, so they are the "primary" tenant). Tires and car parts are still needed during a recession I believe 😉 (especially if they are cheap!)
But obviously, when the 10 year lease is up, there's really no telling what could happen (let's hope at least T.Hansen would want to renew their lease! 😉 ). Did I mention that the rental income from this project alone will repay me my deposit in only 9 years?…So this means that after 9 years I will have my money back (and then some), and I can then re-invest them in another project. The project is actually budgeted to run for 20 years (with the same or similar tenants, who are willing to pay the rent of course).
If I (and the other investors) were to keep this building for 20 years, and the tenants were to renew their lease after the first 10 years (or new tenants – remember it's a good location!), this project will pay me more than 3 times what I put into it – this is before factoring in any kind of appreciation of the property itself (it can be difficult to predict the value of such a property after 20 years. Perhaps it's worth more than you initially paid for it – perhaps it isnt! It will depend whether you have two strong tenants – like the original ones – at that time). Anyway, since I've already more than tripled my money at that point, I really don't have to care about what the building is worth. – Of course I do care (I could get a decent capital growth out of it!), but I didn't invest in this project for the potential capital growth – I picked it because of the (very) nice rental income.
This sounds to good to be true, Nick! What's the catch?!
Well, there are a couple of caveats to this kind of investment (like there are caveats to any investment).
The first one is: There are 10 investors in this project, which means 6/10 (as a minimum) people have to agree on the direction of the project. If you happen to be among the 4 "losers", it sucks to be you! I'm told (by the developer) that from their experience (close to 10 years of doing these type of projects) there's typically a fairly broad agreement on the direction in the investor group. I'm hoping that will also be the case for my group, but you never know! 😉 (that friend who gave me the hot tip is also an investor in this project – so at least we're 2/10 with a similar agenda)
The second one is: There's no cash flow from the property until the year 2023 (WHAT!?). This is because the cash flow is used to pay down the mortgages, in order to lower the LTV.
The third one is: The majority of the cash flow is based on re-mortgaging the primary loan every 5 years (the first year being 2023, because the project went into operation in 2018), and effectively keeping the LTV at around 69% (of the original value of the property). I really would prefer it, if the LTV was kept around 40-50% – but that's up to the investor group to decide, so I do have a say in it (but I'd have to agree with the majority of the other 9 investors). We'll see what we decide when the time comes to re-mortgage (it's a 5-year fixed rate variable loan). But for now, this is what has been planned in the budget. The budget is subject to change of course (this developer has now been in business for almost 10 years, and not a single project has fallen below budget, yet. They are fairly conservative in their budgets, but here it's important to keep in mind the extraordinary situation, wich has been going on for about 10 years now – the interests level has been in a constant decline. I doubt this trend will continue!) 😉
The fourth one is: There is a bank loan to finance the project from 69%-80% of the value (the rest is financed by the investor deposits). Until 2023 I'm personally liable for the bank loan (my part amounts to about DKK 230.000), should something go terribly wrong (like a massive drop in the property value or the bankruptcy of both the tenants etc.). This bank loan will be paid off entirely at the first remortgage of the primary loan in 2023, and I don't consider any of the above described scenarios as likely to happen, so this caveat doesn't concern me that much 😉 – But I'd prefer a project without a bank loan – but those are rare, so I suppose this (short) bank loan period is an acceptable compromise.
And now to the really fun part
So why did I jump on this particular opportunity? Well, this is the budgeted cash flow from the first 20 years of operations of the property (note that this require the leases to be extended after year 10 – or new tenants who pay a similar rent):
| | | | | |
| --- | --- | --- | --- | --- |
| Year | Income (DKK) | Acc. Income (DKK) | Income (EUR) | Acc. Income (EUR) |
| 2019 | 0 kr. | 0 kr. | € 0 | € 0 |
| 2020 | 0 kr. | 0 kr. | € 0 | € 0 |
| 2021 | 0 kr. | 0 kr. | € 0 | € 0 |
| 2022 | 0 kr. | 0 kr. | € 0 | € 0 |
| 2023 | 175.848 kr. | 175.848 kr. | € 23.446 | € 23.446 |
| 2024 | 37.465 kr. | 213.313 kr. | € 4.995 | € 28.442 |
| 2025 | 39.539 kr. | 252.852 kr. | € 5.272 | € 33.714 |
| 2026 | 41.644 kr. | 294.496 kr. | € 5.553 | € 39.266 |
| 2027 | 43.781 kr. | 338.277 kr. | € 5.837 | € 45.104 |
| 2028 | 333.099 kr. | 671.376 kr. | € 44.413 | € 89.517 |
| 2029 | 46.043 kr. | 717.419 kr. | € 6.139 | € 95.656 |
| 2030 | 48.259 kr. | 765.678 kr. | € 6.435 | € 102.090 |
| 2031 | 50.508 kr. | 816.186 kr. | € 6.734 | € 108.825 |
| 2032 | 52.793 kr. | 868.979 kr. | € 7.039 | € 115.864 |
| 2033 | 342.260 kr. | 1.211.239 kr. | € 45.635 | € 161.499 |
| 2034 | 55.357 kr. | 1.266.596 kr. | € 7.381 | € 168.879 |
| 2035 | 57.727 kr. | 1.324.323 kr. | € 7.697 | € 176.576 |
| 2036 | 60.134 kr. | 1.384.457 kr. | € 8.018 | € 184.594 |
| 2037 | 62.578 kr. | 1.447.035 kr. | € 8.344 | € 192.938 |
| 2038 | 65.060 kr. | 1.512.095 kr. | € 8.675 | € 201.613 |
| 2039 | 67.580 kr. | 1.579.675 kr. | € 9.011 | € 210.623 |
Notice especially the years 2023, 2028 and 2033. Also, did I mention: These numbers are after tax (I'm investing via a special company form called VSO, as described here) – KA-CHING!
Remember that these numbers are pure profits from the rental income (and mortgage refinancing) – it's fair to expect some form of capital growth as well (albeit I prefer not to). The total profit after 20 years is actually a staggering DKK 2.257.000 (€300.933 / $347.230) after tax (according to the budget). I consider the appreciation on such a building to be somewhat limited after 20 years of operation to be honest, so I do NOT believe in such a high appreciation personally. But again, it looks pretty insane that DKK 515.000 could possibly be turned into that amount of money in 20 years. – Just imagine, if I had 5-6 of these projects in my portfolio already (I did imagine it – it was pretty mind blowing).
Imagine this
I imagined that I could somehow manage to scrape together a similar amount of cash, as I have put into Property #1, and invest in a new (similar) project, each year for the next 5 years (ultimately co-owning 6 properties). I would thus have put in the equivalent of my Total Balance goal (a little over €400.000), and that would net me an average yearly income of just over €90.000 (AFTER TAX!) from the year 2028 to the year 2039. This would correspond to a yearly interest rate of 22.5% of my invested funds. Suck it, 4% rule!
Imagine that 😉 Unfortunately, I don't see any way I'd be able to scrape together €68.666 every year for the next 5 years straight, so this was a fun thought experiment – but not something that is going to be realistic. HOWEVER, I'm going to attempt a 2-year cycle. – So that'd be €34.333 per year…That will require some good ol' blood, sweat and tears to bank those kind of numbers (aaaand maybe a little leverage? 😛 ). Of course, by year 4, I'm going to be getting a little help from Property #1 already! Can we do it?! YES. WE. CAN! Here I come, Early Retirement!
The Strategy
Just to wrap things up here (sorry I got carried away there for a second – these numbers are making me dizzy 😛 ).
While my little thought experiment above is arousing, I do not plan to build a property portfolio solely consisting of retail/commercial real estate. My heart truly lies with residential real estate, which unfortunately typically doesn't have as aggressive payout schedules, as the retail projects does. I like "pretty" buildings, and I like the idea that there are actual people living in them (I can easily relate to that – everybody needs a home). If you find a proper building at a proper location, there's always going to be people who'll want to live in it. So I've vowed that my Property #2 should contain some residential aspect (at least) – it could be a mix though (say an apartment building with apartments on top and a retail store at the ground level? 😉 ). Anyway, my pockets are now pretty empty, so I better get back to work! 😛
So, why did I invest in this kind of project?
I've talked to quite a few people about property investing, and most of them always ask: "Why don't you do it yourself?".
Frankly, I've considered it many times – but at the end of the day, I'm just not attracted to a part-time job, of being a landlord. Also, I don't want to own a house or an apartment – I want to own BIG BUILDINGS. – And as I discovered, most of the buildings that are out on the open market (that I could afford at this point) are either crap and/or overpriced. Also, I've heard a lot of the developers that I've spoken to state the following (independent of one another, so I believe it to be true): the condominiums/apartment buildings that are sold on the open market, are properties that the professionals have turned down (for whatever reason). As in many type of industries, being in the Property investing business is all about who you know. By joining a group of other investors (with presumably a similar mindset as myself), I've now joined a powerful network of people, in "the circle of trust". And I plan to remain in there for years to come 😉
If you're interested, you can read the full prospectus of Property #1 here (It's in Danish – sorry!)