6

min read
Hello, new pension provider!
After waiting for about 3 months, my pension funds have now been moved to a new provider (chosen by the company that I work for).
I have been anxiously awaiting this move, as the new provider allow me to create my own custom investment strategy, in that they have a number of different funds, where you can choose to place your money (rather than just place them in an index or an actively managed fund with a certain stock/bond split, which is typically what most providers offer).
Since I started tracking my Net worth (which my pension currently constitute 40% of), I figured it could be interesting to write a post about the pension part of it, and get everybody to chime in, how they invest their pension funds. The general consent among "the mortals", is that pension is an extremely boring subject – but not here! Not in the FIRE community! Here Pension is hot stuff! And so it should be!
So let's get to it, people!
When I first learned about the new provider, I immediately started to investigate what kind of investment options they offered. I was hoping that this particular provider would grant me access to invest my pension in a vast selection of asset classes. Unfortunately, while the options are far better than my previous provider, they are still kind of limited! I can't pick individual stocks (or REITs for that matter), nor do I have the option to buy commodities (such as Gold or Silver). But there's a fair amount of alternative investment funds, such as forest, properties and Forex (not my cup of tea though). You can see the list of funds here, if you're curious (sorry, it's in danish!)
Per default (because of my age), my pension funds are invested in a single (actively managed) fund, which has a mix of 4 different asset types. The fund contain investments spread out across the globe and across several different sectors. Here's a couple of pies that roughly describe the Active fund:

I apologize for the crudeness of these diagrams, but you get the idea! (I couldn't be bothered to create an infogram – sorry 😛 ).
Historically, this fund has provided an average yield of 6,73% over the past 5 years. In 2018, like most other heavy stock funds, this particular fund had a negative yield of -6,28%. In comparison, my previous provider managed to create a negative yield of -9.80% in 2018, but this was a passively managed fund. Luckily, the losses of 2018 was quickly regained during the first 3 months of 2019, so at least we had that going for us! 😉
Anyway, the downturn of Q4-2018 taught me that in times of great turmoil, the actively managed funds actually tend to beat the passively managed funds (index), and since I expect hurricanes and twisters ahead (metaphorically speaking!), I've decided to switch away from the passive strategy for a while (maybe it's smart – maybe it's stupid – time will tell! 😉 ). On top of that, I also believe that the stock market is currently overvalued (It's not a hunch – it's a fact. – Just look at the Shiller P/E index), so I don't believe that right now is the time to be ~70% in stocks (neither does Jacob Lund Fisker by the way. He shared his current portfolio allocation with us at a FIRE meetup last month, and I made a mental note that he said he was currently 50% in bonds, and that he was planning to decrease his stock allocation to <40%. I believe him to be a smart man, so I decided to follow suit! – Not just because of what he said, I already had those thoughts, but sometimes it's nice to get a little extra nudge).
I therefore devised a lovely symmetrical investment allocation that looks like this:
Symmetry! YAY!
Wait, what is a FlexFond? That is an excellent question! The FlexFond is a fund that provides a fixed (yearly) interest rate. It's currently 3.11%! So for the rest of 2019, this fund guarantee a yield of 3.11% (it's been 3%+ for the past 5 years). That's not half bad, if you ask me! What's the catch!? 
There's no catch. This fund is a so-called averaged interest fund (gennemsnitsrente), and basically this interest rate is secured by a huge money-reserve (a buffer) that they accumulate during the good years on the markets. Since it's kind of been "the good years" for 10 years straight now, I guess 3% isn't that impressive. I'd like to see how much they can average, once the markets start to tumble (because we all know that this is going to happen – eventually). Anyway, for now I'll take what I can get 😉
The Danish Property fund has averaged a yield of 7.90% for the past 5 years. Not bad, if you ask me! You can't really fault me for wanting a piece of that, can you?
The bonds are truly the boring one though, only yielding an average of 2,45% for the past 5 years.
All in all, I'll be satisfied if this 25%/25%/25%/25% allocation can net me somewhere between 4-6% during the coming years. I don't need to be greedy at this point 😉 I've got time on my side!
So, I logged on to the online dashboard and changed my investment profile to match the above pie chart (you assign percentages to the funds you want in your profile – so it's pretty straight forward).
Then something really, really annoying happened. I was only allowed to allocate 5% of my total portfolio towards the Property fund…WHAT!? I immediately wrote to my adviser from the pension company, and he was surprised to learn that there was a limit (great adviser, huh?!), but he unfortunately confirmed that due to the popularity of this fund, they'd found it necessary to limit the allocation to 5%/customer…GREAT!("/#&"!/( Just another confirmation that property really is "da shit" 😉
Goodbye, symmetry! 🙁 My allocation thus ended up looking like this: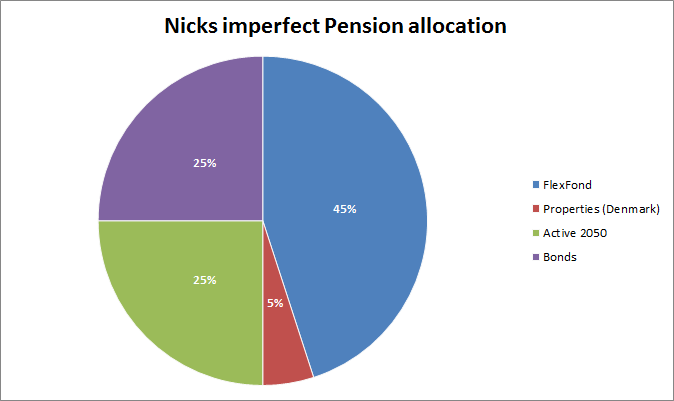 I considered my "perfect allocation" to be defensive, so obviously the "imperfect allocation" is EXTRA defensive…
Oh well, at least 3-4% should be attainable I guess…I could have chosen to spread out those extra 20% on all the other 3 funds, but I really didn't feel like having more than 25% allocation in either Bonds or the Active fund…So, now we wait – for the hurricanes! 😛
How is your pension invested? Any thoughts on my choices? Share them below!