5

min read
Be warned! – This post is going to be filled with pocket philosophy, puns, clichés and bad punchlines from the '80s!
If you're and '80s kid like myself, you probably know Daniel LaRusso (Daniel-san) and Mr. Miyagi from the movie "The Karate Kid" (played by Ralph Macchio and Pat Morita).
I used to love those movies. I'd always watch them with my grandpa and I thought he mainly enjoyed them for the action scenes (he was also the one who introduced me to Knight Rider), but now I understand that he also enjoyed the "lessons" embedded in them, and that he felt obliged to pass them on to the next generation…
Having buried my grandpa this summer, it seems almost poetic that I would rediscover my love for the classic '80s movies, just as I had to say goodbye to the one who introduced me to them in the first place. I know it sounds extremely corny, but I think there's a little Daniel-san in all of us. He's just waiting for the right inspiration to come out.
My daughter is now 6 years old, and thus a little too young to watch the Karate Kid or Back to The Future (another great '80s trilogy!).
Recently though, it occurred to me that she won't ever be able to experience those movies, and try to soak up the "teachings" embedded in them like I did (without really knowing it), for two reasons:
She didn't grow up in the '80s, and would thus most likely find them extremely "simple" and corny
She's a girl. And most of those classic '80s movies are very gender stereotypical, in that the guys are always the heroes, and the girls are mostly eye-candy (sorry, but that's the truth).
My daughter enjoys the more modern-type entertainment, where the girls have equal badass-ness, which is very understandable. So needless to say, I was extremely excited when I learned that there was a modern day version of The Karate Kid available!
However, I'm NO fan of remakes! DO NOT FUCK WITH MY '80s HEROES, OK!? Just. LEAVE. IT. BE! God damn vultures! Make up your own damn storylines, OK!?
Cobra Kai
Strike Hard. Strike First. No mercy!
That's right. Cobra Kai is back! (The competing dojo from the original The Karate Kid – you know, the ENEMY!).
Netflix has 2 seasons of Cobra Kai (originally aired on Youtube Red), and it features the original characters within the same storyline of the original movies – now they're just 30 years older.
I was reluctant to watch it, and yet felt extremely drawn to do so. I had to.
And I have to say, I absolutely loved it!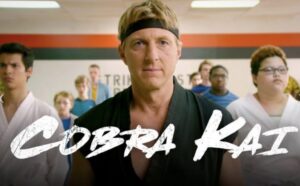 Since the creators managed to bring back Macchio (Daniel-san) and William Zabka (Johnny Lawrence – the bad guy), they've somehow managed to capture the spirit from the original movies (cleverly using small clips from the old movies). If you enjoyed the original movies I HIGHLY recommend watching Cobra Kai 😉
Naturally, Daniel-san now has kids of his own, and of course his first born is going to follow in his footsteps to learn the skill of Kata and Karate. And naturally, it is a GIRL! (surprise!) 🙂
Cobra Kai somehow manages to unravel and dig deeper into the many layers and themes that the original movie(s) didn't really have time to "cover". You get to learn a lot more about the characters, and you suddenly find yourself sympathizing with the bad guy(s). Cobra Kai Season 1 scored 100% on rottentomatoes.com (famous movie ranking site). Kudos to the writers and creators of this show. Well done!
Anyway, I can now look forward to (hopefully) passing on the lessons of Mr. Miyagi to my daughter – in due time – through this new series.
The lessons learned
In case you never watched The Karate Kid, or have long forgotten about it, here are some of the themes that has really stuck with me (and have now been rekindled through the new series, Cobra Kai):
Discipline
Hard work
Hardship
Friendship
Rivalry
Loyalty
Fun
Learn
Teach
Master your balance (pun intended!)
How is this at all relevant to the theme of this blog, Nick? You ask!
Well, many of these themes echo in my mind, when I think of the journey that myself and many of you dear readers have embarked upon.
First and foremost, to achieve Financial Independence, you've got to have discipline and perseverance to achieve your goal. You will experience hardship along the way, but friends and family will help you get through it.
You can (you probably will) experience jealousy of people who reach their goal before you. But if you remain loyal to your strategy, you will eventually get to your destination. Remember to enjoy it and have fun along the way.
Find yourself some good inspiration and learn from the people who have tried (and also failed) before you. There are lessons to be learned from your friends/peers and your "enemies" as well.
Life is not about making yourself look good. It's about helping others achieve their best, so if you have learned something valuable in life – pass it on.
And finally, Balancing fun and hard work and learning and teaching, is the key to a happy life. As in the movies (and now also the series) and in life, it's all about The Balance 😉
Wax on, wax off!