7

min read
Much like your clothes, your friends, your pet(s) and your means of transportation says something about who you are, so does your budget…
When I talk to people about my FIRE project (it happens a lot, according to my wife), they often react as though I've just told them that they can't have coffee again. Ever. Are you crazy?! Why, Nick?! WHY?!
Then I try to explain that I'm not trying to deprive myself of life's luxuries. I'm merely trying to optimize my life and my time. Whenever I choose to buy something, I'm essentially paying for that item with my time (time that I've spent at work, earning that money).
Then they argue that it can't possibly be worth it, living "on a rock" (I never really understood that expression – we all live on a giant rock, remember? 😛 ) just so I can quit my job and continue to live my miserable existence without coffee, ice cream and holidays to foreign countries…
When we (humans) deny ourselves something, our brains instantly implants an image of that "thing" in the back of our mind with a huge red cross over it (as in: DON'T!). We've all been there. Eventually that DON'T becomes DO! – DO IT! NOW!
I'm not a neurologist, so I can't explain why that's the way it works – I just know that's how it works (also from experience!). So this is why people get defensive when you present them with an idea that to them translates into something like: DON'T SPEND YOUR MONEY NOW! – SAVE IT, SO YOU CAN SPEND IT LATER…
– Which is actually not what I'm saying. Not at all. I'm merely advocating that we begin to employ a little more conscious spending. Not just for the sake of our finances, our time and our future well-being, but also for the sake of our planet. I really do feel that unconscious spending is what got us here in the first place; The oceans overflowing with plastic waste, air pollution from burning fossil fuels (to produce more consumer goods that nobody really needs), the deforestation (to produce palm oil etc. – hello, Nutella), rivers being polluted by chemical waste from the clothing industry (more clothes! That'll fix our self-confidence issues – new clothes, because clothes makes the man, right?).
So naturally, by the logic of our society; More of the same will eventually fix our problems.
Stop. Just. Stop. Stop doing what you are doing! Try something different for a change. It doesn't take a whole lot of "sacrifice" (in the lack of a better word) to become a little more conscious about what you spend your money on – and what you actually support, when you choose to spend it. You don't have to "live on a rock" (albeit you already do!) to become a more conscious spender.
The circular economy is booming in Denmark. I'm sure this is also the case in a lot of other countries. We (as in our household) has decided to save money where we can, both for the sake of the environment, but also for the sake of our wallets. Conscious spending! That's the new thing. Think before you buy!
You don't have to save 50%+ of your net income to become FI. Naturally, the more you save (and invest!), the quicker you're going to get there. – But as so often seen before, when you put things into a different perspective, magic can start to happen! So if you, like me, live a somewhat inflated "luxurious" lifestyle, and claim it would be impossible for you to save 50% of your net income, without having to live on the before-mentioned rock, you should start by putting your budget into perspective. There's nothing like PIE that can change your perspective!
This was our budget when I first began my FIRE journey:
The biggest piece of the pie: our fixed expenditures. This is our mortgage, property taxes, insurance, cars, gas utility bills etc. 41% of our monthly net income goes towards these expenses. That seems a little excessive to be honest, but hey, we live in an expensive area in an expensive house, so I guess that explains it…
I didn't think much of it at the time (back in September 2018) – what I did however think about, was the 2nd largest piece of the pie: The funny money. This was basically our "allowance" that we could spend on everyday luxury; clothes, gadgets, fancy dinners etc. It also includes gifts and personal hygiene stuff though, the latter being an expensive item in my OH's (the wife) budget 😉
The next piece is Food (this also includes the occasional take-away meals). We've tried playing around with this several times, but since we primarily eat organic foods and like to snack a lot (fruits, nuts, crackers, chocolate etc.) 10% is an acceptable level, I think. A big part of my/our life is food.
Nothing beats food in my world (except maybe the occasional wild monkey dance – you know what I mean 😛 ). I live to eat, I don't eat to live! We have eaten at a few Michelin restaurants, but honestly this is a bit too much for my taste. That's just really excessively decadent in my opinion. I enjoy all kinds of foods – it doesn't have to be expensive. If it's made of some good decent ingredients, and prepared with love – then I'll gladly eat it!
Anyway, besides the Food budget, we also have a savings account for vacations and for our house stuff. This is for maintenance, and whenever we buy some furniture, a plant or a piece of gardening equipment (these are just examples!). To be fair, some of the funny money also goes towards vacations, but the vacations saving account is primarily used to pay for our vacations (like flights and hotels etc.) – then we use some of the funny money as our "pocket money" when we're on vacation (sometimes to buy food or excursions etc.).
The last one (the FIRE) is pretty self explanatory. I started out with a 9% allotment for my FIRE project. I was quite content with that at the time. At least it was a start!
Then came the new year, and I quickly decided that I needed to up my game a little bit, so I decided to allocate some (more) of my funny money towards my FIRE project: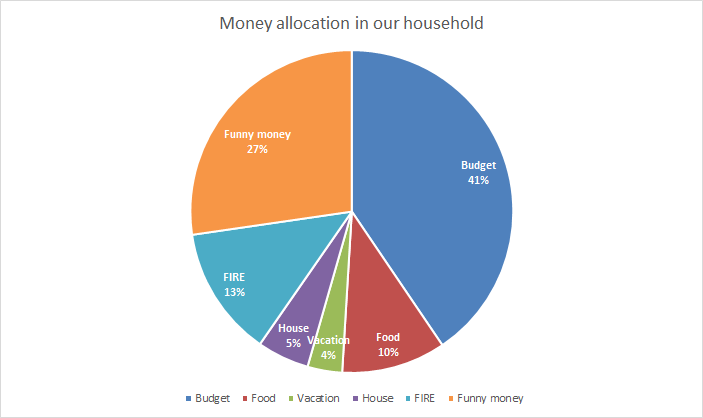 I was reading about people that had a savings rate upwards of 50-60%. It seemed my measly 13% wasn't really going to get me anywhere near my goal of becoming FI within the next 13-15 years…
But then it dawned on me that a huge part of our budget, was actually used to pay down our mortgage…
So, if you take out our mortgage payments from the budget piece, then it looks like this: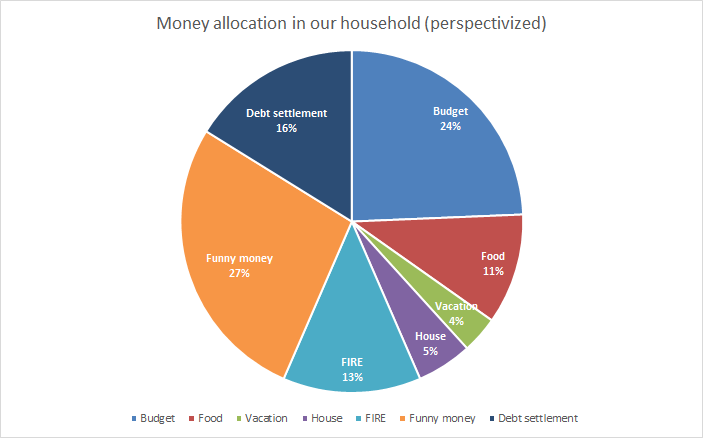 Hmm. So with a little bit of perspectivization (that's not a word, I know…), I've now upped my/our savings rate from 13% to 29% (paying down our loan is effectively a "hidden" savings account, in that I increase my equity by doing so). That's pretty good, I think!
But wait, I'm not done yet! I decided recently that it was time to up the ante. I've been playing with the idea, of upping my contributions to my FIRE pot from €1000 to €1400 (effectively lowering the amount of funny money once again). Lets see how that would look like then: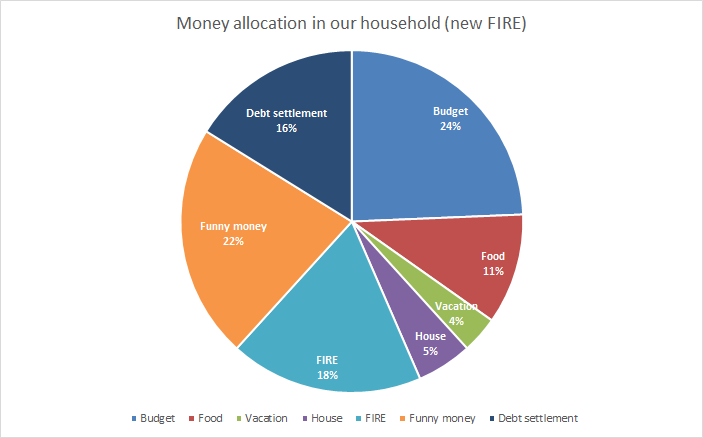 Boom! FIRE allotment hereby increased to 18%, bringing my savings rate to 34%, lowering the funny money allotment to 22%. Am I going to have less fun now?! I doubt it 😉
Granted, it's not quite 50% yet, but I'm getting closer!
How does your budget look? – Are you also struggling to up your savings rate? Perhaps a new perspective might help you increase your savings rate!