6

min read
Since I started this blog back in September, the monthly updates has been my absolute favorite posts to write. They basically write themselves, right? So, what happened in January 2019?
I have to be honest with you: I hate January. January is my least favorite month of the year. It's cold, dark and summer and daylight in general seem like so far away, that even dreaming about it makes me uncomfortable. It's the longest month of the year! (or so it feels, anyway…).
This particular January should turn out to be one of my least favorite of all times (now that I think about it, all the bad shit that ever happened to me, always happened in January – or so I remember it anyway…). Luckily I now have two different perspectives to view my life – a financial and a personal – and much to my surprise, January turned out to be a record-breaking month in terms of passive income (thanks to a little help from my friends! 😉 ).
Enough jibber-jabber – let's get to the good stuff!
Not so fast! I wasn't done wallowing in self-pity…
The reason why this January was awful (on a personal level) was due to the fact that I had to empty the wife-credit bank, in order to survive a devastating round of the man-flu. It was no ordinary man-flu, no sir. – It was the worst kind. Brought home from a foreign country, after a 3-day business trip to the middle-east.
I don't really like travelling that much (especially not for business), but i tried looking at it with a positive mindset. 3 days with the possibility of getting some sun and maybe even a swim in January – that doesn't sound half bad, does it?! It was OK, the problem was I had been pushing a case of the sniffles at an arms length ahead of me, and once I got back from my trip and started decompressing from all the "stress/pressure" of travelling, my body just decided it was time for some illness! Yay! First my stomach just called it quits (thanks to the middle-eastern cuisine, no doubt) . I didn't eat (or poo) for 3 days. But that was just the beginning. Oh man, I'm still not completely recovered after more than 1 week on the self-pity train, binging "Comedians in Cars – getting coffee" on Netflix and coughing my lungs out every 2 minutes.
Anyway, It's time to get off the pity-train! It's a numbers game now, and while the better part of January seem a bit hazy to me, it's now behind us! Thank God for that. It turns out I have made some new friends too! Two people signed up to invest with Envestio via my affiliate link and have both started investing. One of them I know (he's a close friend, who wanted to try out this whole crowdlending mumbo-jumbo) but the other one I have no idea who is! And he invested quite a decent amount of money, so thank you very much for that! 🙂 I hope you enjoy it! (Do hit me up in the comments if it's you 😉 ).
Because of the generous bonus scheme at Envestio I made €27 from the bonus program in January! That is pretty awesome. Thanks a lot for the support, it's much appreciated 😉
Also, because of the man-flu situation, I didn't have a whole lot of time to spend any money in the 2nd half of January, so I've added a nice little chunk of cash to my savings this month. More than €1300 actually, which is just shy of 1/3 of my net income. I'm quite pleased with that. So without further ado, here are the numbers from the man-flu month of January 2019:
| | | | | | |
| --- | --- | --- | --- | --- | --- |
| Platform | Value last month | Current value | Change (+/-) | Change (%) | Expected yearly return |
| Bulkestate | € 3.525 | € 3.525 | € 0 | 0,00% | 14% |
| Crowdestate * | € 201 | € 301 | € 0 | 0,00% | 11% |
| Crowdestor * | € 201 | € 405 | € 4 | 1,99% | 15% |
| Envestio * | € 3.144 | € 3.124 | € 80 | 2,54% | 16% |
| Estateguru | € 201 | € 202 | € 1 | 0,50% | 11% |
| FastInvest | € 200 | € 202 | € 2 | 1,00% | 14% |
| Grupeer * | € 1.020 | € 1.072 | € 12 | 1,18% | 13% |
| Mintos | € 926 | € 936 | € 10 | 1,08% | 10% |
| | € 9.418 | € 9.767 | € 109 | 1,16% | 13% |
| | | | | | |
| Bank #1 cash (main savings) | € 38.666 | € 40.000 | € 1.333 | | 0,70% |
| Bank #2 cash (emergency fund) | € 13.333 | € 13.333 | | | 5% |
| | | € 53.333 | | | |
| | | | | | |
| Total balance | | € 63.100 | | | |
Operation diversify has commenced, as I managed to move some funds around to pad my investments further at Crowdestate, Crowdestor and Grupeer. I will continue to favor the platforms with high yield and buyback guarantee (which Crowdestor currently does not have, but the rumors say they are working on it) . This however does not really include Estateguru, so I've decided to hold off on investing further on this platform. Something odd happened in the beginning of January, and since the average yield is closing in on 10%, I think there are better alternatives out there. I had invested in a loan and then I suddenly got this message:
The #4093 bridge loan will be closed due to reasons beyond EstateGuru's or the borrower's control. Despite this, the borrower will pay 12.5% p.a interest to all investors for the period between the end of the syndication period and today, 3rd of January 2019. 
That was it. OK? I decided I would write them to get some more info, but I never got around to it, and now I feel I can't really be bothered. I had been looking at their loan-list (which is quite extensive) and noticed quite a few that had defaulted. They are not making it easy to export the loan list, and have now changed the layout, making it even harder to "discover" the defaulted loans. Seems a bit fishy to me 😉 I calculate their total default rate to just above 2%, which I guess is not bad. I'd prefer to avoid defaults altogether of course, but this proves that this type of crowdlending is not without risk. Hopefully most of these defaulted loans will be recovered, but they're not making it very transparent, so it's hard to tell. This stuff should be on the front page, if you ask me 😉
Anyway, I managed to net a total profit of €109 on my crowdlending investments in January (this is including the bonus payments). I'm quite happy with that!
The diversification of my crowdlending portfolio now looks like this:
Still a little lopsided, but by the end of February I'll get my first principal repayment at Envestio (€500) so I will be able to diversify more in March. Perhaps even, add a new platform to the roster!?
I'm still holding on to a huge pile of cash, so it would be nice if brickshare.dk or imbro.dk could come up with something interesting for me to invest in. The future will tell – I've kind of gotten a hold of that whole impatience  thing I was battling a while back. I'm Mr. Patience now! (That's a lie…).
So, how does this all put me in terms of the big picture?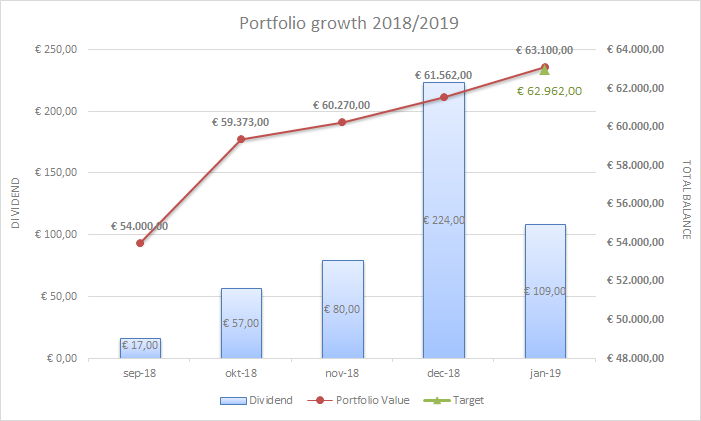 I'm currently €138 above my target for the year! (year end goal is €78.323 to stay on track to reach my Total Balance goal within the next 13 years). Despite of the man-flu incident, this was a good month after all!
See you next month! – Remember to stay safe, and eat your vitamins!